News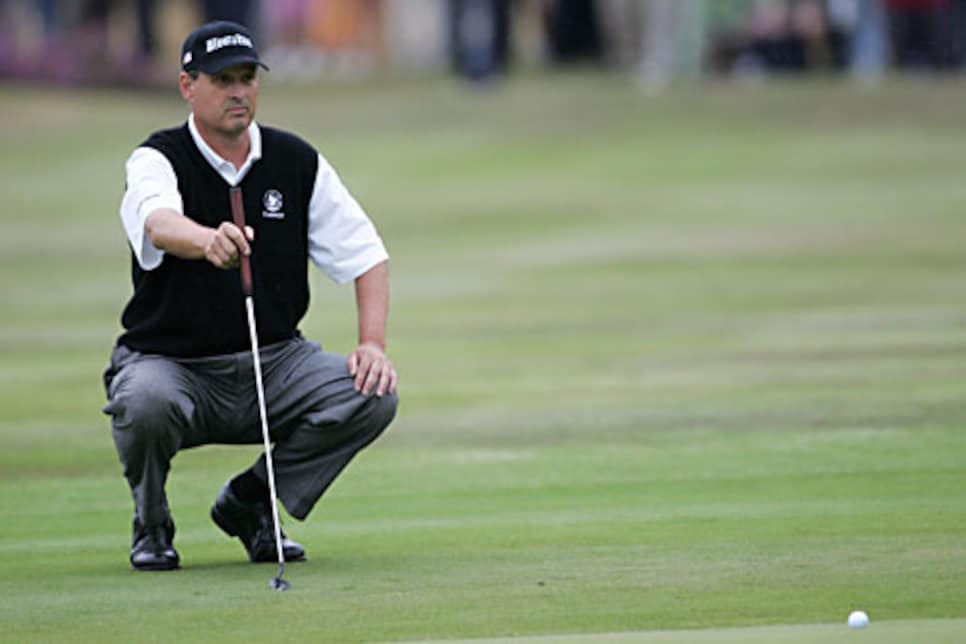 This is Roberts' second Sr. British Open win. He won the 2007 title, also in a playoff.
Fred Funk also took part in the playoff at Sunningdale, but the American was eliminated on the first extra hole when he could only make par as Roberts and McNulty birdied.
The remaining pair parred the second playoff hole before Roberts clinched victory with another par at the next.
Greg Norman, the third-round leader, missed birdie chances at the first three holes and double-bogeyed the 17th after driving into trees. Norman finished in a tie for sixth place, three strokes behind the leaders.
"My game felt good, no question about it. I just lack a lot of match practice," Norman said.
Roberts, who won in 2006 at Turnberry, and Funk each shot a 67 in the final round. McNulty shot 64.
Bernhard Langer (65) was fourth with Sam Torrance (67) fifth. Norman (71) and Larry Mize (68) were next.
Roberts thought he had lost it on the second playoff hole after missing an 8-foot birdie attempt, but McNulty drove into heavy rough on the next hole and bogeyed.
"I thought that was a real good chance I let get away," Roberts said. "I got too involved with the line and forgot the speed."
Roberts' victory earned him a spot in next year's British Open at St. Andrews.
"I'm looking forward to it already. It will be an honor to play there," he said.
Tom Watson had his best putting round of the week, but a 67 left him tied for eighth place. He said at least he had resolved the putting problem that had plagued him, and he was anticipating this week's U.S. Senior Open at Crooked Stick, Ind.
Roberts said one aspect of his game that pleased him most was his mental approach.
"I've been struggling mentally a little bit this year," he said. "I haven't been hitting the ball as sharply or as good as I can. I didn't give up mentally today. I didn't let the mental side get me down when I fell behind early.
"I've been doing some physical things, making some adjustments here and there. At my age I don't know if my body is changing a little bit. But I've been just trying to see if I can do a little better with what I have."
Roberts birdied the opening hole but bogeyed the second after a poor drive and the fourth when he mis-hit a wedge. He did not drop any more shots and birdied four holes on the back nine, including the 17th where he knocked a 7-iron to 9 feet from the hole.
That was the same distance as the 12th, which he said was the key birdie in his round.
"Greg (Norman) made birdie there and I made mine on top of him," he said.
McNulty, who now has an Irish passport after he was forced to leave his Zimbabwean birthplace by President Robert Mugabe, couldn't get over the edge to top Roberts.
"I always felt I was one shot short," he said. "I gave it all I had and lost because of one bad swing. It got away from me. I didn't complete my swing and got ahead of it."
Funk said he also had opportunities to win.
"I'm proud of the way I played overall," he said.