News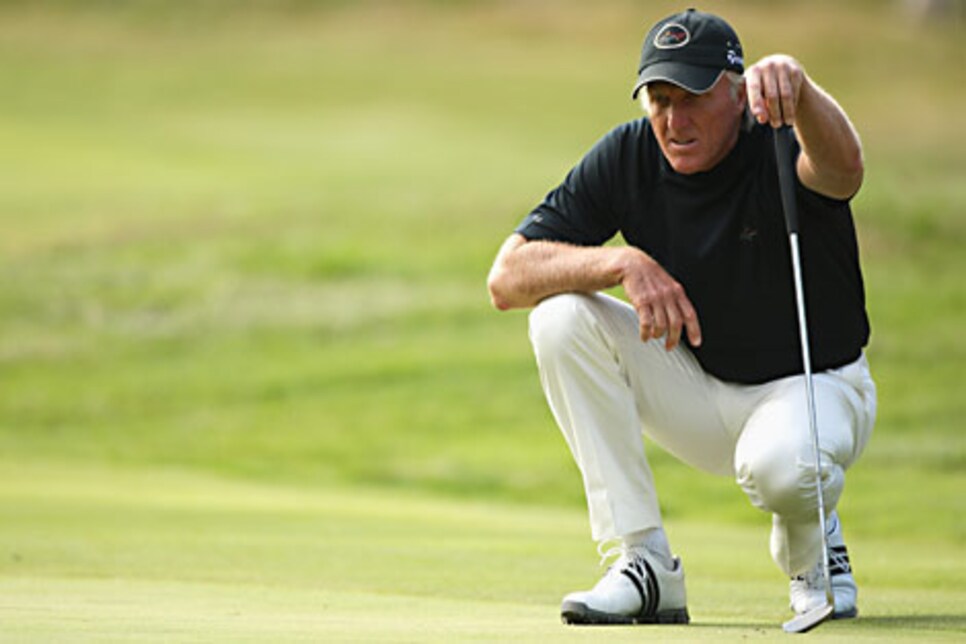 It was "moving day" for Norman. He picked up eight strokes on the 36-hole leader.
SUNNINGDALE, England (AP) -- Greg Norman shot a bogey-free 6-under 64 on Saturday to grab the lead by a stroke heading into the last round of the Senior British Open.
Norman was at 10-under 200, a stroke ahead of overnight leader Fred Funk (72) and Loren Roberts (67).
Tom Watson's hopes of improving on his runner-up spot in the British Open last week took a hit after a 70 that left him six shots behind Norman.
Watson's putter remained cold, despite an overnight grip change following similar problems on Friday.
"I had five three-putts. I wasted a good ball-striking day," he said. "I hit it very well and made absolutely nothing on the greens, although I did make a 60-footer (on the 13th hole) and a 30-footer (on the 5th).
"Otherwise, I was missing everything. Everything was right, everything pushed. Maybe I ought to aim left.
"I don't have very good speed control on these greens."
Norman found the right speed in a solid round.
"I put the ball in play and putted decently," he said. "I got on the tee and could see the shots I wanted to play and just went and played them. I really wasn't worried about anything else."
The Shark loves the Sunningdale course, where he played often and won during his years on the European Tour.
"I feel comfortable around this golf course. I always have done for some reason. I like the way it feels to me off the tee. You can be aggressive or conservative, depending on how you want to play. Today I had a mixture of both."
Funk dropped his first shot of the week at the tough second hole, then double-bogeyed the 12th and bogeyed 14.
"The good news is that I'm still there. I can still win it,' Funk said. "The bad news is that I put everyone else in the tournament right back in it."
Larry Mize also shot a 64, and Bernhard Langer, Ben Crenshaw and defending champion Bruce Vaughan all had 65s. Langer has a share of seventh place four shots behind Norman as he bids for his fifth Champions Tour victory of the year.
"I hit a lot of good quality shots even though I didn't make many putts," Langer said. "I still shot 65 so I'm happy with my long game."
Denis Watson was in fourth place, one ahead of Mize and Sam Torrance, who was second overnight. Torrance triple-bogeyed the tough second hole and shot 71.
Mize birdied four in a row from the 11th, and the last two.
Mize, who 22 years ago made a spectacular chip-in to beat Norman for the Masters, was delighted with his round, which contained six birdies in a back nine of 29.
"I felt I got things rolling on the back nine and was able to bring it in pretty good," he said.