News
Watson Back Among Leaders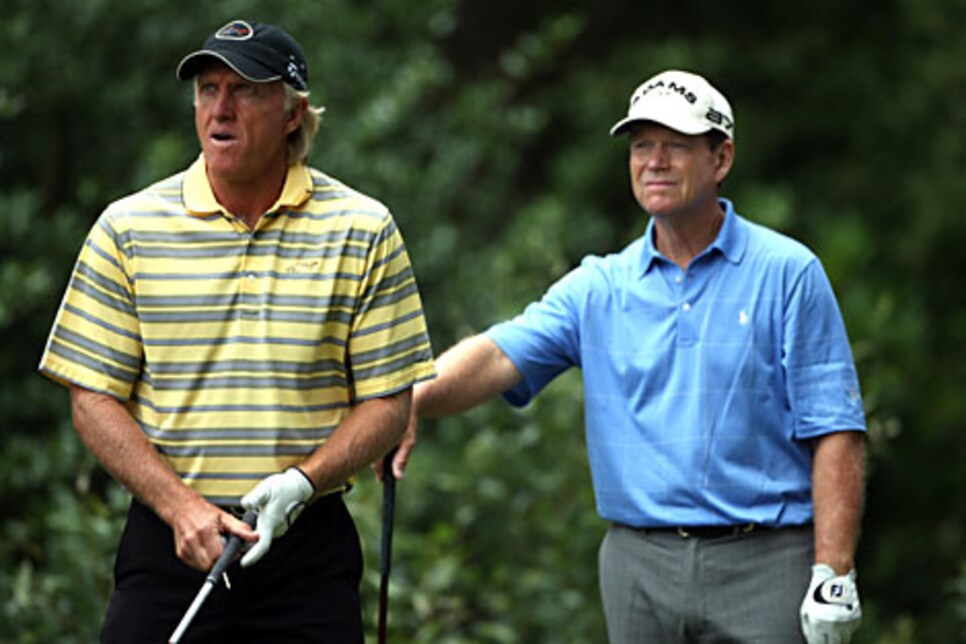 Tom Watson and Greg Norman each carded three-under 67s in the first round of the Senior British Open.
SUNNINGDALE, England (AP) -- Four days after his heart-rending playoff defeat to Stewart Cink at Turnberry, Tom Watson shot a 3-under 67 on Thursday to begin his pursuit of a fourth Senior British Open title.
The 59-year-old Watson, who almost became the oldest major champion at the British Open last weekend, was three shots behind leader Fred Funk.
Funk birdied five of his last eight holes, including holing a bunker shot at No. 17, for a 6-under 64 -- the lowest opening round in the history of the championship.
"The first nine could have been three or four over, and the back could have been eight under," said Funk, who had a two-shot lead over fellow Americans Jay Haas and Loren Roberts, Des Smyth of Ireland and Christopher Williams of South Africa.
Watson was another stroke back and tied with Tom Kite, Jerry Bruner, Greg Norman of Australia and Sam Torrance of Scotland.
Bernhard Langer, who has two Champions Tour wins this year, opened with a 72.
Watson said he hadn't watched a replay of his missed putt on the final hole at Turnberry, an 8-footer for par that would have won him the claret jug.
"I don't want to. That was the ugliest stroke in the world. I don't want to relive that thing," Watson said, before admitting he initially wanted to play it over again. "Then I said, 'To heck with it. That's history. That's over and done with.'"
Asked if he had ever been in so much demand before, Watson replied: "Frankly, no. Just the outpouring of people communicating with me - I've never had that happen before."
Watson was told that Norman, his playing partner Thursday who came close to winning last year's British Open, had said people were offering congratulations and commiseration for the next 51 weeks.
"I guess I'll have to be ready for that," Watson said.
Watson didn't look like any disappointment from the British Open carried over, starting 3 under after five holes and making two more birdies and two bogeys the rest of the way.
"I made a few early putts maybe I shouldn't have made and I missed some I should have made," Watson said. "I had birdie chances on the last four holes but didn't make them. It was a good score. Maybe it could have been better.
"But I just heard this morning that a close friend at home has died of brain cancer. That puts this back in the right light."
Watson said messages from American servicemen he visited in Iraq years ago also had helped him deal with losing the British Open.
Watson birdied the long first at Sunningdale, then made a 10-footer to save par. He also made par at the third, despite hitting his tee shot into the rough, before birdies on the next two holes - a 15-foot downhill putt and a 20-footer.
A heavy shower at the sixth changed the nature of the greens, and Watson struggled with his putting the rest of the round. He missed an 8-footer at the 13th - the same distance he missed on the 72nd hole at Turnberry.
"I'm not very good on 8-footers right now," Watson joked.
Haas, who has won 12 times on the Champions Tour, was also shaky with his putter on the front nine. After three bogeys in seven holes, he did not drop any more shots.
"To come back was a nice way to finish," Haas said. "I felt I needed to shoot low to have a chance here."
Roberts, the 2006 winner at Turnberry, three-putted for bogey at 16 before making two birdies coming in.
"To finish like that really made the day," he said.