News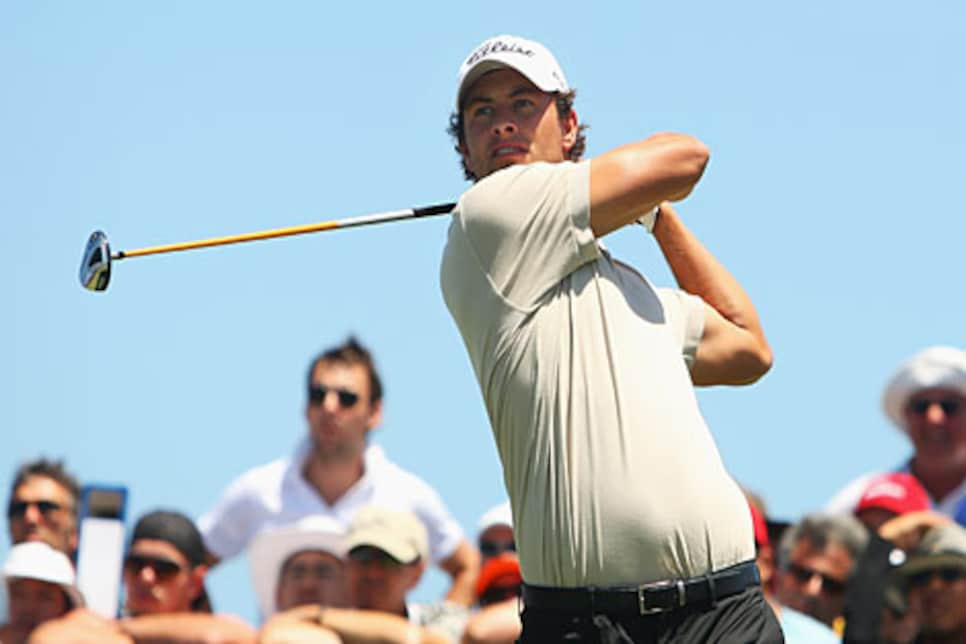 Scott and fellow countryman Geoff Ogilvy headlined a weak field at last week's Australian Open.
SYDNEY -- A little bit of admittedly esoteric history was made at the New South Wales Golf Club last week. And no, we're not just talking about Adam Scott's long-overdue maiden victory on home soil. Not only was this the first time the Australian Open has visited the endlessly picturesque layout at La Perouse overlooking Botany Bay, Scott's five-shot win -- albeit over a disappointingly weak field containing just one of the world's top 50, former U.S. Open champion Geoff Ogilvy -- also represented the inaugural Aussie-based tournament on the still-fledgling One-Asia Tour, an alliance comprising the Japanese Tour, the Korean Tour, the China Golf Tour and the Professional Golf Tour of India, as well as the Australasian PGA Tour.
The second of those seminal events has not happened without some inevitable controversy attached, of course. There are plenty of people within the game -- administrators, players, journalists -- who feel that taking two of Australia's three biggest tournaments (this week's Aussie PGA Championship is the other) into what remains a largely unproven enterprise is a tactical error, even if the tour itself is an idea that makes perfect logistical sense, especially long-term. To back up their argument, many of those same observers and participants gleefully pointed to the undeniable dilution of the field last week.
The numbers, as ever, don't lie. From a starting line-up of 50 -- approximately one-third of the field -- only five One-Asia players drawn from outside the Australasian Tour shot scores good enough to make the 36-hole cut. Indeed, their presence perhaps had at least a little to do with the fact that only nine Americans and but one European -- a Shanghai-based German who shot 88 in the first round – teed up in a championship first played as long ago as 1904 and has as many as 11 major champions on its impressive roll of honor.
All of which sounds a lot worse than it really is, if only because virtually none of Asia's most proficient performers showed up in Sydney. For nearly all of those players, the concurrent King's Cup in Thailand proved to be a more attractive prospect than a longer flight Down Under. So it is hardly surprising that a group made up almost exclusively of second (or even third) -tier players found it difficult to compete effectively with the very best that Australian golf has to offer (minus the absent Robert Allenby, who was busy winning the lucrative Nedbank Challenge at Sun City in South Africa) especially in the unfamiliar, blustery conditions that have prevailed.
Still, events of last week did highlight the immediate downside of the One-Asia circuit. For many Australian players, well used to almost automatic starts in their national championship, suddenly not being able to play understandably came as a bit of a shock to the old system.
"It just isn't right," declared one Australian competitor, who asked not to be identified. "This is our own event yet a lot of our own professionals have been denied entry. And what is really annoying is that all of those guys seem to have been replaced by markedly inferior players. Surely a historic event like the Australian Open deserves better than that. I mean, at least one of the One-Asia players doesn't even have a world ranking. This has to be the weakest field at an Aussie Open in years."
Again, such a knee-jerk reaction was no real surprise. Players have livings to make and any perceived threat to that reality is always going to provoke a negative response. But officialdom is prepared to take a longer-term view, one that extends as much as years into the future.
"Our ultimate aim is to create a whole new level of event in Asia, one that does not rely on involvement from elsewhere in the world," says Ben Sellenger, chief executive officer of the PGA Tour of Australasia. "We have the expertise. We have the players. We have great courses. We can do it. And we can do it now.
"And yes, I know that this is a scary proposition for some of our members. Both of our biggest events this year have been One-Asia tournaments. That means the usual 144 Aussies didn't get into those events. Many home players didn't get a spot. Which came as a shock.
"But this has to be the right way forward for us. The rewards for a young Aussie playing well will be so much greater than just gaining a spot in the national Open and PGA. He'll be playing in several significant tournaments across the Asia-Pacific region, events that provide a pathway to bigger things. Instead of two events, he'll be playing in as many as 15 next year, all of them worth more than $1 million. And, even better, he can do so from the comfort of an Australian base.
"In the short-term, I understand that most of the guys will have to suck it up a little. But they need to believe in themselves more. They need to believe that ultimately they are going to be good enough to take full advantage of what we are creating."
Sounds fair enough. Get to it boys.