News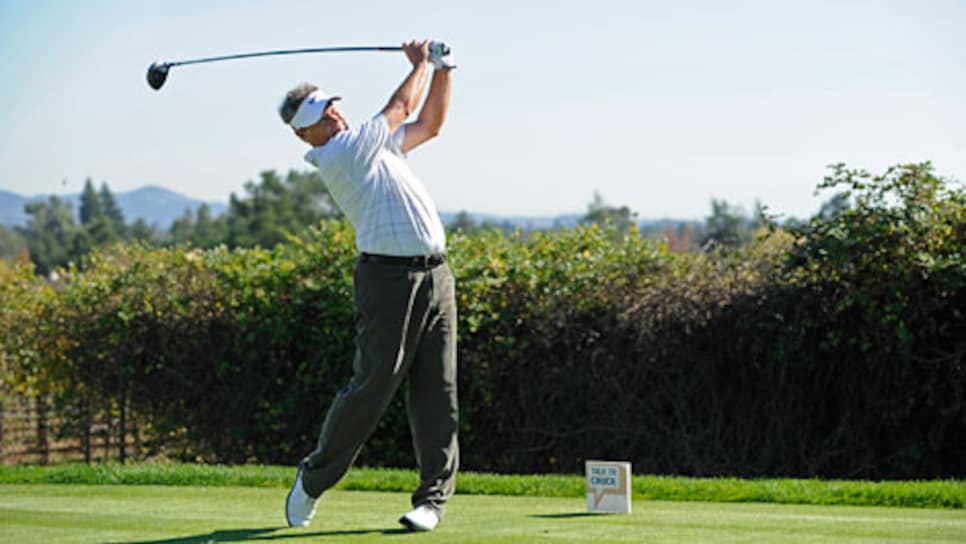 Two for the (Big) Money: Cook (above) registered his fourth Champions Tour title and the event's $442,000 first prize; Roberts (below), the Schwab Cup points leader, landed a $1 million annuity.
From Jim Colbert to Gil Morgan and Miller Barber to Jim Thorpe, the Champions Tour has seen its share of solid PGA Tour players blossom into dominant seniors, golfers who by dint of new motivation or maturity exceed the heights they reached on golf's main stage. At the Charles Schwab Cup Championship no one needed to look past Loren Roberts, who claimed his second victory in the season-long Schwab points competition, for how a supporting actor can transform himself into a leading man after the candles on a 50th birthday cake have been blown out.
As for John Cook, who shot a tournament-record 22-under 266 to cruise to a five-stroke victory over Russ Cochran for his second win in three weeks and fourth of his brief senior career, it is time to wonder if he is another golfer who can summon greatness in his second competitive act and challenge Roberts, Jay Haas and Bernhard Langer for senior supremacy. It took Cook 333 starts to get his first four victories on the PGA Tour, where he won 11 times; his runaway performance at Sonoma (Calif.) GC came in just his 51st senior event.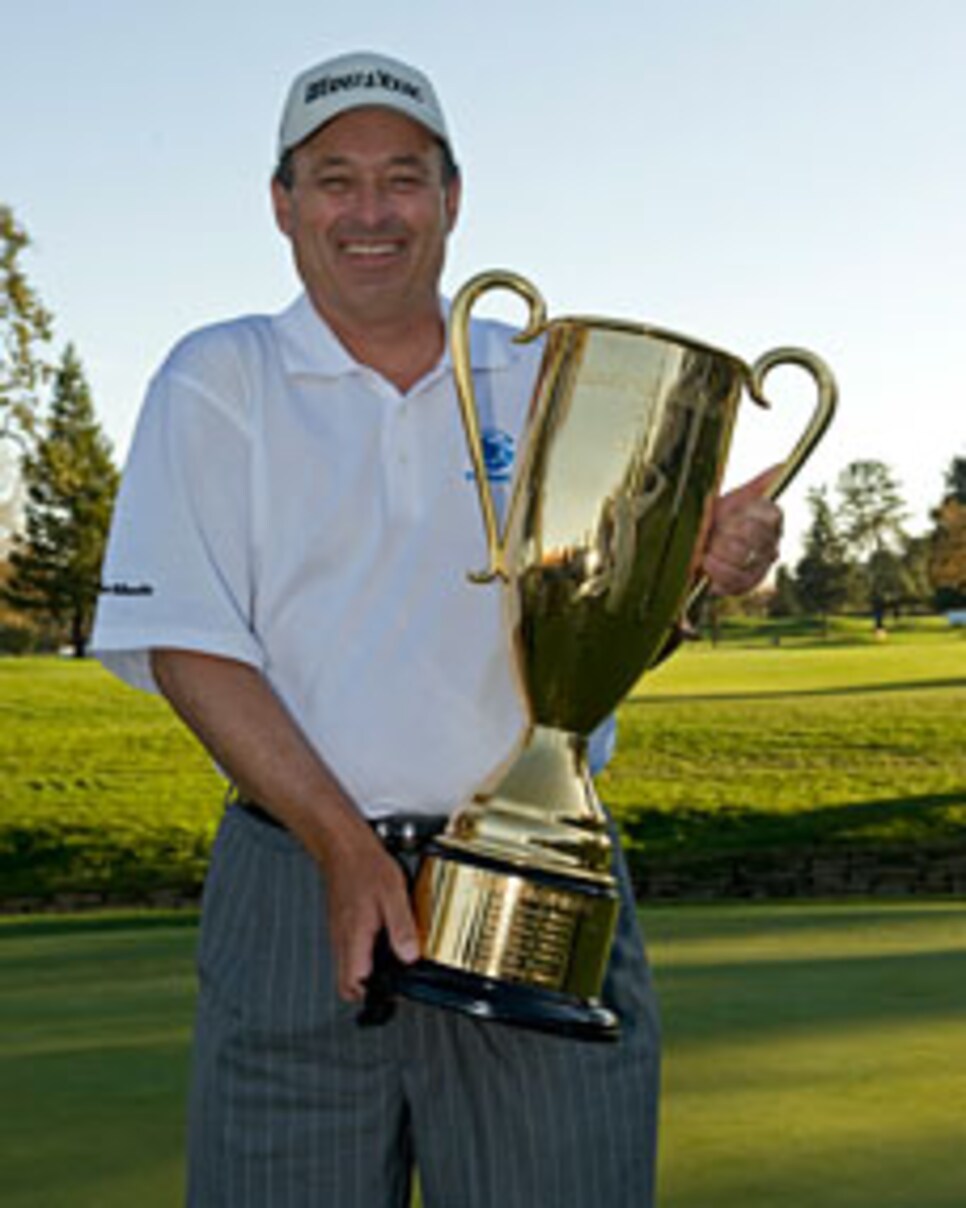 Ironically, it was a defeat that got Cook on track, after the psychological kick to the head he received at the Jeld-Wen Tradition in August when he made a sloppy bogey on the 72nd hole then lost on the first playoff hole to Mike Reid. "Congrats to Mike Reid, but that was mine, and I let it go," Cook said. "I screamed at myself for a month after that. I was so torn up by the mistake I made at the last hole, I said that ain't gonna happen again. I could go one of two ways: Just say I was a regular guy out here making a living or figure out something and try to get better and more aggressive. I felt like the last month or so I got a little more aggressive around the golf course."
Cook has always been admired by his peers for his simple, repeating swing, honed since he was 14 years old by Ken Venturi, who also shaped Cook's strategy. "I've always hit a lot of greens," said Cook, who is ranked second in that statistical category this season. "I learned from Venturi, just [play to the] middle of the green, and then when you have a 'go' flag, you go at it. I [narrowed my target] just a little bit and took more chances the last month or so. [I thought I should] just go ahead and trust it and fire at some flags."
Since flattening the lie and increasing the loft on his putter at the Constellation Energy Senior Players Championship, Cook also has been putting better. He only took 23 putts in shooting a 10-under 62 Friday to take a three-shot lead over Tom Watson and Phil Blackmar, but in a testimony to how well he was hitting the ball, none of his birdie putts was longer than 15 feet and half a dozen were from six feet or less. Cook backed up that sterling round with another fine day, a 67 that put him at 19-under 197 and six strokes clear of Cochran on a day marked by concern for Joey Sindelar. The 51-year-old was taken off the course after four holes because of dizziness and shortness of breath and hospitalized with a pulmonary embolism (see Tour Talk, page 42).
Sindelar's plight -- and Tom Lehman's withdrawal because of the death of his 75-year-old father, Jim Sr. -- were jolts to the event's good mood, enhanced this year by four days of gorgeous, sunny weather. Home of the event since 2003, Sonoma GC was immacuately conditioned for the pros, who will contest the Schwab at Harding Park GC in San Francisco for the next two seasons. The switch is part of a proposed 2010 Champions Tour schedule that shows the circuit holding its own in a tough economy. There are 26 tournaments, including new events in South Korea and Biloxi, Miss. That total is one more than was played this year, and it could increase if negotiations for tournaments in San Luis Potosi, Mexico and Montreal pan out.
Paul Azinger, Mark Calcavecchia, Fred Couples, Corey Pavin and Kenny Perry are among those players who have just turned 50 or will next year, but the 2009 finale provided more evidence the tour's elders aren't going willingly to the land of $10 nassaus with the boys. Watson, 60, shot a second-round 64 and was T-6; Tom Jenkins, 61, and Morgan, 63 (the oldest player to ever make the Schwab field), were T-10. Tom Kite, who will turn 60 on Dec. 9, finished 20th. "It sends a message to everybody that it's beneficial to stay in shape," said Jenkins. "There is no reason to get fat and lazy."
Cook is a relative kid of 52, whose confidence hasn't always matched his California cool. "I've disappointed myself on a number of occasions," he said. "Eleven [PGA Tour] wins isn't chopped liver, but I had many chances to win big events and didn't do it. This is a second chance." He could turn out to be one of those players who makes the most of it.