News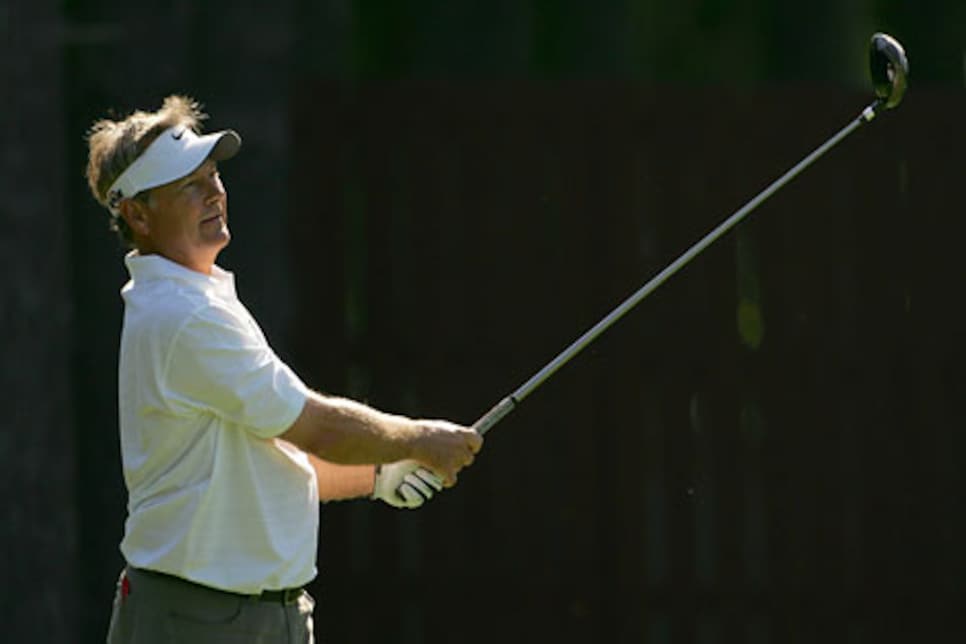 Cook set a tournament record with his 22-under-par total of 266.
SONOMA, Calif. (AP) -- John Cook had a tough time staying focused Sunday in the final round of the Charles Schwab Cup Championships. Loren Roberts had no such problem.
Cook spent the morning exchanging text messages with Joey Sindelar, his close friend and former Ohio State teammate who was hospitalized Saturday after having a pulmonary embolism. Then Cook went out and won the season-ending tournament by five strokes for his second Champions Tour title in three weeks.
"That's serious stuff. I don't like to see anybody, friends or family, go down like that. I was thinking of him all day."
Cook, also the Administaff Small Business Classic winner two weeks ago in Texas, broke the tournament record of 268 shared by Jim Thorpe and Andy Bean.
Roberts shook off two days of struggles for a second straight 66 to tie for sixth at 13-under 275 and win the points title and $1 million annuity for the second time in three years. He had to hold off a strong surge from Bernhard Langer (68), who also finished at 13 under.
"I played two totally different golf tournaments in one week," Roberts said. "The first two days I really didn't hit it very good and I really didn't putt well. You just hate to get to the end and blow it."
He didn't, shooting 12 under over the final two rounds. Roberts, the 2007 points champion, said he plans to donate a portion of his winnings to a Sacramento-area school district to help keep girls' and boys' golf programs going.
Russ Cochran (68) finished second in the tournament. Brad Bryant (69) and Jeff Sluman (68) were 15 under, and Phil Blackmar (69) was 14 under.
After opening with a 68 on Thursday, Cook shot a tournament-record 62 in the second round and followed with a 67 to enter Sunday with a comfortable lead.
Though he continued to have a few problems off the tee, Cook stayed consistent throughout the four days and avoided getting into serious trouble. He was bogey free Sunday and had only two bogeys the entire tournament, making up for whatever problems he did have with a solid short game and steady putting.
Before teeing off in the final round, Cook received an encouraging text message from Sindelar, his college teammate at Ohio State who remained hospitalized after having a pulmonary embolism during the third round. The Champions Tour said Sindelar's condition had improved but doctors at Sonoma Valley Hospital wanted to keep the 51-year-old for further observation.
"He said he was fine and to go finish the deal," Cook said. "Hopefully we'll get a chance to see him tonight."
Cook's lead was never really challenged.
Cochran birdied No. 8 to pull within five strokes, but Cook moved to 21 under when he curled in a long putt on the 427-yard, par-4 12th.
Cochran had another birdie on the 436-yard, par-4 15th and made a long birdie putt on the 18th, finishing second for the second time in his rookie season on the tour.
Cook birdied the par-3 17th, then tapped in for par on the 18th.
This is the last time the season-ending tournament will be held at Sonoma. The event will be played at Harding Park in San Francisco in 2010 and 2011.
Roberts wouldn't mind a few more years in the wine country, however.
He has celebrated the points championship twice while walking off the 18th green at Sonoma and nearly missed a third in 2006 when he three-putted on the final hole.
After falling behind Langer early this season, Roberts charged back into contention with wins at the Senior British Open in July and at the Boeing Classic in Washington in August then went into the season finale with a 165-point lead.
He didn't play well the first two rounds in Sonoma, but corrected a flaw while on the driving range late Friday night then played 12 under the rest of the weekend to secure the points title.
"For me, this might be one of my best accomplishments in golf just because I really wasn't playing very good the first part of the year," Roberts said. "To be able to come back and win it essentially with two-thirds of a season was remarkable to me."