News
Record-Setting Day For Cook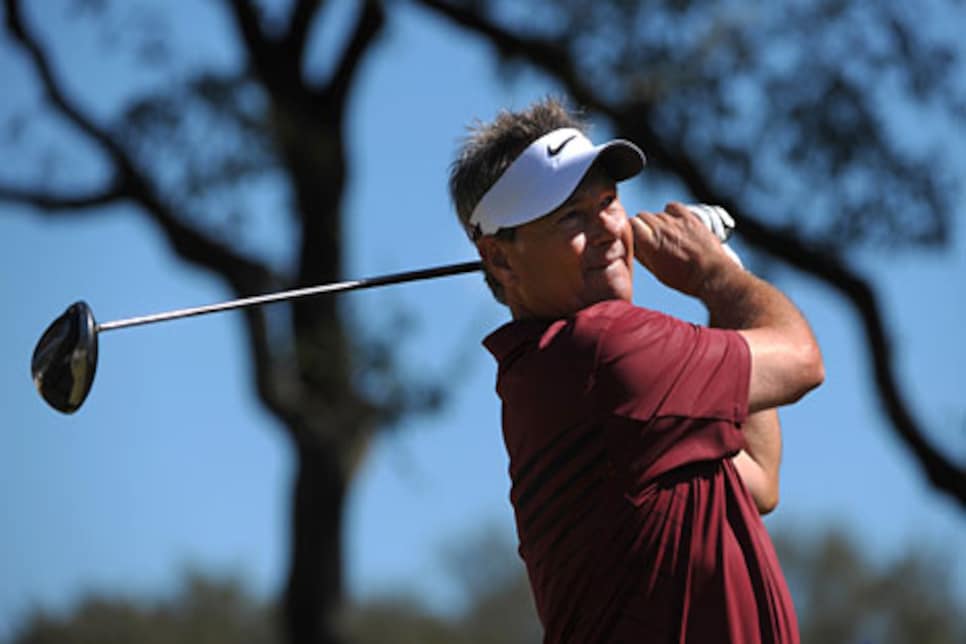 Cook has 15 birdies and one bogey in two rounds.
SONOMA, Calif. (AP) -- John Cook couldn't help but peek at the leaderboard, even as he methodically worked his way to the top with a record-setting round.
With Tom Watson putting together an impressive run of his own and making a strong bid for his first Champions Tour win in nearly 18 months, Cook wanted to keep a close eye on the 60-year-old Hall of Famer.
"To tell you the truth, I didn't know really how many birdies I had until I got done," Cook after shooting a tournament-record 10-under 62 on Friday to take a three-stroke lead in the season-ending Charles Schwab Cup Championship.
"I knew I had made a bunch, but all I kept seeing was Watson making birdies and (Phil) Blackmar making birdies and everybody else making birdies."
No one made as many as Cook, a three-time winner on the Champions Tour who also has 11 PGA Tour titles to his credit.
Cook, the Administaff Small Business Classic winner two weeks ago in Texas, had 10 birdies and needed just 23 putts to match his career-best round and reach 14-under 130 for the tournament. He did it with a strong short game while taking advantage of the poa annua greens at Sonoma Golf Club that are similar to the ones Cook grew up playing.
"A lot of people aren't comfortable on it," Cook said. "When the greens are firm like this and rolling at a good speed, they're great to putt on. I've played some pretty good rounds but this one right here, with no bogeys and no mistakes ... I'm very happy."
Cook broke the tournament record of 63, shared by five people. The 62 also matched the lowest round on tour this season.
Watson, second in the British Open, nearly matched Cook's day with a 64. He hit every green in regulation while playing a stellar short game that had the crowds cheering Watson's every shot.
After a 12-foot birdie putt on the 18th that temporarily put him in a tie with Cook for the lead, Watson walked to the scorer's tent then emerged to find a crowd of fans lined up taking their hats off to be autographed.
"Today the wedge game was right on," Watson said. "It makes it easy when you have those kick-ins. Yesterday I made some mistakes with the irons early on and didn't get the ball close enough to the hole with the short clubs. Today was much better ball-striking and better putting."
Blackmar, who shared the first-round lead with Jeff Sluman, had five birdies on the back nine for a 67. Blackmar won the AT&T Championship in San Antonio last week for his first senior title.
Sluman (69), Brad Bryant (67) and Russ Cochran (66) were 9 under.
Season points leader Loren Roberts struggled most of the afternoon and had five bogeys en route to a 73 that dropped him into a tie for 25th at 1 under.
Bernhard Langer, who began the tournament in third place behind Roberts, had a 65 to move into a tie for seventh at 7 under. Jay Haas (68) was 5 under, and Fred Funk (69) followed at 4 under. The four are the only players left in contention to win the $1 million annuity.
"I'm looking real close at this point," Langer said. "There's a lot of golf yet to be played but I'd like to be in contention coming down to the last nine holes."
Cook shot a 68 on Thursday, then opened the second round with three straight birdies to move ahead of Blackmar for the early lead. After two pars, Cook made consecutive birdies on the par-4 sixth hole and the par-3 seventh to move three strokes ahead at 9 under.
But Watson pulled within range with three straight birdies. Playing two groups ahead of Cook, Watson moved to 10 under with a birdie on the 587-yard, par-5 13th, then hit a soft 7-iron within 12 feet of the pin on the 18th and made the putt for another birdie.
That left Watson temporarily tied with Cook atop the leaderboard but that changed before Watson could finish signing autographs outside the scorer's tent.
They will be paired together Saturday.
"Any time you're playing with Tom, you are probably doing something right," Cook said. "He's a crowd favorite. He's a Hall of Famer. I love it."
Cook, 1 under on the back nine during the first round, birdied the par-5 16th then closed with short birdie putts on 17 and 18.
Before Cook and Watson shot to the top of the leaderboard, Langer was making his push toward the top after opening the tournament with a disappointing 72. Langer stayed at even par early then birdied seven of his final nine holes, including the final four.
With Roberts struggling for the second straight day, Langer was in good shape to become just the second player to overtake the points leader for the title during the season-ending tournament. Langer is 348 points behind Roberts, and Haas is 602 back. The players will receive a point for every $500 earned, making a victory worth 884.
Langer leads the tour with four victories and $2,033,451. Roberts, a three-time winner, is second on the money list with $1,854,613.