News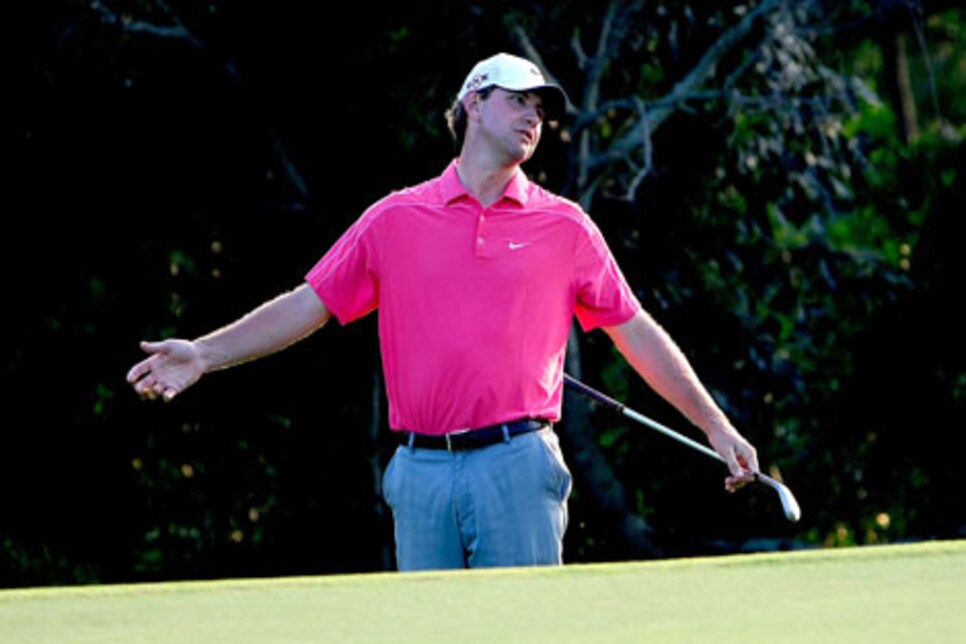 Glover pounded a 406-yard drive on the 18th hole to set up a birdie.
KAPALUA, Hawaii (AP) -- Even with a three-shot lead at Kapalua going into the weekend, U.S. Open champion Lucas Glover figured it would be tight. Surely, a few players in this winners-only field would post a low score, and a few guys wouldn't.
He just didn't think he would be the one struggling to get by Saturday.
Or that so many others would get into the hunt.
Glover went from a three-shot lead to a two-shot deficit in the SBS Championship, only to have his fortunes change as quickly as the direction of the wind. Three birdies over his last five holes allowed him to salvage a 2-under 71 and a one-shot lead over defending champion Geoff Ogilvy going into a final round with endless possibilities.
"Everybody wants an opportunity on Sunday, and I have that," Glover said.
Glover can attribute that to his finish, when the Kona wind shifted to the prevailing trade wind. That made the par-5 18th hole play shorter than its 663 yards, and it helped that Glover pounded a drive that rolled out 406 yards. He reached the green easily and two-putted from 60 feet to walk off the Plantation Course at Kapalua with the lead.
"I knew it was going to tighten up," Glover said. "Some guys were going to play well, and some guys weren't. That happened to be me."
He was at 17-under 202 and will play in the final group with the defending champion.
Ogilvy had a 5-under 68, his seventh consecutive round in the 60s at Kapalua, with his only blemish coming on the 16th. That's about when Ogilvy noticed the switch in the wind, found the worst spot - a bunker - and advanced the ball only about 80 yards in making bogey.
He also birdied the final hole to give himself a chance at starting another year with a win.
The final round figures to be anything but at two-man race.
Martin Laird of Scotland had a 4-under 69 and was at 204, while Ryan Moore shot 68 and was another shot back. The group at 206 included three major champions - Retief Goosen, Stewart Cink and Angel Cabrera.
Glover showed that a three-shot lead isn't safe. Eleven players were separated by five shots going into the last day, with five of them major champions.
"It's that sort of week," Ogilvy said. "There are cases when guys go crazy and win by a lot. It can bunch up guys as well. It doesn't matter what you're shooting."
It was one of the most unusual days at Kapalua, and players with deep local knowledge could have known what to expect when neighboring Molokai was shrouded with "vog," which is produced by volcanic ashes that drift from 100 miles away on the Big Island without the prevailing trade wind to disperse it.
Glover is making only his second trip to Kapalua and most likely is not aware of vog. What he did notice walking down the first fairway was Troy Matteson playing from a 40-foot valley of light rough beyond the ninth fairway.
The typical play in this wind is to hit iron off the 521-yard ninth hole to keep from running through the fairway. Matteson and Bo Van Pelt opted for driver down the valley, leaving a blind shot to the green -- but also a short iron instead of another long iron.
They were among seven players who took that route, and Glover joined them.
"Walking down No. 1, I saw Troy and Bo, and it didn't look like they had a bad lie," Glover said. "I didn't know if I could hold a fairway metal downwind. That was the thinking there. I never even thought about it before. Even on Tuesday and Wednesday, the wind wasn't blowing that hard."
Six of those seven players made birdie, and it came at the right time for Glover.
Having missed birdie chances on three straight holes early in the round, he lost his feel for the speed on the Bermuda greens had consecutive three-putts, one that went 8 feet by the hole, another that came up 8 feet short.
Suddenly, he was no longer in the lead.
The birdie on nine settled him, and he found his speed on the back nine with short but tricky birdie putts on the 14th and 16th holes that enabled him to regain the lead as he tries to give Kapalua a wire-to-wire winner for the second straight year.
Glover would have preferred a big lead, the way Ogilvy built a six-shot lead, although being in the hunt at the start of a new year was all he had in mind at the start of the week.
Having this much company?
Ogilvy walked off the 17th green and stared at a leaderboard for the longest time. Each page that turned continued to have player after player easily within range of the lead.
"This is a course where there's still 10 guys who can win," Ogilvy said.