News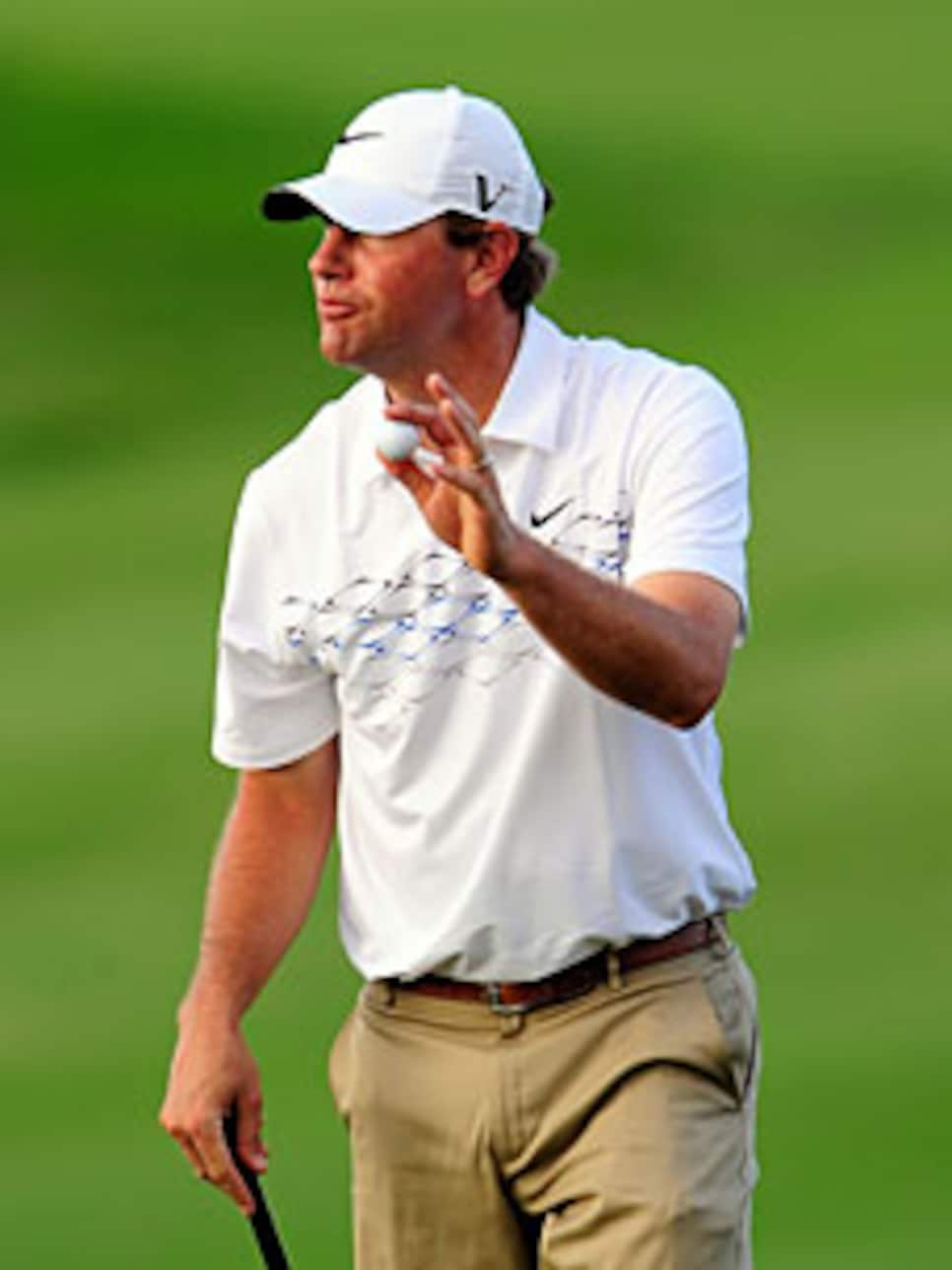 Glover's 36-hole total of 131 is the lowest at Kapalua in five years.
KAPALUA, Hawaii (AP) -- The flags were surprisingly still, the Pacific Ocean missing the raging white caps so typical this time of the year with the trade wind. That was all the evidence U.S. Open champion Lucas Glover needed to realize he'd better keep making birdies.
Glover had another good stretch in the middle of his round Friday that sent him to an 8-under 65 in the SBS Championship, giving him the lowest 36-hole score at Kapalua in five years and a three-shot lead going into the weekend.
Even at 15-under 131, and in a tropical paradise, this is no time for Glover to relax.
John Rollins had a 66 and was three shots behind, followed by defending champion Geoff Ogilvy (66), Sean O'Hair (67), Matt Kuchar (68) and Martin Laird (68) at 11-under 135.
"I'm pretty aggressive, anyway, so I'm going to have to pick my spots," Glover said. "I'm going to have to make some birdies. These guys are the best players in the world, and they're going to be coming after me."
The conditions have been so pristine over two days along the Maui coastline that everyone in the 28-man field was at par or better. And with the Plantation Course at Kapalua as defenseless as ever, 11 players were tied for the lead at one point early in the second round.
Glover changed that quickly.
He ran off three straight birdies, all of them inside 8 feet, then made a par that felt like a birdie. His tee shot found the bunker at No. 8 and rolled so far back that it was close to the front lip, forcing Glover to stand outside the sand. He blasted out to 12 feet and holed the putt, putting him in a good frame of mind heading to the ninth tee.
Glover hit 3-wood to 12 feet for eagle, then hit a wedge to 4 feet on the 10th for an easy birdie.
Just like that, he was back in control, and Glover made sure he stayed there with a few more birdies late in his round, including a wedge that bounced off the flag at the 16th and settled next to the cup.
O'Hair noticed Glover at 11 under when he walked off the 13th green. The next time he saw a leaderboard along the 17th fairway, he saw Glover at 14 under, and everyone else moving up a couple of notches, too.
"There's quite a few players out there that can win this thing and are playing some nice golf," O'Hair said.
Most of them are being pampered beyond a free room at the Ritz-Carlton, where the butler-drawn baths are among the amenities. Glover was driving along the roads framed by cook pines, gazing at the still Pacific, and knew this week would be a treat for golfers.
"We were talking about this at breakfast," he said. "Nobody who's been to Hawaii has seen it this calm. This is nice for us. We get to be a little more aggressive. Club selection is a lot easier. I wouldn't mind seeing it come up and having some goofy stuff go on, just for fun."
Glover had the lowest 36-hole score at Kapalua since Vijay Singh also was at 131 in 2005. The record was a 17-under 129 by Ernie Els in 2003, when he set a PGA Tour record at 31 under for a 72-hole event.
More wind might make a three-shot lead feel like nothing. Even in peaceful conditions, Glover realizes he has a long way to go.
"It'll be hard to catch him if he's playing as well as he is," Ogilvy said. "But he's going to have to keep playing well. In the wind, four or five shots can disappear. But if he's even par on the front nine, three-fourths of that lead could be gone. We all know that if the weather is benign, we have to go low."
Ogilvy played bogey-free and continues to pitch the ball cleanly, which he did last year in winning by six shots. O'Hair made a late push when he saw Glover's score, pounding a 3-wood on the final hole that set up an eagle.
Masters champion Angel Cabrera had another 68 and was five shots behind at 10-under 136, while British Open champion Stewart Cink and Kenny Perry were in the group another shot behind.
The other major winner is PGA champion Y.E. Yang, who was trying to stay in the mix until hitting into the native grass left of the 18th and eventually three-putting from 12 feet for a triple bogey and a 74, leaving him 13 shots behind.
The forecast is for moderate wind the rest of the week, and while a mere breeze if a refreshing change, it's still odd.
"You come over with the mindset the wind is going to howl," Rollins said. "If I'm home watching in on TV, guys pants are whipping in the wind, they're hitting short clubs from crazy yardages, they're defensive on every shot. To get rounds like this is fantastic."