News
Glover Gets Off To Great Start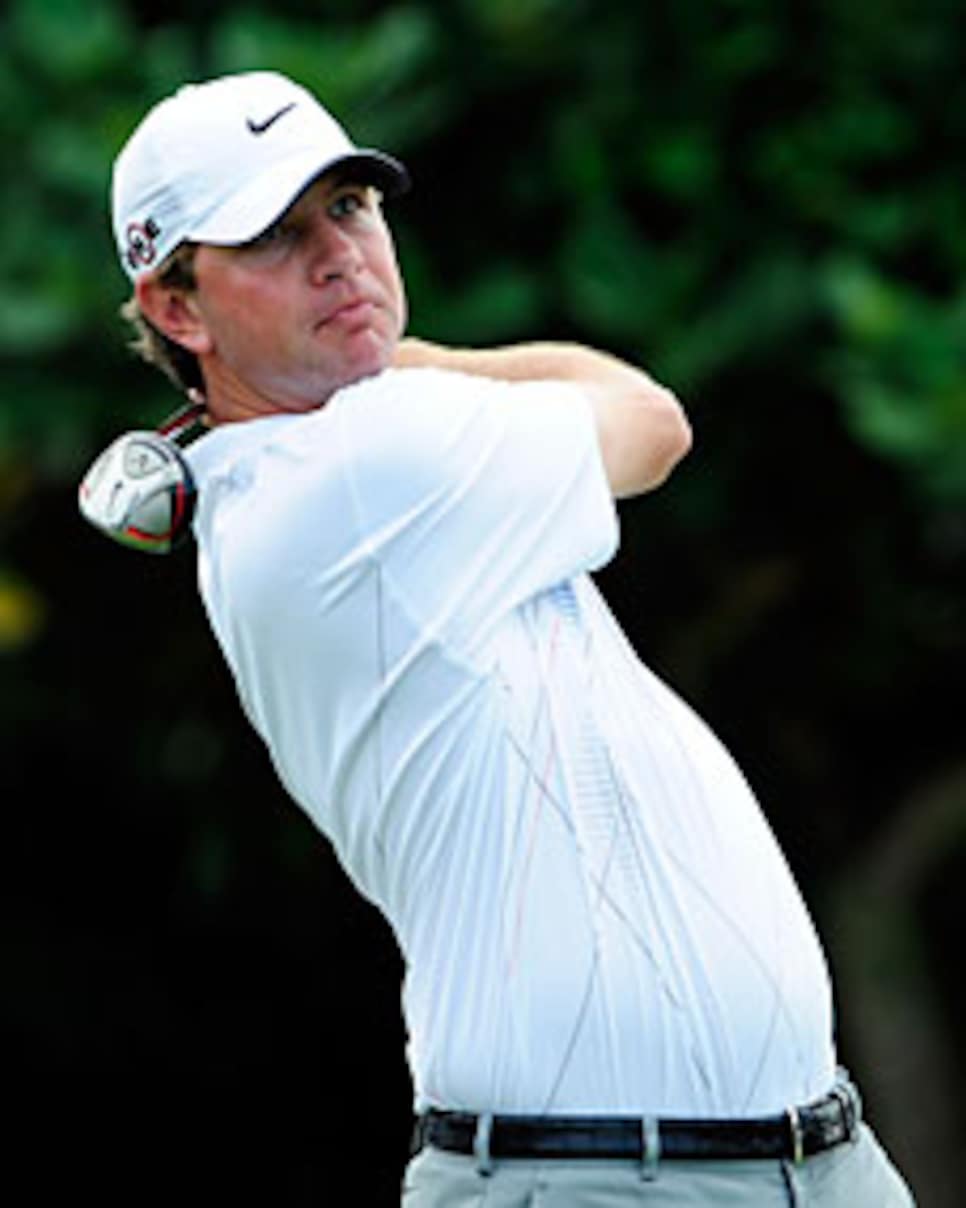 Beginning with an eagle on No. 5, Glover had a 9-hole stretch in which he played 9-under.
KAPALUA, Hawaii (AP) -- U.S. Open champion Lucas Glover returned to Kapalua and had another miserable start to the first round of a new PGA Tour season. The difference Thursday was how he finished.
Glover recovered from a double bogey on his opening hole by going 9-under par over a nine-hole stretch in the middle of his round. He finished it off with a tap-in birdie for a 7-under 66 on Thursday and a one-shot lead in the season-opening SBS Championship.
The last time he qualified for this winners-only tournament, Glover began his season with four straight bogeys. This time, he hit a weak 4-iron that disappeared into the native shrubs and led to a double bogey.
"I was aiming 25 feet left of the hole and hit it 25 feet to the right," he said. "I got what I deserved."
He made up for it in a big way.
Glover, who made only two eagles in 26 tournaments last year, made two in a five-hole stretch on the Plantation Course at Kapalua that turned his fortunes quickly. He then made four straight birdies to open the back nine, and took the outright lead with a pitch from just short of the 18th green that trickled to inside a foot from the cup.
Nathan Green of Australia and Martin Laird of Scotland, among seven players making their debuts at Kapalua, joined Dustin Johnson and Nick Watney at 67. British Open champion Stewart Cink and Masters champion Angel Cabrera were among those at 68.
Defending champion Geoff Ogilvy had a 69.
The wind finally switched to its normal direction -- the trades -- and it was mild enough to make scoring relatively easy. Mark Wilson (74) and Heath Slocum (75) were the only players over par in the 28-man field.
The key to Glover's success last year, when he won the U.S. Open at Bethpage Black, was to not be so hard on himself. He was tested immediately with his double bogey, and it didn't bother him in the least.
"I knew there were a lot of birdies," he said. "I saw some scores early and I knew guys were making birdies, and if I played well, I could get something going. So just don't rush anything. Be patient."
The birdies and eagles came quickly.
It started with a 6-iron to the par-5 fifth to 18 feet for eagle, followed by a drive down the hill to the front of the sixth green for a simple up-and-down for birdie. Then came a 3-wood into 30 feet on the par-5 ninth, and the longest putt of his round, a 35-footer across the 11th green for a birdie.
And it could have been even better.
His birdie streak on the back nine ended at the 14th, where he drove to the front of the green. He chipped weakly to 8 feet and missed the putt. On the next hole, Glover missed a 3-foot birdie putt, and he three-putted from about 15 feet above the hole on the 16th.
It still added to a 66, and Glover felt as though he played that well.
Otherwise, it was a typical start to another PGA Tour season, even as questions linger about Tiger Woods and when he will return from the crisis in his personal life that has put golf in the mainstream media for reasons few ever imagined.
Some players felt rusty, while just about everyone was optimistic about a new year.
Green felt particularly good after his worst shot of the day. He hit it left of the green on the par-3 eighth and tried to play it from the weeds, but the thick grass grabbed the hosel of the club and pulled it straight to the left. Green feared it was going to take the head off a woman, one of about 10 people in his gallery, but it hit her in the arm.
"I actually said, 'Sorry,' while the ball was still on the club face," Green said.
From some 30 yards beyond the green, he chipped to 6 feet and got out of there with a bogey.
"That's the stuff I wasn't doing much at all last year," Green said. "If I had a slightly good break like that, I wouldn't make the most of it. I wouldn't manage to get it up and down."
He settled down after that with four birdies on the back nine.
Johnson had eight birdies to offset a few mistakes, which are expected this time of the year. Laird had the honor of hitting the opening tee shot of the 2010 season, and he split the middle of the fairway, which isn't hard to do since it's about 80 yards wide.
Watney played with Johnson, and both kept it pretty simple.
"It was just really -- I hate saying it -- an easy day out here," Watney said.