News
Senior Open Returning to Salem CC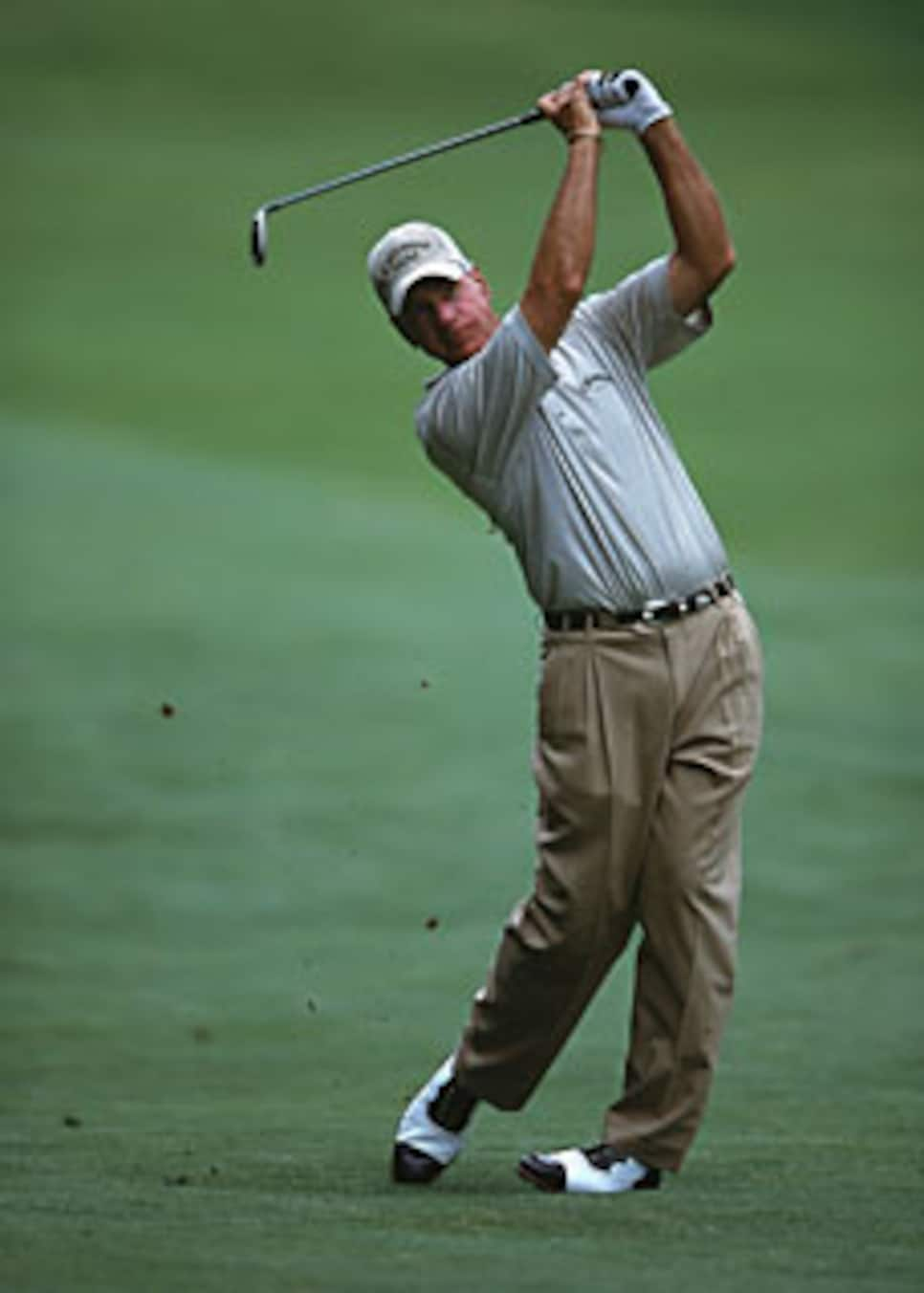 Bruce Fleisher won the U.S. Senior Open the first time it was played at Salem Country Club, in 2001.
The United States Senior Open Golf Championship is returning to Salem Country Club in Peabody, Mass., in 2016. The Salem CC membership Wednesday evening, in an absentee ballot mail-in vote, approved the initiative, endorsed unanimously several weeks ago by the club's Board of Governors, by a nearly 2-1 margin. Nearly 300 of the 350 voting members mailed in their ballots before the September 2, 6 p.m. deadline.
As a result, the club will now formally extend an invitation to the United States Golf Association to conduct a sixth USGA Championship, an action already discussed with a key USGA official. Acceptance of the invitation within the next 90 days is all but assured by the organization's executive committee. The dates for the 2016 Senior Open are July 28-31. Salem would become only the second club to host two Senior Opens, along with Saucon Valley in Bethlehem, Pa., site of this year's U.S. Women's Open.
As Tim Flaherty, director of the USGA's Senior Open and U.S. Amateur, told North Shore Golf magazine after a visit to Salem in the spring, the USGA is anxious to conduct another national championship at Salem, the last coming with the wildly successful 2001 Senior Open that was won by Bruce Fleisher. A men's Open was out of the question because of inadequate space, but virtually any other USGA championship was available to Salem. The club, to the surprise of no one, chose to offer to host a second United States Senior Open.
That championship, in which Arnold Palmer, Gary Player and Jack Nicklaus made their final Massachusetts competitive appearances together, reaped more than $1 million for Salem CC and provided a $30 million economic boost to the North Shore and environs. Projecting forward, the 2016 championship, featuring three practice rounds and four championship rounds, could bring $50 million in economic benefits to the region.
Moreover, the event brings national and international coverage from the media and worldwide television coverage.
"This is just the beginning of the process," Salem President Ray Farmer said. "But we're optimistic the USGA will accept our invitation. Once the USGA accepts, we negotiate a contract with their leadership to make the event as beneficial as possible to both the Salem membership and the USGA."
Currently the U.S. Senior Open is booked through 2014. The venue this year was Crooked Stick in Indiana. The event moves next year to Washington State (Sahalee), Indianwood in lake Orion. Mich., Omaha and Oak Tree in Edmond, Okla., in 2014. The 2015 venue is not set, after which would come Salem. followed by Inverness in Toledo.
"We had a fantastic championship at Salem in 2001," Flaherty said. "An early sellout, a terrific battle down to the wire (4 players were tied for the lead with four holes remaining, including Nicklaus), wonderful corporate support and, best of all, a classic Donald Ross venue that always brings the best players to the top. We'll expect nothing less if we come back in 2016."
Previous USGA champions at Salem, aside from Fleisher, have been Virginia Van Wie ('32 Women's Amateur), Baba Zaharias ('54 Women's Open), Dale More ('77 Men's Senior Amateur), and Hollis Stacy ('84 Women's Open).
"The vote clearly indicates the membership wants to share their golf course and facility with the golf community. There can be no better way than with a U.S. Senior Open when you consider how much of the local community benefits," said Farmer.
It's no coincidence this invitation is being extended during Farmer's second and final year as president. Farmer was chairman of operations for the 2001 event, a thankless job that required his – and other Salem member volunteers – to visit several U.S. Senior Open sites (Riviera in Los Angeles, Des Moines and Saucon Valley in Pennsylvania) leading up to 2001, and then to spend much of championship week working behind the scenes to ensure that various aspects of the tournament's apparatus functioned smoothly. Farmer was in charge of seven committees that worked for several years in preparation for championship week.
"It's a four-year job for a host club to get ready, so we're giving ourselves even more lead time," says Farmer, who gave considerable credit for the initiative's passing to his liaisons to the USGA, long-time lawyer partners Oliver Cook and Bill Sheehan. The former made a sterling presentation at the membership informational meeting, the latter did likewise before the Board of Governors.
Cook has been a part of the four most recent USGA Championships at Salem. He watched the Babe in 1954 as a kid recently relocated from Ohio to the North Shore. He assisted the legendary Lionel MacDuff in running the '77 Senior Amateur and served as chairman for the '84 and '01 Opens.
"It's most gratifying to see our campaign for the Senior Open be embraced so warmly by the membership," said Cook. "Fact is the membership knows its obligations and responsibilities to the game when they are part of such an exceptional facility as Salem, so they vote to share it with the local, state, regional and national golf communities whenever feasible.
"In the case of the 2016 Senior Open, we have a vastly improved course and clubhouse to offer," Cook, 71, noted. "We have brand new locker rooms, a brand new pro shop, a health and fitness center, a greatly enlarged (3/4 of an acre) practice facility, a new cart barn and bag room separate from the clubhouse and, of course, a superb golf course that's been maintained magnificently by our superintendent, Kip Tyler, for nearly thirty years."
A large percentage of Salem CC members volunteered their services for the 2001 event and worked on more than forty committees. Another large contingent appears ready to step forward over the next seven years based on the overwhelming support of the initiative.
"We'll have another outstanding group of members take part, most of whom will sacrifice vacation time to make the Open work," said Sheehan. "And we'll once again be inviting any and all members of the surrounding communities to pitch in, especially those from Greater Boston clubs. These volunteers are the backbone of any undertaking of this nature."
Logistics will be an issue, as they were in 2001, because of limited parking. The players will have to be shuttled from their hotels and private homes to the course, as they were in 2001. Spectators will park off-site as before and be bused to the club. Beverly Airport will most likely have an influx of private jets that week.
"We'll work all that stuff out with the USGA, the City of Peabody and surrounding enterprises that would be ideal to serve as parking sites for the fans," said Farmer. "We got fantastic cooperation from our North Shore family in 2001 and hope to get the same in 2016."
From a New England standpoint, there will be two favorites in the mix in Rhode Islanders Brad Faxon and Billy Andrade, both of whom will have turned 50, the minimum age requirement to compete, by then.
Farmer planned to direct Cook to contact the USGA with the result of the vote promptly, then await the organization's anticipated rubber stamp approval to accept Salem's invitation.
"We look forward to hearing from the USGA, but everything is one step at a time from here," says Farmer. "Eventually we'll name a general chairman and start forming committees, but for now we wait for the USGA to act – favorably we hope."