News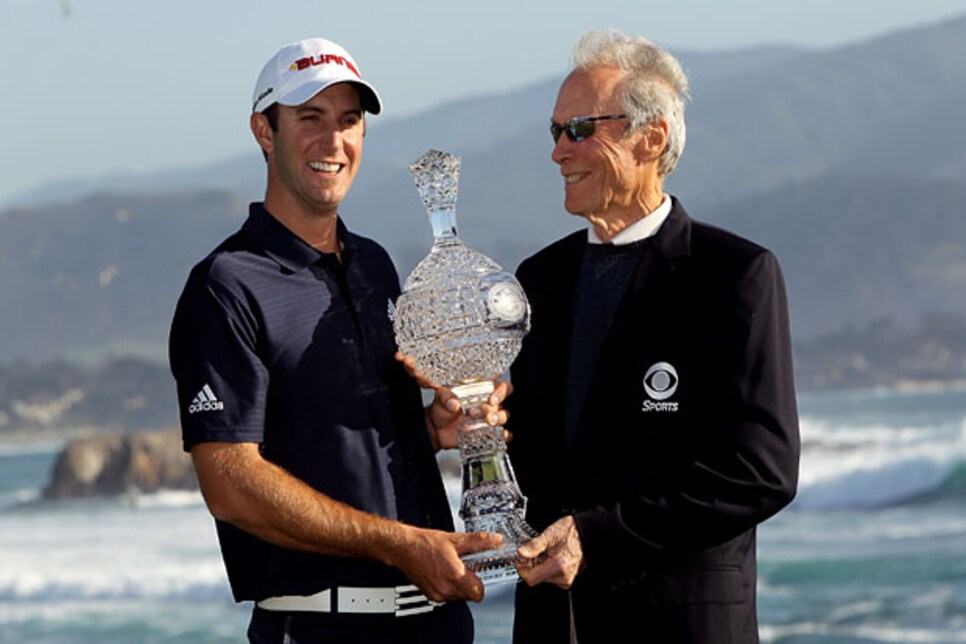 Dustin Johnson will have an even bigger smile if he can win again at Pebble in June.
1. Dustin Johnson, a 54-hole champ in 2009, defends his AT&T title over 72 holes.
Would Johnson take a 90-hole win at Pebble Beach in June right now? You bet.
2. USGA opts for prime-time finish at U.S. Open in June.
If the 9s Alex Prugh, Bryce Molder and Paul Goydos made in the AT&T final round are any indication, they'll need it.
3. Bill Jones III, head of struggling Sea Island resort, grouped with Charles Schwab at AT&T.
If anyone ever needed to "Talk to Chuck," it's Jones.
4. Bill Murray given two-shot penalty for being late for third-round starting time.
What a change. He used to throw old ladies into bunkers and no one said a thing.
5. Fred Couples wins the ACE Group Classic in his second Champions Tour start.
The Champions Tour boring? Not if Couples is going to contend every week.
6. Srixon's yellow Z-Star marks the return of colored golf balls to pro game.
We don't mind this comeback. It's the plaid pants and white belts we could do without.
7. Former Ryder Cup captain Paul Azinger's book on leadership coming out in May.
Here's a surprise: No chapter about making sure Nick Faldo coaches the opposing team.
8. Palmer, Nicklaus and Player to play in June charity event expected to raise $12 million.
Proving the trio still deserves the nickname, "The Big Three."
9. Angel Cabrera finalizes Masters Champions Dinner menu.
In Argentina, apparently they don't need to ask, "Where's the beef?" It's everywhere.