News
Hard Lines And Hypocrites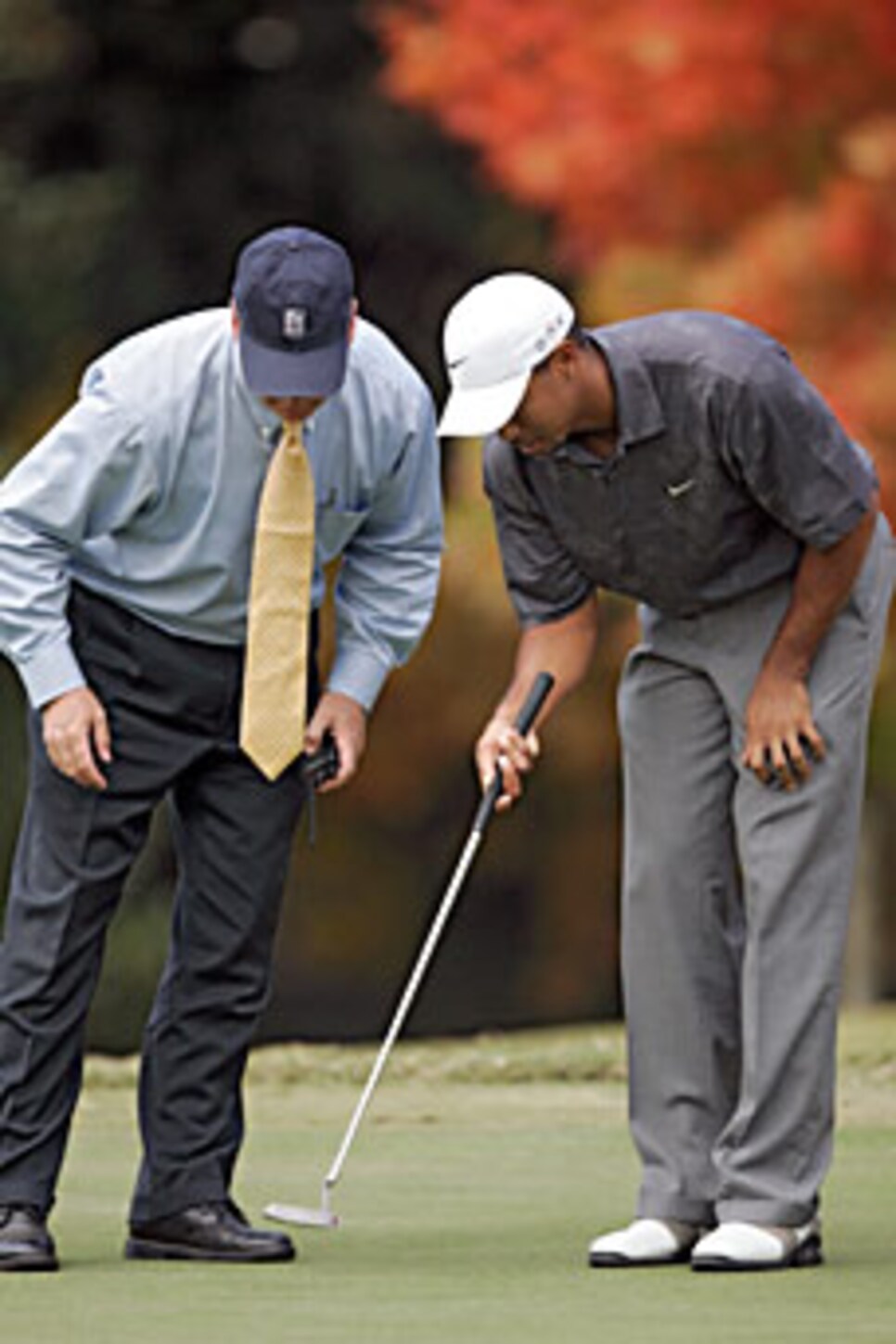 In a sport where players are supposed to govern themselves, rules officials still play a prominent role.
It was after 11 o'clock on Sunday night when the telephone rang. In the final stages of his journey home from the Irish Open, a European Tour professional of my acquaintance was still disturbed by what he had experienced earlier that day.
The story goes like this: Having pushed a shot wide of the fairway he was aiming at, "ETP" found his ball in a divot mark. That was bad enough, but when he addressed the ball it moved, albeit slightly, while still remaining in its previously poor lie. ETP knew what to do next -- replace ball, one-shot penalty -- but just to be sure he called for a ruling.
When the official arrived, he surprised ETP by asking if he had definitely caused the ball to move: "Are you sure it wasn't the wind? Are you sure you had grounded your club?"
The answers to those questions being "yes and yes," ETP replaced his ball in its original position, accepted the one-shot addition to his score and played on. Later, a nearby spectator congratulated him on his honesty, especially since "the referee gave you a way out there."
That is the point, of course. Should referees be encouraging players to bend the rules to their advantage? Or should they simply provide guidance in the application of a rule?
"I couldn't get it out of my head all day," he said. "The guy -- employed by the European Tour -- was essentially telling me to cheat in order to avoid a one-shot penalty I had no problem with. I knew I had addressed the ball and I knew the ball had moved. For me to do anything else other than add a shot to my score would have been dishonest."
Ah, and there lies the rub. Honesty being the personal thing it is, only the player really knows what is going on inside his head. Not that it always matters one way or the other. Sometimes speaking the truth isn't enough for golf and its rules-makers. Sometimes it depends on who you are and what you are accused of. The game may claim to be whiter-than-white, but double standards abound.
Which brings us to popular figure of Kenny Perry and his by-now infamous shenanigans during the playoff for the FBR Open back on February 1st. Before hitting a chip from semi-rough left of the 18th green, Perry went through a fairly involved tap-tap-tapping routine with his club behind the ball that, to many observers, markedly improved his lie. Not everyone agreed though, not least PGA Tour rules official Mark Russell, who announced that he had "no problem" with what Perry had done.
Nor did my favorite rules man, European Tour chief referee John Paramor. Speaking to my esteemed colleague, Lawrence Donegan of the Guardian, Paramor had this to say about Perry's actions:
"The fact is the player is allowed to put his club behind the ball, otherwise he would never be allowed to address his ball in any circumstance. As soon as any player puts his club on the grass behind the ball, then the grass will be flattened. The issue is, is there excessive pressing down with the club? In other words, was there intent? Looking at this, I don't think Kenny Perry did use excessive pressure when he put his club behind the ball. It does look bad. It does look like the lie was improved but, as long as there was no intent to do so -- and I don't think there was -- then it is not a penalty."
By the same measure, of course, did Rory McIlroy escape punishment at last month's Masters. When the young Irishman failed to escape from a greenside bunker on the 18th hole, he either kicked the sand in anger or merely repaired his footprints, depending on your interpretation of his actions. The key was that, asked what his intent had been, McIlroy responded that he had merely been smoothing the sand. So, no penalty; any other ruling would have impugned the lad's veracity.
This intent thing is a funny one though, and hardly an exact science. Gray areas abound. I mean, how far can using "intent" as an excuse take a player? Yet again, even in a game that sells itself to sponsors largely on the basis of its supposed honesty, integrity and lack of cheating, it depends. But what is certainly true is that golf, it seems to me, wants it all ways.
Let's go back again to last week's Irish Open. Over the course of the four-day event won so dramatically by amateur Shane Lowry, two men were disqualified. Italian Francesco Molinari, the first round leader, was shown the door on Day Two when two figures were transposed on his card and he consequently signed for a lower score on one of those holes. One day later, Ireland's Michael Hoey was on his way home when he discovered too late that he had 15 clubs in his bag.
Now, just out of interest, does anyone out there think that Molinari had spotted the transposition of the numbers on his sodden scorecard but decided to do nothing about it? And does anyone imagine that Hoey intended to have the extra club or, perhaps more relevantly, intended to use it to his advantage?
Of course not. Yet neither man was given any opportunity to plead his case. Under the suddenly stringently applied rules, each incident was either black or white; no gray area existed, no "intent" argument applied and so both were out.
Really, at times like this it is difficult to feel proud of the people who administer this great game. All the old clichés rear up. Viewed by much of the outside world as a sport played by a group of pompous, self-important old bufties who wouldn't recognize natural justice if it leapt up and whacked them on their collectively graying heads, golf consistently shoots itself in its spikes.
In a game that sells itself on the integrity of its participants, to so blatantly mistrust the word of two professionals with previously unblemished reputations for honesty is, it seems to me, a double standard. On one hand, golf wants its pristine image maintained; on the other it apparently doesn't trust players enough to fix genuine and honestly made errors. Where is the consistency in that?
Perhaps the most egregious example of this nonsense was the Mark Roe/Jesper Parnevik farce during the third round of the Open at Royal St. Georges back in 2003. Both men were disqualified when it was discovered that they had failed to swap cards on the first tee and so had recorded the other's score on their own cards. This was especially important for Roe, who had shot 67 and so would have played with Tiger Woods in the second last pairing on the final day.
If only the hapless Parnevik hadn't "highlighted" his own poor play by "winning" one hole that day. If the pair had instead tied the fourth, Roe would have been able to tee up in the final round with Parnevik's 81 after his name. Now tell me that would have made any kind of sense on any kind of level.
Going further back, perhaps the most famous scorecard error came in the 1968 Masters. Despite millions of television viewers witnessing the birdie three he made at the penultimate hole, Roberto De Vicenzo was forced to accept the four his marker, Tommy Aaron, had inserted in the relevant box.
"What a stupid I am," said the Argentine in his delightfully fractured English. What he should have said was, "what a stupid rule it is."