News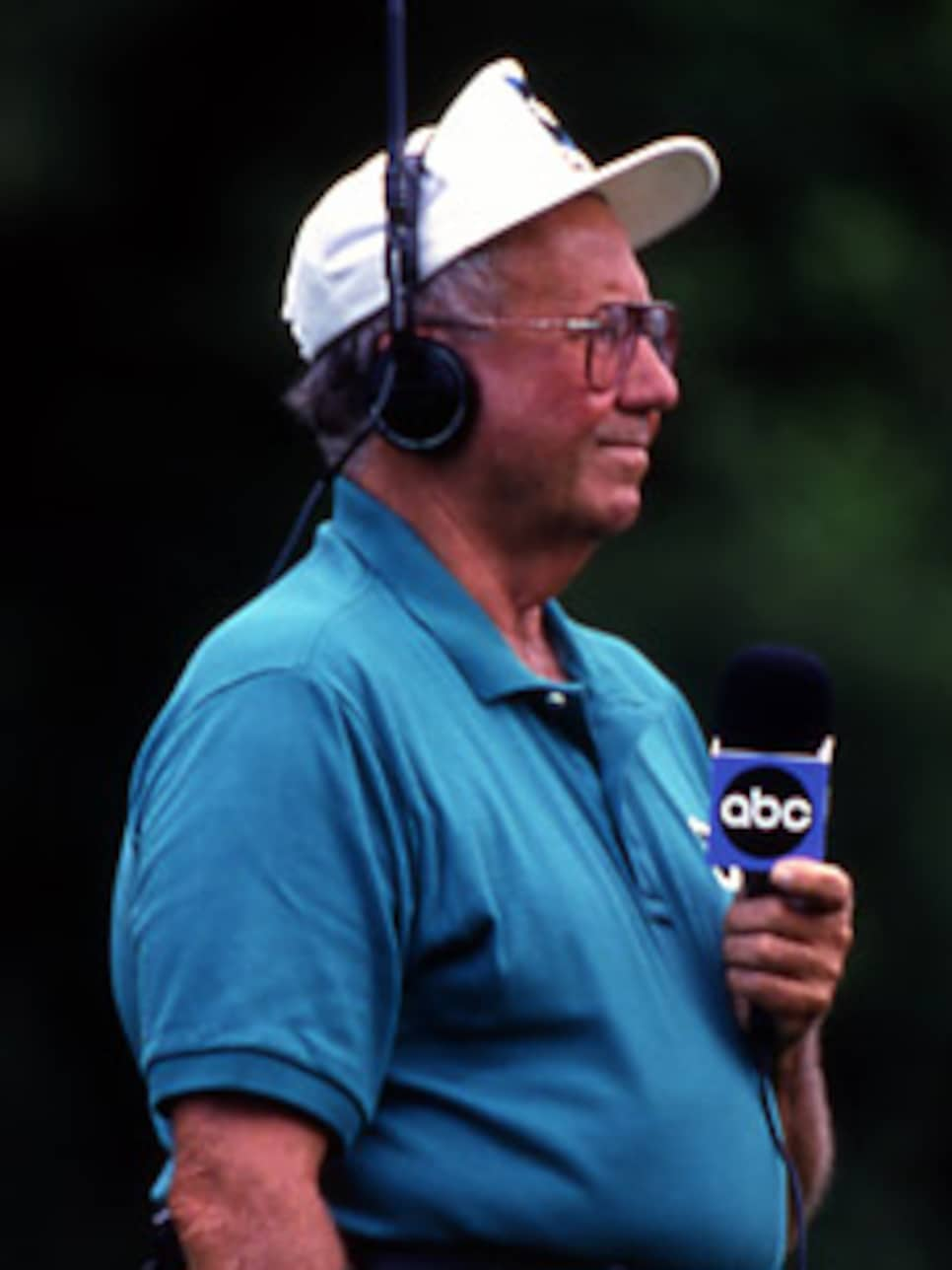 Bob Rosburg covering the 1994 Senior Open at Pinehurst No. 2.
PALM SPRINGS, Calif. (AP) -- Bob Rosburg, who won the 1959 PGA Championship and spent three decades with ABC Sports as the first reporter to call the shots from the golf course, has died. He was 82.
The PGA Tour said Rosburg died Thursday at home in Palm Springs, Calif. He had been battling cancer, but longtime friend Sal Johnson wrote on his blog that Rosburg died of head injuries after a fall.
Rosburg won six times on the PGA Tour, his biggest victory coming at the 1959 PGA Championship when he rallied from six shots behind at Minneapolis Golf Club to beat Jerry Barber and Doug Sanders for his only major.
He had finished second at the U.S. Open earlier that year, and a decade later missed a 3-foot putt that would have forced a playoff in the 1969 U.S. Open at Champions Golf Club in Houston.
He achieved greater fame through television.
EXCERPTS FROM THE GOLF DIGEST INTERVIEW WITH BOB ROSBURG
On withdrawing from tournaments when he was frustrated: 'I dropped out a lot. In fact, one of the gags among the caddies and some of the other players was that my name on the board should have been R-o-s-b-u-r-g-W-D. If I had it to do over again, that was something that was wrong. We got a note from Dave Marr on our 18th wedding anniversary that said, 'Eleanor, you've performed a miracle: Rossie rarely goes all 18.'
---- On playing a match as a 12-year-old with Ty Cobb: 'I was an 8-, 9- or 10-handicap, something like that. I played Cobb in the final of our flight. I really had a pretty good day, and he didn't play too well; I beat him, 7 and 6. All his buddies started razzing him so bad and you know he was a pretty hot-tempered guy -- that he never came back to Olympic Club again. All the club members and his friends, they were saying stuff to him like, 'How can a great athlete like you let a kid like this annihilate you? Not only beat you but embarrass you?' He dropped his membership, went down to Menlo Park and played the rest of his days down there. Never came back."
Rosburg, known as "Rossie" by his colleagues, was hired by ABC Sports in 1974. Instead of sitting in a tower, the network decided it needed a golfer to call the action from the course. Today, every network has on-course reporters.
Rosburg was famous for responding to questions about a particular shot by saying, "He's got no chance."
"I haven't said, 'He's got no chance' in four years," Rosburg said in a 2002 article for Golf Digest magazine. "I have nothing against the expression. It's just that players nowadays always have a chance."
Rosburg grew up in San Francisco playing golf at The Olympic Club, where at age 12 he defeated Ty Cobb in the club championship. He played baseball and golf at Stanford, then turned to golf in 1953.
He won his first PGA Tour event a year later, beating Bo Wininger by one shot in the 1954 Miami Open. His last victory came in 1972 Bob Hope Chrysler Classic.
Funeral arrangements were not immediately available.