News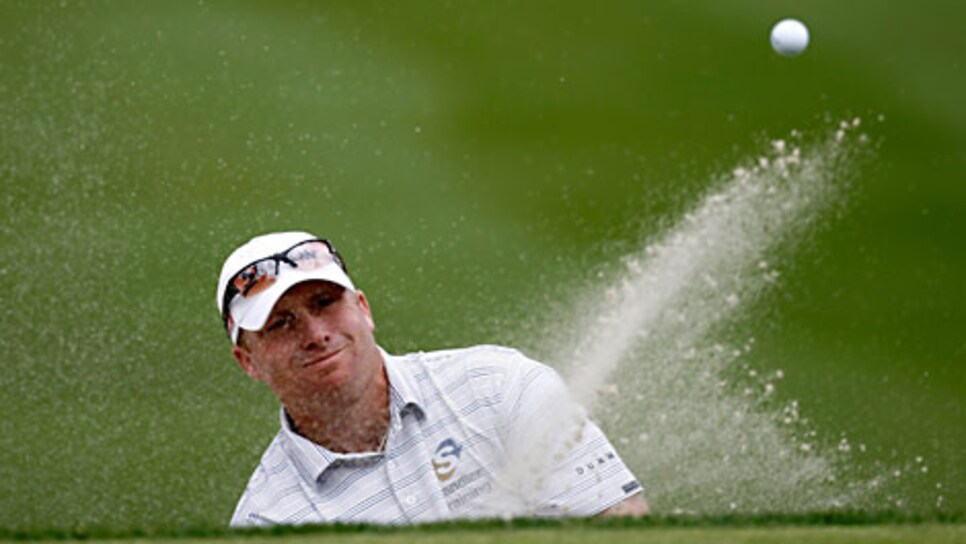 Rollins went 30-32 with eight birdies and an eagle to tie the course record of 62.
RENO, Nev. (AP) -- John Rollins matched the course record with a 10-under 62 to take a two-stroke lead Friday in the Legends Reno-Tahoe Open, and Chris Riley tied the PGA Tour mark for relation to par for nine holes with 9-under 27.
Rollins, who had a birdie-birdie-eagle-birdie-birdie run, had a 12-under 132 total -- leaving him two strokes ahead of 2003 PGA champion Shaun Micheel, who followed an opening 69 with a bogey-free 65 at Montreux Golf and Country Club.
"It was just one of those days, I guess," said Rollins, who tied for second at Reno last year. "I hit a lot of good shots and obviously made a lot of putts. That's really all it is, you just make putts."
Riley, the former UNLV star who won in Reno in 2002, went on his own birdie-eagle-birdie-birdie-birdie streak to reach 7 under through seven holes. He chipped in from 24 feet for his second eagle of the day on the par-5 ninth before starting the back nine with consecutive bogeys. He finished with a 64, leaving him tied for third at 8 under with Robert Garrigus (67) and Marc Leishman (68).
"I thought I could shoot 55 today, I was feeling that good. Then it's weird how your mind just turns on you," said Riley, who played the back nine in 1-over 37.
"Walking to 10, you get a lot of thoughts in your head."
Rollins eagled the 616-yard ninth hole when he hit his second shot 284 yards to the green and made a 34-foot putt for a front-nine 30. He continued the streak with a 14-foot birdie putt on No. 10, then settled for birdie on the par-5 11th when he missed another eagle attempt from 9 feet.
"It was just one of those stretches where I really, honestly, wasn't thinking anything other than just keep hitting good shots," Rollins said. "I just wanted to make sure I didn't get ahead of myself and start thinking about a score because that is usually the kiss of death."
The two-time tour winner parred the next five holes, then got up and down from a bunker for a birdie on the par-5 17th. He closed with a 22-footer for his eighth birdie of the day to tie the course mark set by Bill Glasson in 2005 and matched by Joe Ogilvie in 2006 and Parker McLachlin last year in his tournament victory.
First-round leader Rod Pampling, two-time Reno winner Vaughn Taylor, former Nevada Wolf Pack star Rich Barcelo, Ryan Palmer and Troy Matteson were 7 under, and McLachlin, Rocco Mediate, Spencer Levin, Jonathan Kaye and Jeff Quinney followed at 6 under.
Pampling followed an opening 67 with a 70 on Friday. He had a quadruple-bogey 9 on the 11th after he took three shots from the rough and rocks before taking a penalty drop. His eighth shot landed in a bunker short of the green, but he holed out the next one.
"Hit a great bunker shot and kept it in for a nice nine," the Australian said.
Riley could have gone lower on the front but missed birdie attempts from just 5 feet on No. 2 and 10 feet on No. 8. He hit his second shot in a bunker on the 494-yard, par-4 10th, then missed a 10-foot putt for par.
He nearly notched a third eagle when his 57-yard chip to the par-5 11th grazed the left edge of the hole, but then three-putted from 7 feet for another bogey.
Riley was a stroke off the tour nine-hole record of 26 set by Corey Pavin in the 2006 U.S. Bank Championship in Milwaukee. Pavin was 8 under.
Riley matched the mark for relation to par for nine holes of 9 under set by Billy Mayfair in the 2001 Buick Open, and matched by Robert Gamez in the 2004 Bob Hope Chrysler Classic and Brandt Snedeker in the 2007 Buick Invitational.