News
Play Halted Because of Rain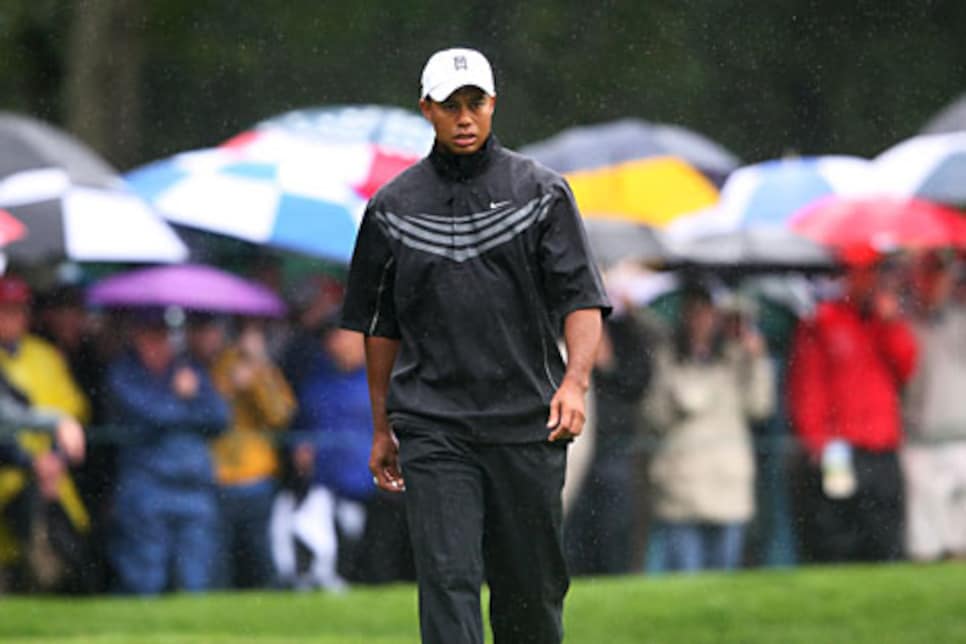 Despite hitting his drive way left on the first hole, Tiger Woods managed to salvage par.
FARMINGDALE, N.Y. (AP) -- The first round of the U.S. Open started Thursday. The end is not yet in sight.
Making greens look like swimming pools and creating streams on many fairways, a daylong deluge overwhelmed an already-waterlogged Bethpage Black and postponed most of the opening round until Friday.
Rain started falling moments before play began at 7 a.m., prompted a suspension at 10:16 a.m., and the United States Golf Association gave up hope for the day just before 2 p.m.
No one completed more than 11 holes, and half the 156-man field didn't even get started.
"Where's my canoe," mused Ian Poulter on his Twitter feed.
Oh, and while Friday's forecast isn't as bad, more rain is possible.
"I wish I had better news," said Jim Hyler, chairman of the USGA's championship committee.
Already, there's talk of a Monday finish, and not one like the classic playoff between Tiger Woods and Rocco Mediate a year ago at Torrey Pines. For the record, the last regulation Monday finish at the U.S. Open was 1983.
Conditions were arduous for everyone, including Woods, whose U.S. Open defense started with an adventure.
Woods pulled his tee shot 50 yards into the rough before scrambling for an improbable par on his opening hole, as increasingly strong rain pelted an already-wet course.
Playing alongside fellow reigning major winners Padraig Harrington and Angel Cabrera, Woods' first shot was so far off line he considered playing a second ball from the tee.
"Way left," caddie Steve Williams said to the world's No. 1 player on the tee box.
Woods eventually hit his second from near the front of a merchandise tent, his ball sailing over the thickest rough alongside the opening fairway. He ended up playing off grass trampled by several days of foot traffic, then got up and down from a greenside bunker for par.
How good was his save? Cabrera and Harrington, both of whom were in decidedly better spots off the tee, each made bogey.
So while Woods successfully salvaged his first hole, work crews - armed with squeegees on greens and using hoses to pump water off the 18th fairway - eventually couldn't keep up with the rainfall.
Less than a half-inch had fallen when play was halted, but the already soggy course couldn't take the extra moisture.
And it wouldn't let up, either.
"The volume of rain falling was outpacing our ability to squeegee the greens," Hyler said, as rain pelted the tent he was standing in, a constant, ominous pitter-patter. "That was the bottom line. The greens just became unplayable and we needed to suspend."
Jeff Brehaut, Johan Edfors, Andrew Parr and Ryan Spears were the only players under par when play was stopped, all at 1 under.
Woods was 1 over through six holes. When play resumes, he'll have a par putt on the 7th green, after both he and Cabrera opted to play third shots from the sand after the horns blew to suspend the tournament.
Cabrera, Poulter and Justin Leonard were among those at even par when play was halted. Other notables: Former U.S. Open champions Geoff Ogilvy, Jim Furyk and Michael Campbell were 1 over, Boo Weekley and Zach Johnson were 2 over and Harrington was 4 over.
The 78 players in the morning draw completed 461 holes before the stoppage. Only 32 birdies were made, compared with 169 bogeys or worse.
Forecasters said all week that rain could have a serious effect on the tournament, especially during the first day.
They couldn't have been more right.
Rickie Fowler, an amateur who made the cut at last year's Open, was the first person to swing away from the opening hole Thursday. He arrived at the tee at 6:54 a.m.
It started raining two minutes later.