News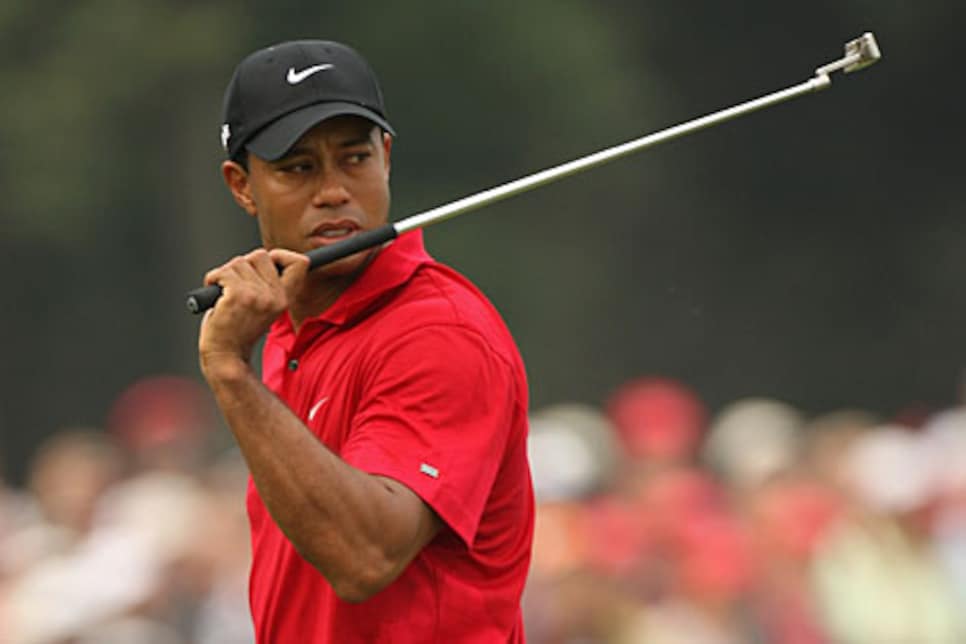 Tiger Woods' season was likely good enough to win Player of the Year honors, but Comeback Player of the Year honors will have to wait.
One award Tiger Woods will not be winning in 2009 is PGA Tour Comeback Player of the Year. In fact, no one will. Despite coming back from major reconstructive knee surgery to win six times and capture the FedEx Cup, Tiger's name, or any other name, will not be on the ballots that go out to players after the Children's Miracle Network Classic. For the first time since the award was given in 1991, the tour has deemed that no player was worthy of a "comeback" nomination in '09. Woods exited the game after his U.S. Open victory at Torrey Pines in '08, and did not play again until the WGC-Accenture Match Play in late February. The thinking? "He didn't come back from oblivion. He was already at the top when he left," said one member of the Policy Board. Competition would have been thin, although a case could be made for David Duval should he protect his top-125 status this week at Disney. Granted, this is the award Steve Stricker won back-to-back in 2006 and 2007, but why wouldn't you want Tiger Woods to win Player of the Year and Comeback Player of the Year in 2009?
Sir Charles plays matchmaker: Hank Haney never got Charles Barkley's golf game straightened out on "The Haney Project," but he did get his own personal life in a better place thanks to Sir Charles. It was during a taping of "The Haney Project" last Dec. 30 -- coincidentally, Woods' birthday -- that Barkley introduced Haney to Suzanne Rogers. Still recovering from a divorce, Haney fell in love with Rogers and they married over the weekend in Los Cabos, Mexico. Sir Charles was among the small circle of friends who attended the wedding at the home of Mike Meldman, founder of Discovery Land. While Haney has moved on to another project in Ray Romano in 2010, he has not given up on Barkley. They talked about his swing over the weekend. "I just think Charles is one of the nicest people I've ever been around," Haney said.
"You never know": Anthony Kim appears to have his act together after the Presidents Cup, advancing to the final of the Volvo World Match Play and finishing T-10 in the HSBC Champions. The door remains open for Kim to play in the Dubai World Championship after moving up to 35th in the "Race to Dubai" point standings with his back-to-back strong showings on the European Tour. He has traveled to New Zealand for the mid-week Kiwi Challenge, but has until Friday to commit. With thousands of air miles already logged on this trip, Kim was originally headed back to Dallas for a two-week rest before the Chevron World Challenge. In China, Kim admitted he traveled too much earlier this year and it cost him physically and mentally. "I think it's easy to get lost in it and just chase the money around and that's not really what I want to do," he said. But after talking to IMG's Guy Kinnings in Shanghai, Kim was exploring all options. The temptation was definitely tugging on him. "So I'm trying to learn from my mistakes," he said. "But you never know."
Safe at home: Saying it was "awesome to be home," Joey Sindelar returned to Horseheads, N.Y., last Friday after a harrowing near-death experience with a pulmonary embolism suffered during the second round of the Charles Schwab Cup Championship. "I've never been the person on the other side of the hospital bed before," Sindelar said of the surreal experience he felt in Sonoma Valley Hospital as friends from the Champions Tour stopped by. What saved his life was his not trying to be a hero after experiencing shortness of breath, and terrific care in getting from the golf course to the hospital. "They said, 'You might have dropped dead on your next step, but it was really, really good you came in when you did.'" On the blood-thinner Coumadin, slowly regaining his strength, Sindelar expects to be back in early 2010. He was going to do the Bruce Lietzke and put the clubs away for 45 days anyway, and on Saturday settled back to a front row seat in front of his Hi-Def screen to watch his Ohio State Buckeyes beat Penn State. He was also online following his son, Jamie, who qualified for OSU's final fall tournament of the season, the Gifford Intercollegiate Championships at CordeValle, which began Monday in San Martin, Ca.
Roberts goes above and beyond: What struck Loren Roberts was the eye contact, the firm handshakes, the positive attitudes, and the genuine love for the game he felt from the three teenagers behind the scoring tent at Sonoma GC during the Charles Schwab Cup Championship. "Those are the kind of people that if there's a problem, you want to help them out," Roberts said last week from his home in Memphis. The problem for James Reede III, Julian Woolfolk and Will Smartt was that their high school golf programs in the Elk Grove District of the Sacramento, Calif., school system had been cut by California's budget appropriations. With a combined Index of 10, the honor students wore Northern California Minority Junior Golf Scholarship Association golf shirts and were products of a First Tee program. "They would have been severely hindered in getting a golf scholarship without playing high school golf," said Dr. James W. Reede Jr., the father not only of 15-year-old James III, but daughter Jessica, who is captain of the girls' team at Monterey Trail High. Roberts, whose college career ended when Cal Poly gave up golf in the 80s, worked his way into the game as an assistant pro in San Luis Obispo, and would come to win his second $1 million annuity through the Schwab Cup in three years. From his earnings, Roberts decided to donate $70,000, picking up the tab on boys and girls high school golf at all nine schools in Elk Grove for two years, through 2011. "It just kept hitting me that these are great kids," Roberts said.
Compton still plugging away: Erik Compton feels a sense of déjà vu as he heads to Orlando this week, one stage through PGA Tour Q School and holding a sponsor's invitation into the Children's Miracle Network. "Except now I'm walking," Compton said from his home in Miami, where he was shaking off the effects of a bronchitis caught from baby daughter, Petra. The heart transplant recipient made the cut at Disney in '08 but missed advancing through second stage by a shot at Southern Hills Plantation in Brooksville, Fl. He's also coming back from a broken hand, suffered in June, but was medalist at first stage and heading back to Southern Hills Nov. 18-21. In a cast for nine weeks, Compton went through rehab and had to use a 10-finger baseball grip during the first month of his practice sessions. "It's not like I'm trying to make a great story," Compton said. "I'm just trying to get through life."