News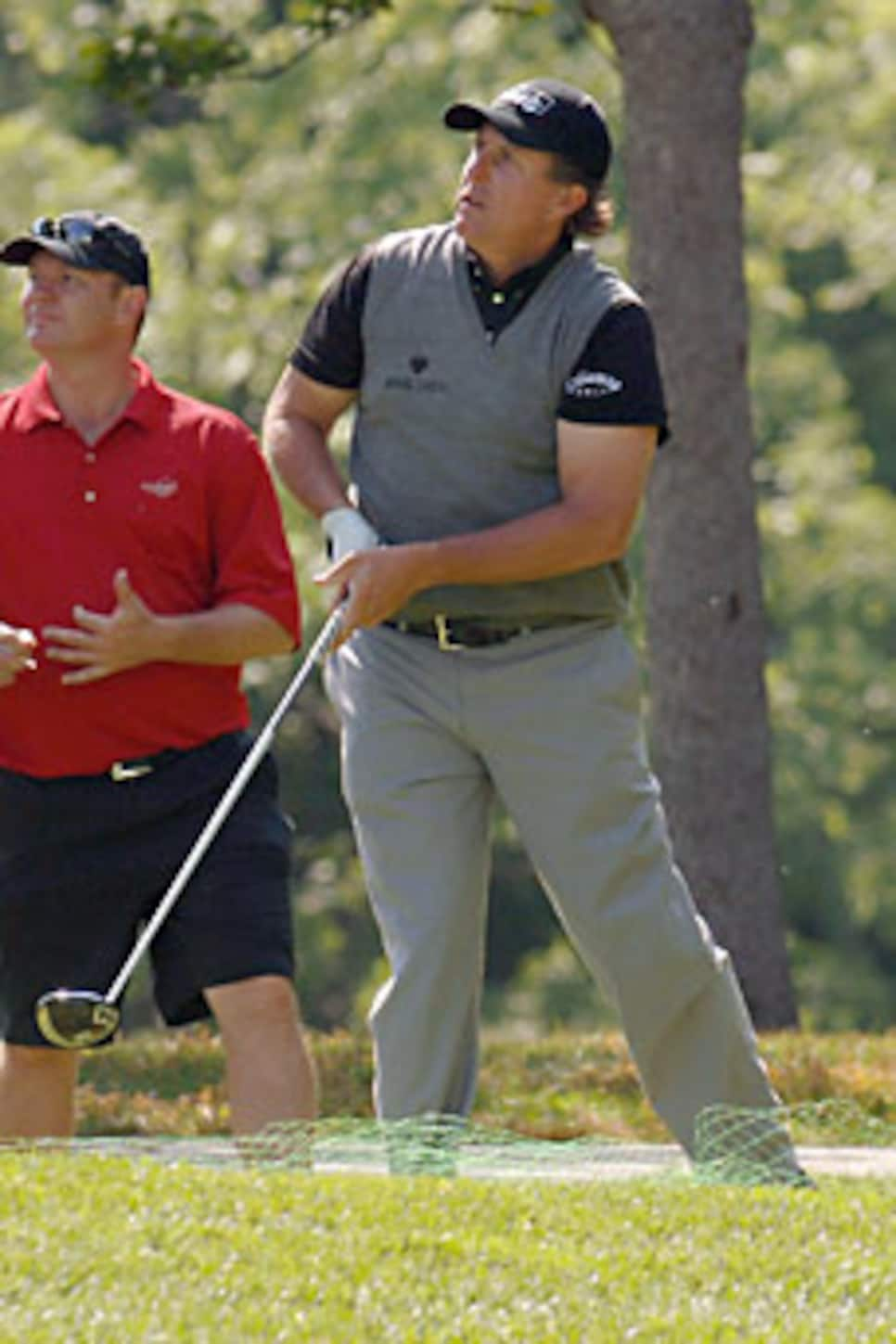 Out of action since the U.S. Open in June, Phil Mickelson's visit to Hazeltine on Wednesday proves he's anxious to return.
Phil Mickelson was back at work Wednesday in a surprise pre-PGA Championship visit to Hazeltine. As Tiger Woods and Butch Harmon indicated from their different corners of the golf world, Phil's prep work and entry into the WGC-Bridgestone Invitational are indicators that wife Amy and mother Mary have responded well to cancer treatment. "If things were not doing well, then I don't think he'd play," Woods said from the Buick Open. "So it's a positive sign to see him out here playing." Harmon concurred from his golf school in Las Vegas, saying, "Amy and his mom are doing a lot better. Things are going so much better at home. He's in a good frame of mind considering what he's been through the last month." Usually Mickelson goes into a major championship venue early the week before the event, but the six weeks off since the U.S. Open have him yearning for competition. As reported in this column two weeks ago, Mickelson and Harmon discussed a change in putting styles on the flight back to the West Coast after the U.S. Open. Harmon wants to see him release the toe of his putter rather than blocking putts with his stroke. "He's in good spirits," said Harmon, who worked with Mickelson on Sunday in San Diego. "His swing wasn't that bad. We had to do a little tweaking in the takeaway, and that's about it. He's really, really anxious to get back playing again. He's ready to go."
New player on tour?: The Greenbrier jumping in to grab the Buick Open date on the PGA Tour schedule, without a corporate title sponsor but with a resort owner trying to get eyeballs on his property, is a sign of our times. Jim Justice rescued the resort from bankruptcy, bought it for a song and is looking to invest in the PGA Tour. The flip side is the Detroit market losing its tour stop after 51 years on the schedule. What the Greenbrier has in history and tradition, it lacks in accessibility. White Sulphur Springs is not an easy get, so it'll be interesting to see if Tiger and Phil fly their jets in there, or if it becomes a temporary patch to the tire. While Buick will end its sponsorship in Flint, tournament officials at Torrey Pines in La Jolla, Ca. are going ahead with the understanding that the strapped automaker's money will still be sponsoring the event. Also being discussed at tour headquarters is the possible swapping of dates between the Travelers Championship and the unsponsored event in Memphis. Travelers just re-upped and would like the spot before the U.S. Open, not after it. There's also a chance in this shuffling that the RBC Canadian Open would get a better date than just after the British Open. And Herb Kohler's name has been thrown into the group joining Jerry Kelly and Steve Stricker in an attempt to save the Milwaukee event.
Spoils of success (part I): Stewart Cink spent his first week as Champion Golfer of the Year making a trip to New York for a David Letterman appearance, enjoying two celebratory parties with friends in Atlanta and relaxing at a lake house near his home in Duluth, Ga. His first sip out of the Claret Jug was at a Houston's. "No champagne yet," Cink said Monday. "I reserved the right to decide what went in first. I put Guinness in there." Cink got on to the dark Irish beer during the 2006 Ryder Cup at the K Club and had a few more sips for a bigger get-together at his favorite Atlanta restaurant, New York Prime. He was headed to Montana for a week of camping and hiking before returning to competition next week at the WGC-Bridgestone Invitational, an event he won in 2004. As for his Twitter numbers, the Open has resulted in another 100,000 followers. He was up to 627,500 on Wednesday morning. "I'm kind of reaching a saturation point among golfer fans," he said. "The people who flooded to me were already there, but I don't care about the numbers. The coolest thing now is when I post something I get responses within a second."
Spoils of success (part II): Lucas Glover Day on Sunday in Greenville, S.C. brought together friends and family of the U.S. Open champion for a celebration of his major championship victory. Glover's high school and college coaches were in attendance along with the president of Clemson, a South Carolina state senator and the Greenville mayor, who presented Glover with a key to the city. The surprise guests were Nancy Harmon, widow of Glover's long-time instructor Dick Harmon, along with Harmon's brother, Billy and Craig Harmon. (Butch would have been there, but got the call from Mickelson.) "To be honest with you, it was one of the most special things I've ever been a part of and growing up in my family, we've been part of some special things," Billy Harmon said Thursday morning from Rhode Island. "There was a raw emotion there that couldn't fabricate and it was more so directed at Dick's wife Nancy and his two boys, because Lucas in many ways is a member of that family. Craig and I are good friends, but not to the depth or level of Nancy and Dick's family, so it was really special. I think we were all kind of overcome. It was so real, you could touch it."