News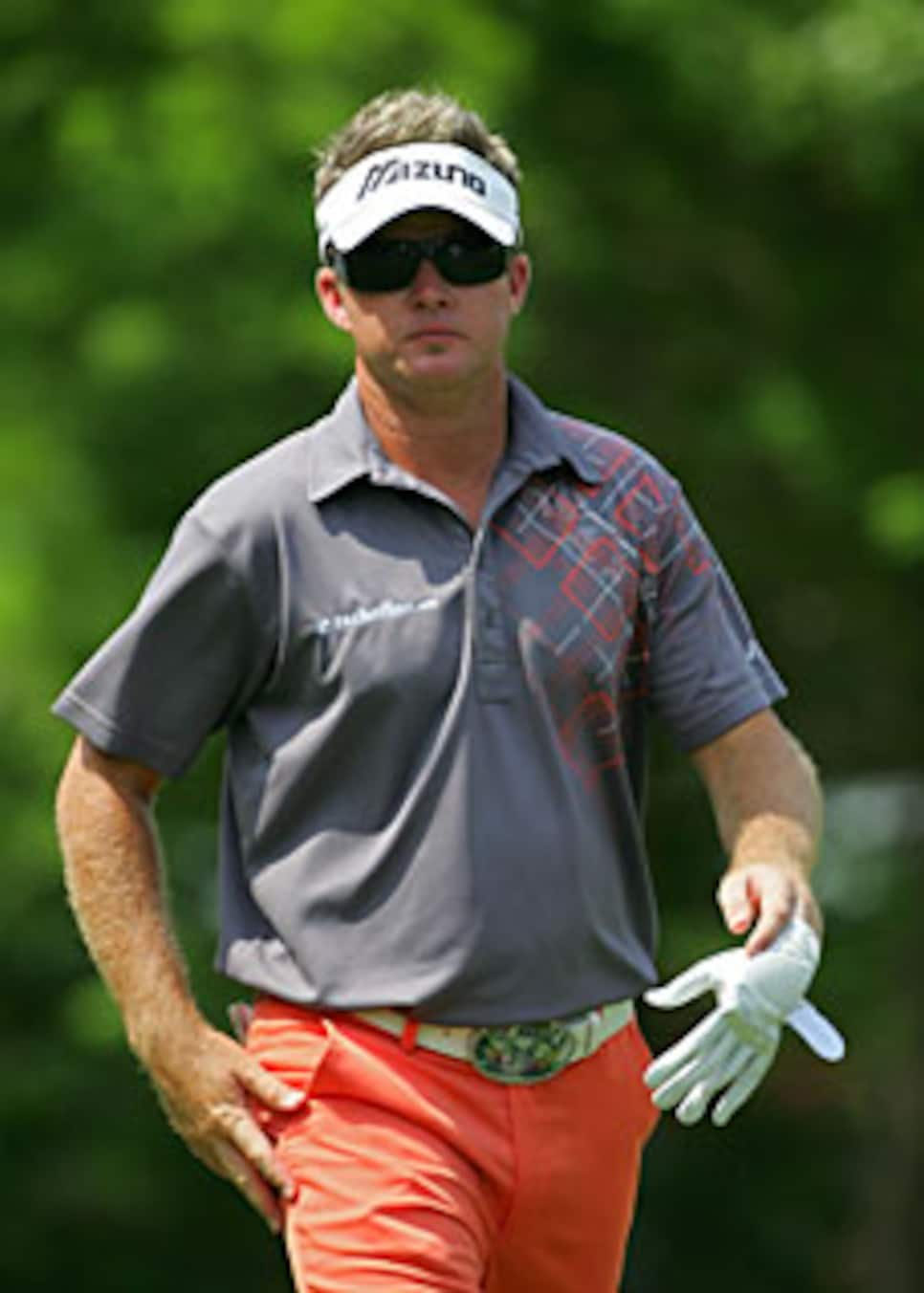 The straight-hitting Brian Gay has reason to believe he can contend in the British Open.
Brian Gay is going over to the British Open early, but that's what two victories and a chance to make the Presidents Cup team will do to a player's profile, and his priorities. Ranked 38th in the world, Gay leaves Sunday to play the Scottish Open and acclimatize himself for the conditions at Turnberry, where he'll be playing just his second Open. Admitting he is not a good cold-weather player, Gay saw a lot of rain and 60-degree temperatures pop up in the two-week forecast. If he can get through that mental block, the straight-driving Gay could be a factor, as the Turnberry rough is fearsome. Caddie Kip Henley, making his first trip to Scotland, got the early scouting report from Ben Curtis' British caddy, Andy Sutton: Bring your raingear. "His first piece of advice was, 'Talk your guy out of going,''' Henley laughed from his home in Tennessee. "The second piece of advice, if you can see the mountains, it's about to rain. If you can't see the mountains, it's raining."
Molder's resurgence: The success of Gay has also played a part in the revival of Bryce Molder's career. Like Gay, Molder's game is based on hitting fairways, and after being paired with him in Memphis, where he won, the former college player of the year realized how important it is to keep the ball in play, make putts, and not try to be somebody you're not. "I think the biggest part of playing with him, what meant so much, was just seeing that he's extremely comfortable with who he is as a player, as a person out there," said Molder, who finished T-2 that week. An opening round 64 in the AT&T National, following a week where he didn't hit it well, but still placed well (T-19 at the Travelers), have put him in the middle of a mini points race that ends this week for the British Open. Now 30 and just off the Nationwide Tour, Molder started playing well at the Byron Nelson, but couldn't finish it off, and has been filled with confidence ever since. He has played Turnberry as part of his Walker Cup and Palmer Cup trips a decade ago.
Points race: Two exemptions are on the line for the British Open as part of the points race that concludes following the AT&T National.
Glover true to his word: While most of the world's best players will be taking the week off or joining Gay at Loch Lomond, U.S. Open champion Lucas Glover will be honoring his commitment to play next week's John Deere Championship. The trip to Silvis, Ill. will be Glover's fourth-straight week of tournament golf following his victory at Bethpage, and his fourth of five straight, culminating at the British Open. Throw in corporate outings at Shinnecock on the Eastern tip of Long Island and a Monday outing following this week's AT&T Championship, and you might expect Glover -- paired with Tiger Woods the first two rounds at Congressional -- to sound burned out at this point. But at a news conference earlier this week at Congressional, Glover was coming off a T-11 at Hartford saying, "I'm still excited to play golf." The reason for this hellish stretch of scheduling is that Glover needed to play the Travelers and the Deere thinking he needed a win to qualify for The British. "I was scheduled to play and I won and I didn't want to change because of that," he said.
Duval back for more: David Duval has been resting and gearing up at his home in Denver, hoping to back up his second-place finish at the U.S. Open with a strong performance at the British Open. "I don't know what it is about him and Opens," swing coach Puggy Blackmon said Thursday morning. "The harder the golf course, the most he focuses." Duval will use the John Deere as a warm-up and then take the charter from Moline, Duval showed signs in last year's Open at Birkdale, opening 73-69 for a featured Saturday pairing with Padraig Harrington. In 48 m.p.h gusts, Duval shot 83 and said afterward, "If anything, I gained confidence with how I struck the ball and maintained my rhythm." Blackmon hopes to see some of that Bethpage rhythm when they reunite Tuesday at the TPC Deere Run. Eight years have passed since his win at Royal Lytham, but he returns having jumped from 882 to 142 in the world. "The confidence is back and he's playing golf again," Blackmon said. "The next two weeks should be good. He's excited, juiced. It'll be interesting to see where these next two weeks go, but I'd put him on the radar. Stranger things have happened and you know how much he likes the British Open."
Important assist: Sports psychologist Dr. Morris Pickens trained under Bob Rotella and bounced around selling pharmaceuticals before ending up at Sea Island, Ga., where he now list two major winners, Glover and Zach Johnson, among his clients. Just turned 40, Pickens started working with Clemson products Glover and Charles Warren when they were on the Nationwide Tour and moved his base to become part of the Sea Island team in 2005. "My job is to give them the two to three to five percent it takes them from being successful already to having a chance to win a major," Pickens said. For the short-hitting Johnson, it was helping him devise a wedge game to take on Augusta National. For Glover, who was always hard on himself, it was helping him to understand the maturity and patience required to overcome two double bogeys, one to start the tournament, one at the start of his third round.