News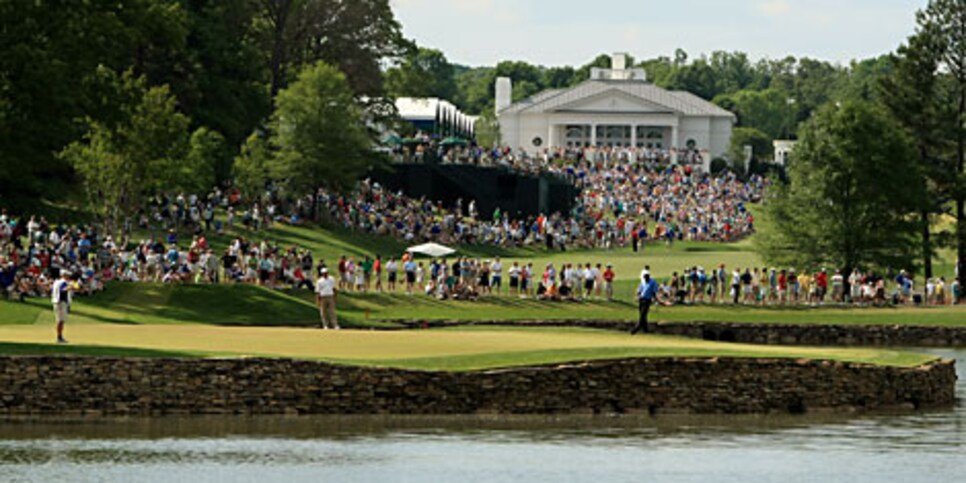 While sponsor Wells Fargo doesn't want its name attached to the tournament, organizers of the Quail Hollow Championship feel like they still have the right formula for their event.
Since Charlotte, N.C., leads all urban America in the eccentric categories of intersecting city streets of the same name, reinforced by the decidedly quirky tendency to change the names of thru streets for no apparent reason, it seems only fitting and proper that the Quail Hollow Championship would be playing a game of "Where's Waldo" instead of "Wells Fargo". In the case of the corners of Sardis and Sardis, Sharon and Sharon and Park and Park, who knows what evil lurks in the minds of city planners? In the case of the title sponsorship of one of PGA Tour's best Tier II sub-majors, it may be nothing more than a matter of institutional preference and less the toxic taint of TARP.
Even with the name Wachovia nowhere to be found, little has changed at Quail Hollow besides the signs. Maybe the chauffeur-driven Maybach is missing but the parking lot is still full of courtesy Mercedes and scampering valets. Milkshakes are still doled out over the counter in the locker room. In its first three years in an effort to distinguish itself, Charlotte broke into the PGA Tour's rota with splashy perks, like flying players' wives to the Biltmore Estate to do whatever it is they do at the Biltmore Estate. Now, not so much, but that evolved pre-subprime meltdown.
"People think we give all these perks but we really don't. We concentrate on them when they're on the grounds," says the tournament's executive director, Kym Hougham. "We don't do anything off the grounds anymore. (But) if treating somebody with Southern hospitality is a perk, we're guilty of that perk. If giving them a great golf course is a perk, we're guilty of that perk. The two-man pro-am, we're guilty of that perk. And the date's a pretty good perk, too.
"We just treat them really well when they're here and take of their needs with a lot of detail. I've seen a couple of quotes by the players saying we really haven't seen much change and I think that that's probably a true statement. I don't think anyone wants to be the first tournament to do something less for the players than they had the previous year, if you can help it. Once you get in the locker room, that's under the tournament's control. We don't think we're extravagant, we just think that we look at the details pretty closely and take care of it the best we can."
The general assumption is that Wells Fargo, having its hands on both Wachovia and $25 billion of Troubled Asset Relief Program (or TARP) money, saw the vitriol cast at Northern Trust earlier this season and instructed Quail Hollow to call its golf tournament anything it wanted as long as the words 'Wells' and 'Fargo' appeared only in reference to oil in Oklahoma and movies in North Dakota. "It's like Memorial," says Davis Love III. "They have a sponsor, they just don't want to be known."
While it would be counterintuitive to think Wells Fargo would be anxious to jump into the same wood chipper as Northern Trust, their reluctance to embrace a tournament that was such a home run for Wachovia may be symptomatic of something entirely different.
"They've been very honest with us," says Hougham of his new sponsors. "They told us we'll live up to the contract but it's just not something we do. We understand we bought this company and we have a contract with you. Please call it the Quail Hollow Championship and move on. It's just not in the core value of their business."
That means the Quail Hollow Championship is paid up through 2014 when the current contract expires. "Hopefully, the economy changes around," says Hougham. "I would think that if there's somebody in golf, some corporation out there that wants to be in golf and this one became available, I think it would be pretty attractive."