News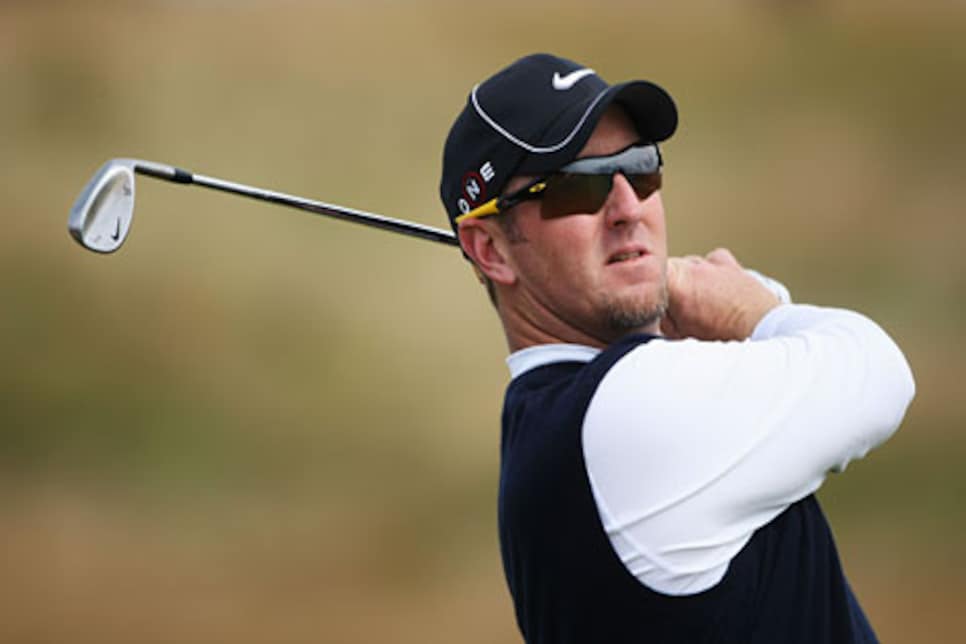 Former World No. 1 David Duval is one of the big names at Q School this year.
The final stage of the PGA Tour Qualifying Tournament is no fun for anyone, save perhaps for the voyeurs into others' suffering. For those experiencing their first Q School, the 108-hole ordeal is horror tinged with excitement at the prospect of a promotion to the big leagues. For those returning, it is agony tinged with dread at the possibility of another year in the hinterlands or worse, a career that has reached its end.
Each Q School is teaming with those occupying either category, and on the eve of another PGA Tour Qualifying Tournament, this one at Bear Lakes in West Palm Beach, Fla., we examine 10 players bringing varying degrees of intrigue to the endeavor.
DAVID DUVAL: Is this how his once gilded career will end, the former No. 1-ranked player in the world mingling with the game's proletariat at Q School? Should he fail to regain his PGA Tour exemption, he'll have to rely on the benevolence of sponsors, who for awhile longer can depend on him to bolster their marquees. Notwithstanding a lone dazzling performance in the '09 U.S. Open, he has provided not a hint over the better part of a decade that his game still has a pulse.
RICKIE FOWLER: The final stage of Q School probably represents only a minor detour on what looks to be a short trip to stardom. He already has some PGA Tour status next year. Now he's attempting to upgrade to a full exemption. Two top-10 finishes in three PGA Tour starts as a professional, including a tie for second at the Frys.Com Open (losing in a playoff), portends a long and lucrative career.
BILLY HORSCHEL: Here's another player whose career seemingly is on the launching pad. Horschel was a three-time first-team All-American at Florida, and a former Walker Cup player.
COLT KNOST: He's an enigma, who won the U.S. Amateur Public Links and the U.S. Amateur in the same year (2007), then turned pro and in the process relinquished invitations to play in the Masters, the U.S. Open and British Open. He was certain he was good enough to qualify for them eventually and his first year as a pro -- he finished sixth on the Nationwide Tour money list to earn a promotion to the PGA Tour -- no doubt fortified his confidence. But he's lost ground on those major championship invitations on the basis of a woeful rookie season -- 13 missed cuts in 24 starts in '09.
SHAUN MICHEEL: He won the PGA Championship in 2003, a peak from which his fall has been precipitous. Only twice since has he finished in the top 125 on the money list.
TODD HAMILTON: It has been a steady decline since Hamilton shocked the golf world by winning the British Open in 2004, his second of two victories that year. In the five years since, he hasn't finished better than 133rd on the money list.
JESPER PARNEVIK: He has more than $15 million in career earnings and five PGA Tour victories, was once ranked No. 7 in the world, and was a member of three European Ryder Cup teams. So why is here? To serve as an example of the indiscriminate nature of the game; whatever your pedigree, low scores prevail. He hasn't had enough of them recently.
TIM HERRON: He's another player who has fattened his bank account at the PGA Tour money trough, yet finds himself fighting for a job. He has more than $16 million in earnings and four victories on a resume that counts for nothing in this game.
TOM PERNICE: Pernice turned 50 this year and won his only Champions Tour start, providing him full-time employment on that tour, should he so desire. In the meantime, he wants to retain his PGA Tour membership, which has brought him back to Q School. Only a year ago, he was 80th on the PGA Tour money list. He's not necessarily done playing with the elite.
JEFF MAGGERT: A consistent if unspectacular career (three victories and more than $16 million in earnings in 19 years) has hit the skids. Now 45, he finds himself back at Q School, seeking entry to the bridge to the Champions Tour.