News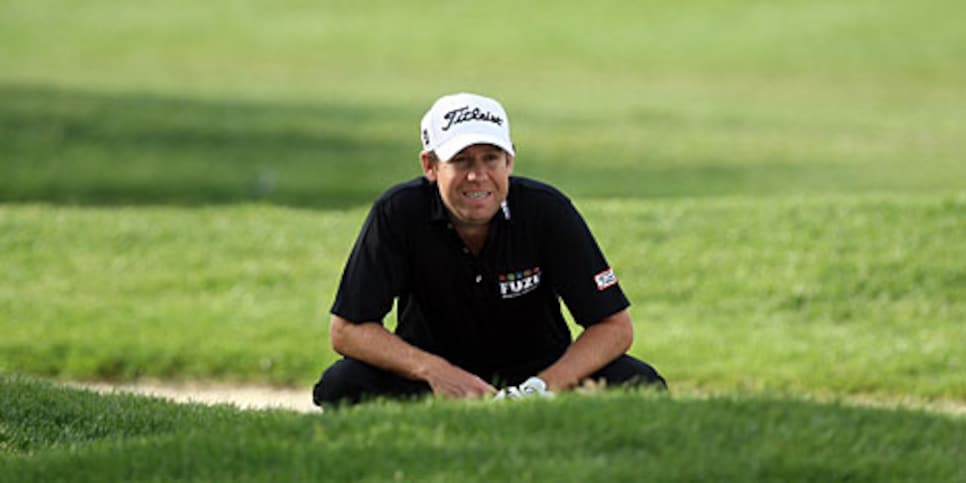 Heart transplant recipient Erik Compton is one of those players whose career could hinge on this week.
It is an odd sort of tournament, not a major championship, unless you're playing in it, in which case it is at least that important. It's not really a minor championship, either. There is no television, no prize money, no gallery, save for family and friends who aren't averse to watching grown men suffer. It doesn't even really matter who wins.
This is the second stage of PGA Tour Qualifying, which arguably has replaced the final stage as the most important in this arduous process of attempting to play the PGA Tour. It is here that survivors, 120 of them or so, at least will have somewhere to play in 2010, while the others, 350 or so, return home to ponder their futures, or lack of one.
The second stage begins Wednesday at six sites around the country: Brooksville, Fla., Panama City Beach, Fla., Pine Mountain, Ga., Kingwood, Texas, McKinney, Texas, and Beaumont, Calif.
Each field has from 76 to 80 players with about 20 from each site advancing to the final stage. Those who do advance are assured at least some status on the Nationwide Tour, while many of them will earn full exemptions on the PGA and Nationwide tours in 2010.
Plot lines abound in the second stage; the gamut runs from past champions on the PGA Tour who have fallen on hard times (even major champions -- see Shaun Micheel) to the next generation (Jamie Lovemark, Billy Horschel, Drew Weaver, Mike Van Sickle).
Where else to begin, but with the morbid, given the train wreck nature of a tournament that produces far more heartbreak than happiness. J.P. Hayes, Joe Daley and Jaxon Brigman beg the question: Haven't they suffered enough?
Last year, midway through the second stage, Hayes discovered to his consternation that he inadvertently might have used a prototype ball that was not yet on the USGA's conforming ball list. He could have said nothing and no one would have known. Instead, he reported himself and was disqualified, earning high marks for honesty and a trip home. Hayes is entered in the Kingwood, Texas, qualifier.
In the fourth round of the final stage of Q school in 2000, Daley had a four-foot putt that he holed, dead center, only to see the ball mysteriously jump out of the hole. The cup liner, which is supposed to be set at least an inch beneath the surface of the green, was set in crooked. Daley's ball hit the top edge of the metal liner and the ball hopped out. Daley, naturally, missed earning his PGA Tour card by a stroke. He's still attempting to return to the PGA Tour and this time starts his quest at Panama City Beach, Fla.
Brigman is also at Panama City Beach, still seeking to resurrect his career after a scorecard mishap in 1999 cost him a promotion to the PGA Tour. Brigman earned his card on the number, or would have had he not signed a card that showed him making a four instead of the three he actually made on the 13th hole of the final round. He had to accept the higher score and missed qualifying by a single shot.
Potentially the best story of the second stage, for the second year in a row, is that of Erik Compton, 30, who is playing in Brooksville, Fla. Last year, Compton, only six months after having received his second heart transplant, missed advancing to the final stage by a single shot.
Then there is the perpetually puzzling case of Ty Tryon, who turned professional while still in high school and at 17 earned his PGA Tour membership. He was a bust, who eventually wound up playing mini-tour golf. Now 25, he has made it to stage two and will play in the Brookville qualifier.
The future is represented by Horschel, a three-time first-team All-American at Florida; Lovemark, twice a first-team All-American at USC, who lost in a playoff at the Frys.com Open in Scottsdale, Ariz., recently; Weaver, the former British Amateur champion, who played on Virginia Tech's national championship team in 2007; and Van Sickle, a first-team All-American from Marquette. Horschel is at Brooksville, Lovemark at Kingwood, and Weaver and Van Sickle at Pine Mountain.
Among the more familiar names, lineage division, are Jay Haas Jr. (son of Jay Haas and brother of PGA Tour player Bill Haas), Guy Boros (son of Julius Boros), Brent Geiberger (son of Al Geiberger) and Tommy Barber (grandson of former PGA Championship winner Jerry Barber).
Familiar names for having played the PGA Tour successfully in the past include Jim Gallagher Jr., Robert Gamez, Frank Lickliter II, Dean Wilson, Peter Lonard, Micheel, Carlos Franco, Len Mattiace, Neal Lancaster, Jason Gore and Kirk Triplett, none of whom are happy about having to play this week, one of the most nerve-racking of the year, even conducted in relative obscurity.