News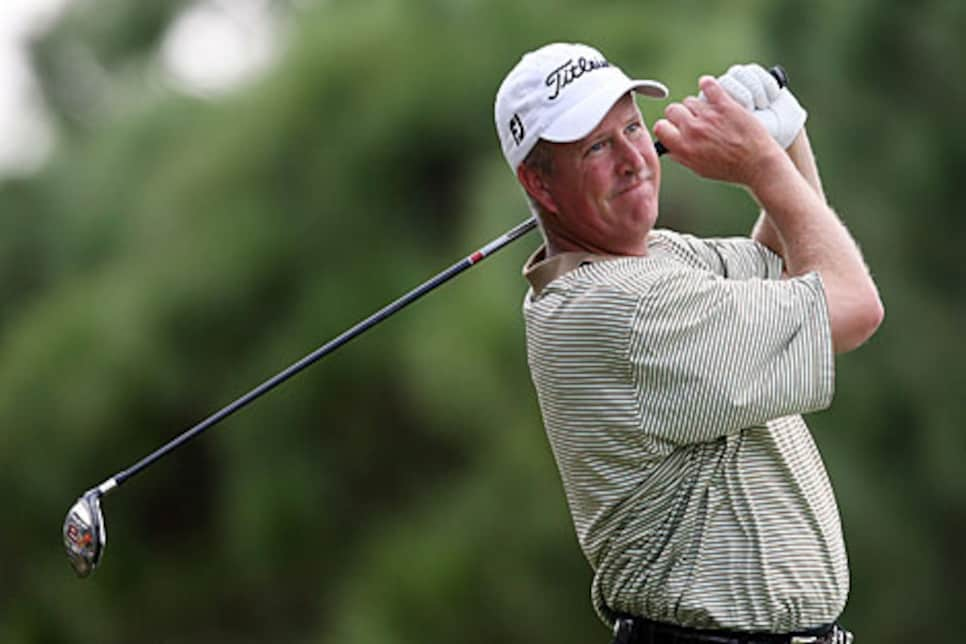 After a well-publicized setback a year earlier at Q school, J.P. Hayes enjoyed a successful week at Bear Lakes.
WEST PALM BEACH, Fl. -- The joy and the pain of Q school intersects all age groups, including the veterans who have been here many times before. For every J.P. Hayes getting a reprieve, there was a Tom Pernice Jr., unable to fight back the pressure. Hayes, 45, disqualified himself from second stage last year for using a ball that was not on the conforming list, while Pernice, who turned 50 in September and won the SAS Championship immediately after, double-bogeyed his 108th hole to fall one stroke below the magic number of nine-under-par 423.
This was Pernice's sixth trip to the school; he finished as high as second in 1985, but there's not good chemistry for him and Bear Lakes. He missed the 72-hole cut when the club hosted final stage in 1995. Hayes has now been to nine Q school finals, escaping with his card six times. He was T-81 at Bear Lakes in '95. As Pernice packed up and talked to reporters in the locker room, Hayes sat before the TV lights and tried to answer what it takes to survive these year-end ordeals.
"Oh my gosh. I never know how I get through these things," Hayes said. "It is such a mentally difficult, a physically difficult week, golf is almost third. If you can get through the first two, you've got a chance."
Like the final round of any Q School, the 2009 version at Bear Lakes CC had its shares of highs and lows:
Low round of the day was 64 by the bleach-blond, long-hitting Australian David Lutterus, who was nine under through 14 holes with seven birdies and an eagle on his card. But the biggest rally by a player who really needed a rally was made by 39-year-old Shane Bertsch: After finishing 126th on the 2008 money list and sitting out most of 2009 rehabbing a broken ankle, Bertsch closed with a 65 to jump from 50th place to a spot back out on tour. "I told my wife last night that I had 22 holes and if I could make eight birdies and no bogeys, I could get it done," said Bertsch. "I knew I'd be out there again sometime, but never knew when."
There were emotional barriers like the one Brian Stuard crossed. Stuard shot 74 in the final round of Q school a year ago at PGA West to move from T-6 to three shots outside the number. In this year's Nationwide Tour Championship, he lipped out an 8-footer for birdie on the final hole to end the season 26th on the money list, one spot out. With bogeys at 14 and 15, it looked like Stuard was slipping again, but he mustered the will to finish birdie-birdie. "I'm not sure what was going through my mind," Stuard said, fighting back the tears. "I had to regroup and start hitting good golf shots."
The ultimate bubble boy of this year's Q School was the phenom of the 2004 U.S. Open at Shinnecock, Spencer Levin. Now 25, Levin said at the Justin Timberlake tournament in Las Vegas that he was starting to feel older, with kids like Fowler coming into the game. Levin definitely aged during his final round, and for nearly an hour afterward, as he spent most of that time in solo 25th after posting at nine under. "Some weird thoughts start going through your head," Levin said. "You shouldn't root against anybody, but you're sitting there, seeing your number, and to be honest with you I thought I was going to miss, so I'm in a lot better mood now."
To be or not to be a tour player again, that was the question Joe Ogilvie asked himself as he headed back to Q school for the first time since 2001. In the game within the game, his bogey on the 108th hole would cost him West Coast opportunities, but he's made friends along the way and should get his reps. "Being here, finishing No. 132 on the money list, is humbling," Ogilvie said. "But having done this the last six days and being here for 10 days ... Shakespeare would have written one hell of a tragedy. It is one hell of a tournament. It is an amazing thing that we don't sell it a lot better, because it is one hell of a deal."
The player who became the poster boy for the Shakespearean tragedy that Ogilvie referenced was James Hahn of Seoul, South Korean, Alameda, Ca., and the University of California at Berkeley, who lists the Dalai Lama's "The Art of Happiness" as his favorite book. Hahn, 27, four-putted the last hole for double bogey to shoot 69 and miss his card by two strokes. A year ago, Hahn was selling shoes at Nordstrom, but at least he gets Nationwide status.