News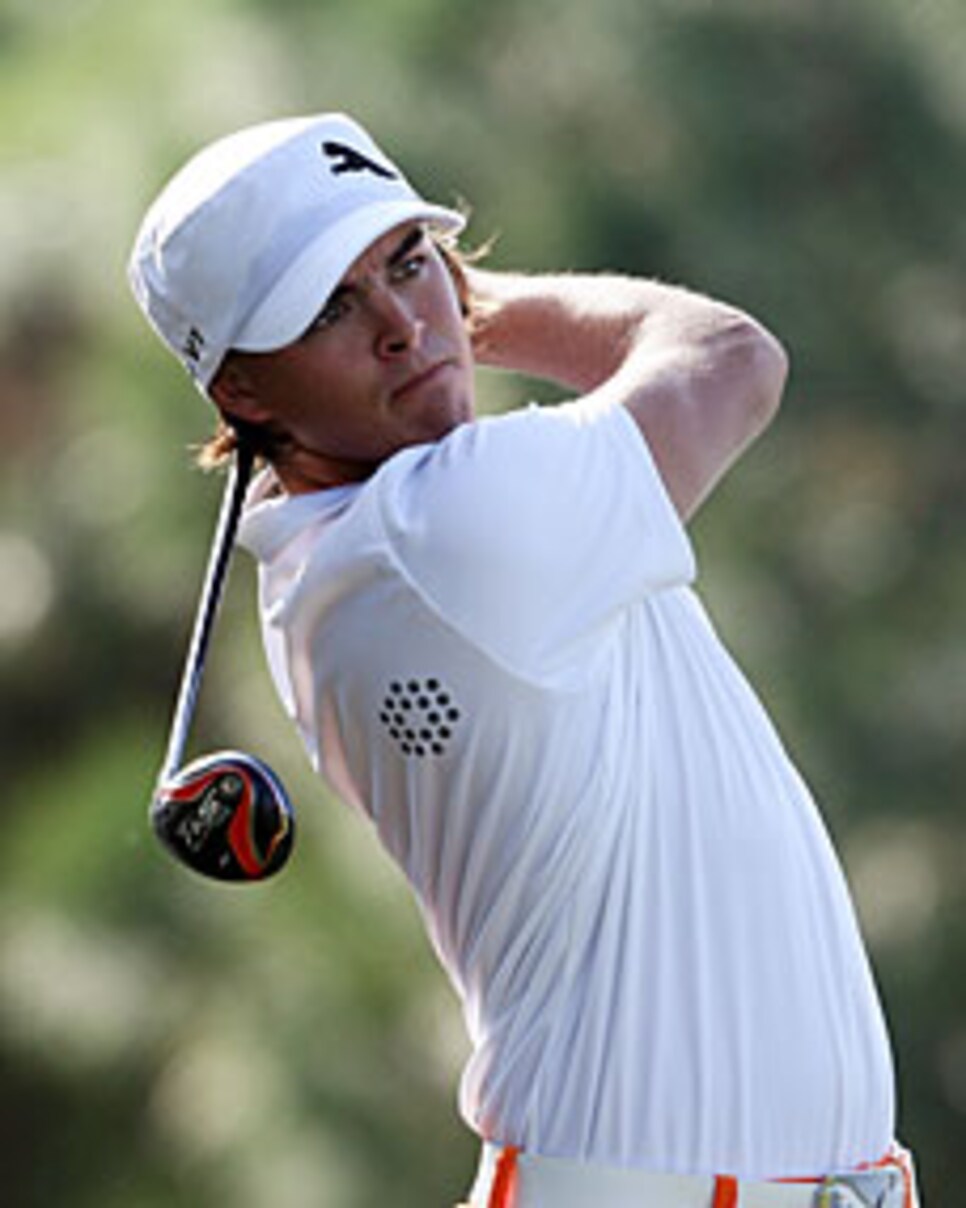 What could have been a taxing week for Rickie Fowler ended up being just another stop along the way.
WEST PALM BEACH, Fla. -- The boys from Boise were celebrating in the grillroom at Bear Lakes CC on Monday night along with Jay Williamson and his caddie Eric Larson, but the star and the story of this PGA Tour Qualifying Tournament had already left the building.
Rickie Fowler cruised through the final stage of Q school like he was on a motocross bike jumping a mogul, as this obstacle that cause many to wipe out was hardly a speed bump in his path. He offset two doubles and 13 bogeys with 27 birdies and two eagles, playing with a patience and a purpose that defy his 20 years. Of course, it's not like the closing bogey will cost him the same way it will a veteran like Joe Ogilvie -- they're coming from two different corners of this Q school, part of a mixture of young and old that converged on this Jack Nicklaus-designed club. Just as a point of reference, the floppy-haired Fowler was 6 years old when Carl Paulson won on the Links and Lakes Courses in 1995.
While Paulson's career never panned out, Fowler is a projected superstar. While he calls himself edgy and a non-traditionalist, I've had two traditionalists tell me in the last two weeks that this kid is for real in spite of that less-than-conventional action and small body type. The first was Walker Cup captain Buddy Marucci. The second was Hall of Famer Lanny Wadkins. Both talked about the way Fowler played golf, not his golf swing.
Next stop, the Shark Shootout, where Fowler was in the field even if he finished outside the top 25. What this means is that Fowler can put together a West Coast schedule where he can pick and choose events, even if his number (T-15) wasn't that great compared to what Boise State's Troy Merritt and Graham Delaet earned with medalist honors and a T-8 finish, respectively; or even with the way Williamson once again salvaged his career with a solo 11th.
Already geared up and handsomely paid by Puma and Titleist, Fowler was almost in a category by himself. As a non-member of the PGA Tour, he would have been granted seven sponsors exemptions for finishing in the 126-150 slot off the 2009 money list, but with his star power, there would have been plenty of reps. Discussions were under way with a tier one European Tour sponsor whether he made it through final stage or not, while Merritt, Delaet and Williamson were all at various stages of a career crossroads.
Merritt walked on to Division II Winona State in Minnesota and exited Boise with 21 college wins, including five straight his senior year, when he led the nation in stroke average. Merritt continued to show he was a winner by adding the Nationwide Tour's Mexico Open to his resume in 2009. No rookies won on the PGA Tour in 2009, but Merritt, 24, believes he has the game to do it in 2010.
Delaet, a 27-year-old Canadian by way of hockey country (Weyburn and Moose Jaw, Saskatchewan), was ranked as high as 163rd in the world this year, building points on the Sunshine and Canadian Tours. And if Q school is about physical and metal toughness, then Delaet defines it.
In the second stage of Q school at Callaway Gardens, he survived a quadruple bogey on his fourth hole of competition and a car crash on the way to the course for his third round. Daleat was going a reported 60 MPH when a deer jumped out in front of him, but he made it to the course and shot 71 to advance to Bear Lakes.
One of seven Canadians in the field, Delaet represented his country in the World Cup in China, traveling nearly 24 hours into Miami and eventually West Palm Beach on the Monday night before Wednesday's opening round. But all that world travel and experience on the world stage helped Delaet get over the jet lag and play with a looseness that runs counter to the stress of Q school.
Williamson, 42, is more the American grinder than the world traveler and epitomizes how make or break this week can be. He arrived in the Palm Beaches from St. Louis with an amazing track record of 5-for-6 in Q school finals, but frankly, this endgame was getting a little old. He missed his daughter's soccer game to grind through the final round, but the reward was worth it and may put her through college someday. At the very least, it may back burner Williamson's plan to back up his golf career with something in the insurance field.
Williamson just needs to convince himself that the regular tour is like Q school. Nine of his 10 rounds in second and final stages were in the 60s. He plays better on the edge. "The 75 yesterday got my attention," said Williamson, who closed with a 69. "It got me back on the cut line, which I seem to enjoy."
Fowler, who turns 21 on Dec. 13, continued to impress with more than just his golf. His baby face, hair, hat and looks belie the maturity he has both inside the ropes or miked up. He arrived at Bear Lakes saying he wasn't really stressed out about the experience and played like he was always in control of his emotions, whether it be after a birdie or a double bogey. At the end, he summed it up like a veteran.
"It was tough, six days with the weather, getting up early the morning and being out here all day, but it was great experience," Fowler said. "I know it's a lot better to make it than being outside the top 25."
Not that a large entourage would crash into him should Fowler ever put on the brakes. Accompanying Fowler was his mother, Lynn and his agent, Sam McNaughton of SFX. But in one way this was almost like a home game for Fowler, who grew up in Murietta, Ca. and recently bought an apartment in Las Vegas. His girlfriend, Alexandra Browne, lives in Hobe Sound and he spent the week with her parents, PGA Tour golfer Olin Browne and his wife, Pam.
They met while Olin was playing the Travelers Championship in Hartford, and while Browne is a long way from evaluating Fowler like he would a possible future son-in-law, the kid has already made an impression.
Browne, who turned 50 this year, sees not only the extraordinary amount of talent, but also a competitive flair, and a knack for playing the game that breaks Fowler out from the category of players his age. They played a practice round two weeks ago before the Callaway Invitational at Pebble Beach, and what came through was the simplicity and uniqueness of Fowler's approach. "We as players tend to analyze too much," Browne said, "He's looking to be his own player."
Fowler's two former Walker Cup teammates also made it through, with Florida's Billy Horschel and Georgia Tech's Cameron Trigale being part of the rookie orientation class that met Tuesday morning. With the experience he's gained on the Nationwide and PGA Tours, losing playoffs on both circuits, Fowler could have taught the class.