News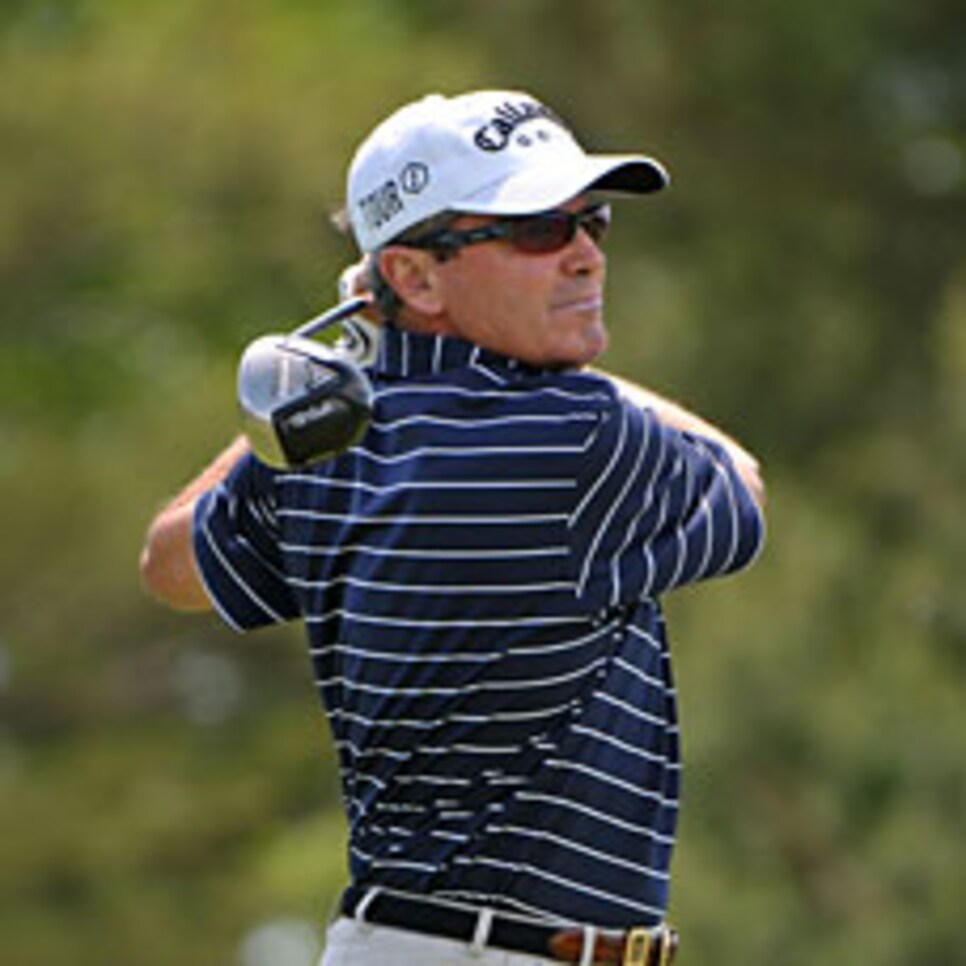 Mark McNulty's playoff win Sunday was the longest in two years on the Champions Tour.
WEST DES MOINES, Iowa (AP) -- Mark McNulty won the Principal Charity Classic on Sunday for his seventh Champions Tour victory, beating Fred Funk with a 30-foot birdie putt on the fourth hole of a playoff.
The 55-year-old McNulty closed with a 5-under 66 to match Funk (66) and second-round leader Nick Price (68) at 10-under 203 on the Glen Oaks Country Club course. McNulty and Funk birdied the second extra hole to eliminate Price.
McNulty, from Zimbabwe, saved par on the third playoff hole - on the par-4 17th - after hitting to the fringe of the green, and Funk's birdie putt lipped out.
Funk then couldn't convert a tough birdie try on the par-4 18th, and McNulty made his putt for his first win since the 2007 JELD-WEN Tradition.
McNulty rallied from two strokes down in regulation with birdies on 16 and 17. Price joined Funk and McNulty in the playoff with a birdie on 18. All three players birdied the 18th to open the playoff, and 18 also was used for the second extra hole.
It was the Champions Tour's longest playoff since Tom Purtzer beat Loren Roberts on the fourth extra hole in the 2007 AT&T Champions Classic.
Mark Wiebe (69) finished fourth at 8 under, and David Eger (68) was fifth at 7 under. John Cook (64) topped a six-player group at 6 under.
Funk, coming off a fifth-place tie in the Senior PGA Championship, closed the front nine with four birdies in six holes to take a one-stroke lead over McNulty. Funk made a difficult par putt on No. 13 to keep the lead, and McNulty barely missed a par putt on the 15th to fall two strokes back with three to play.
McNulty birdied the 16th to get back within a stroke and, after a great approach on the treacherous 17th, made another birdie putt to pull even with Funk.
McNulty and Funk hit approaches on the 18th that landed in nearly identical spots on the green. Funk left his birdie putt just short of the hole, while McNulty's try fell just inches shy of the cup.
Sixty-five-year-old Bruce Summerhays (68) tied for 12th at 6 under, his best showing since he won the 2004 Kroger Classic. Two-time defending champion Jay Haas (71) finished at 3 under.
Mark O'Meara withdrew before teeing off for the final round because of a bad lower back. R.W. Eaks left after seven holes because his chronic back issues flared up.