News
just for laughs: A formidable putter, Furyk yucks it up on the oceanfront practice green at his Florida home.
The United States Open is no laughing matter. Not if you're one of those wrinkly nosed gents at the USGA who thinks a fleet of ambulances should serve as courtesy cars at our national championship. Certainly not to Joe Tour Pro, who glides into town on a month of 67s, fires a pair of 76s and leaves with an acute case of scorecard dyslexia.
Most definitely not to Jim Furyk, who bogeyed the 72nd hole to lose by a stroke in 2006, bogeyed the 71st hole to lose by a stroke in 2007, then took a vacation that turned out to be well-timed and therapeutic. "The second one hurt more," he admits of Oakmont. "Being from Pennsylvania, getting so much support from the crowd and not being able to pull it off. I've thought about it, but that kind of stuff never bothers me. It's a game where you're going to deal with a bunch of disappointment, and I've always been able to get over things."
Which is a good thing, although not as good as his performance at Olympia Fields in 2003. Furyk's first and only ­major title remains the last time a U.S. Open was resolved in a blowout, the three-stroke margin of victory hardly reflecting the actual distance between himself and everybody else that week. It would become the centerpiece of a monster year: 15 top-10s, fourth on the money list, third on the World Ranking and a win at the Buick Open seven weeks later.
After wrist surgery in 2004, three more big seasons would follow. More may be on the way, but Furyk has made 43 starts since his last victory, the 2007 Canadian Open, his longest winless stretch since 1998. This is no laughing matter, either. "He's been in a funk for a couple of years now," says Mike Furyk, Jim's father and swing coach. "If we knew exactly what was wrong, we'd fix it and there would be no problem."
Since cracking the face on his Srixon driver in late 2006, the search for a comparable replacement is nearing the point where it belongs in the cold-case files. In Washington last summer, Furyk used a different driver every round and finished T-3. Pretty impressive, but hardly amusing.
"He's not a guy who likes to change things, period," his father adds. "I remember one of his baseball coaches asking me why I didn't buy him a new glove, because the old one was so beat up. I told him I did, but Jim didn't want to use it."
Furyk is still golf's ultimate straight man, a guy who lives in the fairway in an era when the value of a home in the short grass never has been lower. After a slow start to 2009, he has begun to make some noise—three top-10s and a T-11 since the Masters. That said, he still hasn't won in almost two years, still can't find a driver he can't live without and still can't improve his position on the World Ranking, which is currently 14th.
When you crack the face on your favorite club and can't crack the top 10 after spending forever and a month inside it, you're not likely to crack a smile. So why is Jim Furyk dressed like a clown? Come on. You can't be serious.
He pulls the black Mercedes into a spot on the right side of the TPC Sawgrass parking lot, behind a row of bushes so the kids don't notice him. Not because he's famous, not because he's one of America's best golfers, but to observe. That's how Jim Furyk got so good, which is why he became a household name, which is why he doesn't want the teenagers on the practice green to know he's there.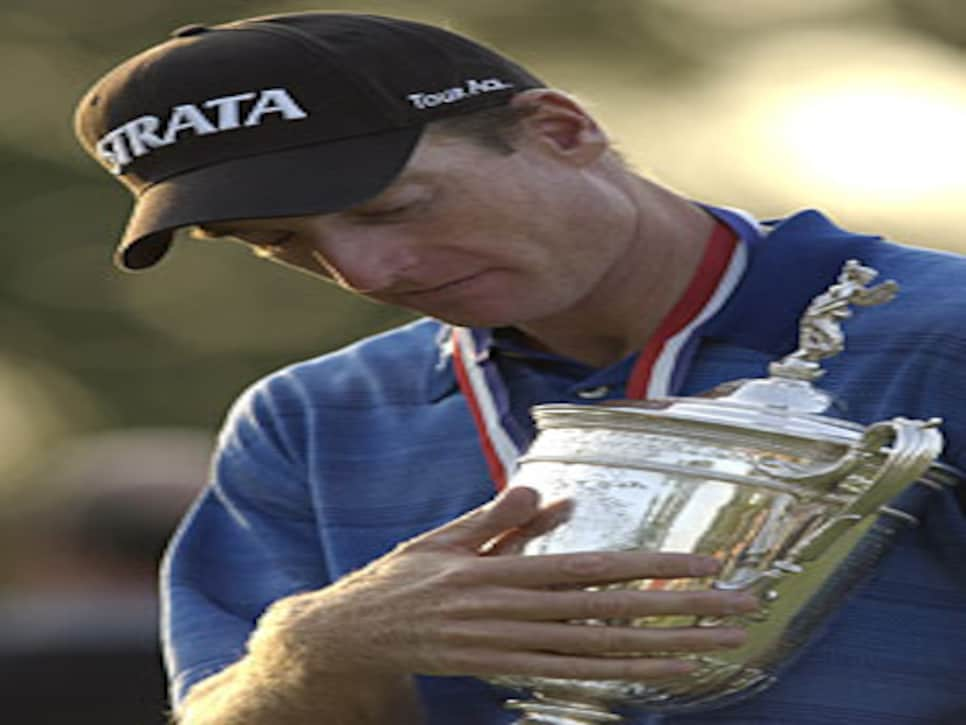 "If they see me, their behavior is different," he says. "And if they don't, they're goofing off, hitting a few putts now and then, having fun. The way it should be."
From the insignificant moments in life, Furyk gleans more than most people, which doesn't make him a sage, but a 13-time PGA Tour winner whose victories include several other premium-field events in addition to the '03 U.S. Open. He has played in 11 consecutive Ryder and Presidents Cups, and in that stretch his lone finish outside the top 20 on the money list occurred because of the surgery in '04.
It only seems as if Furyk has been around forever, building a career on qualities every tour pro wants attached to his reputation: competitive toughness, a great sense of preparation, superb course-management skills, an ideal emotional mindset. "Very, very easy to work for," says caddie Mike (Fluff) Cowan. "I've been with him 10 years, and literally, not once has he blamed me for a [bad shot].
"He'll hit it over the green, and I'll tell him it was my fault, that I gave him a bad club," Cowan adds. "He'll say, 'Nah, I swung at it too hard.' When you never have to worry about being wrong, it makes you work harder."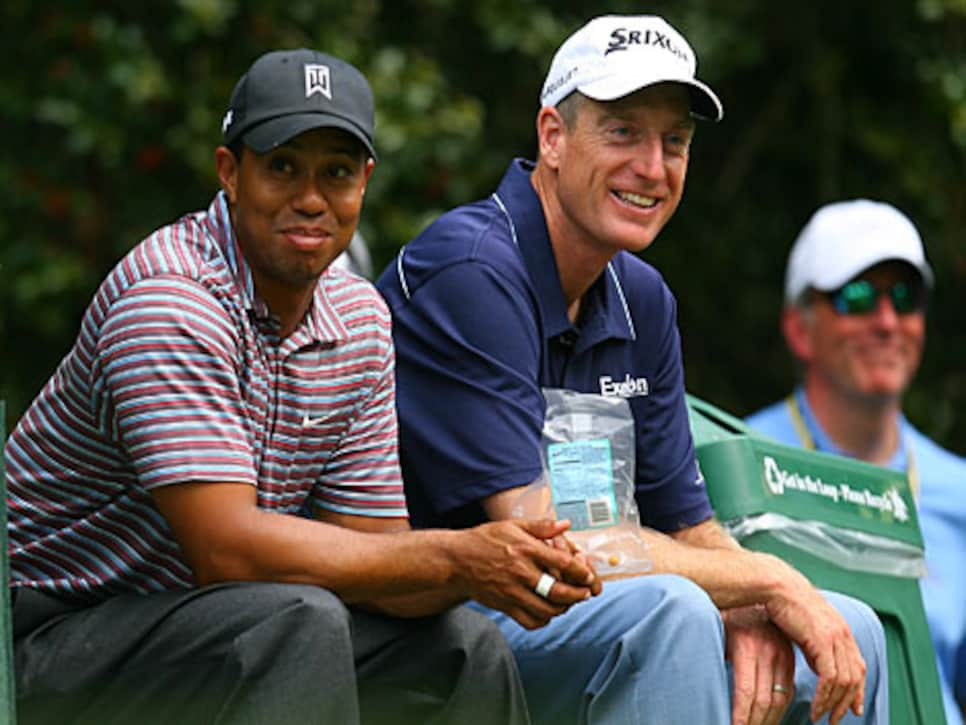 Mentally, Furyk is as good as they get, strong enough to serve as Tiger Woods' preferred partner in team events and compile an 8-2-1 record in his singles matches (one of the losses was to Retief Goosen long after the U.S. clinched the 2007 Presidents Cup). He is a guy you want in the foxhole, and especially on the final nine with a game on the line, because, as Cowan says, "He has no idea how to quit. I've never seen him not play as hard as he can until he runs out of holes to play."
Physically, there are players with more tools and natural skill, although Furyk has improved dramatically as a ball-striker since 2000, when he began staking his claim among the game's elite. Known for his loopy rerouting of the club in the early days, Furyk's rise coincided with the development of a right-to-left ball flight, which resulted in a less exaggerated outside-in move and a six-year stretch (2002-07) when he finished no worse than 11th in GIR. Furyk has evolved from a short hitter with limitations to the game's most consistent and decorated control player. "All the kids worry about nowadays is how pretty they look," he says. "They don't worry enough about what really matters."
It doesn't get more old school than that, but today's top players perform in a fishbowl, their popularity levels determined largely by public perception. Colorful is wonderful, personable is preferable, and if neither was true, guys such as Rocco Mediate and Fuzzy Zoeller never would have become fan favorites.
Nobody hammed it up better than Chi Chi Rodriguez, who founded golf's version of the end-zone dance long before anyone knew of Tiger or Ickey Woods. From the victorious fist-pumps to notorious bursts of profanity, Tiger packs an emotional punch unlike any superstar. Between the 300-yard smiles and nods to the gallery, Phil Mickelson hits a lot of terrific shots and a few crazy ones. What will Phil do next? Tune in to find out.
Furyk? In the eye of the cynical, the guy is too clinical, a man of few words when it comes to body language. He did serve up a superb imitation of Camilo Villegas when the two were paired together at last year's Tour Championship. While preparing for a putt on East Lake's 18th green, Furyk hit the ground Spiderman-style, lowering his chin to the earth and contorting his body in a pose better suited for those who are 26 and built like Gumby.
It was a comical moment, but only a moment. "He can be funny in a dry sort of way," says Justin Leonard. "He's the kind of guy you want to hang out with, a guy who likes to sit around and have a couple of beers and watch football."
That doesn't make him the second coming of George Carlin, or even George Costanza.
"He's not going to crack you up with a bunch of jokes or one-liners," Leonard explains. "He knows how to find humor in situations. He's got timing. Conversationally, he's got it."
Of all the commercials made to promote the inaugural FedEx Cup playoffs, the one featuring Furyk was the best. He is sitting in a Chinese restaurant with his family. The check comes with a fortune cookie, but Furyk doesn't like the message, so more cookies are brought to him. He cracks one after another until 40 or 50 are strewn across the table. Furyk finally finds a fortune he likes and responds with a huge grin. By this point, his wife, Tabitha, daughter Caleigh and son Tanner clearly are fed up.
Outside the fishbowl, tour pros have been known to double as human beings, and human beings don't come any better than Furyk. For all that has been written about his love of the Pittsburgh Steelers, there are a bunch of things you should know about him but don't. For instance, he still plays nine holes once or twice a week with his dad.
"I taught him how to fish, and this isn't just sitting-on-the-bank stuff," says Mike, a former club pro who quit playing golf for seven years to compete in regional fishing tournaments. "To this day, that's what we do."
When Furyk attends a Steelers game, he never flies in a private charter despite having a deal with NetJets. In fact, it isn't unusual for him to get up at 4 a.m. on game day and catch a 6 o'clock flight from Jacksonville to Atlanta, then connect to Pittsburgh, where he attends the game at Heinz Field with a bunch of maniacs dressed in yellow and black, very few of whom have earned $40 million in 16 PGA Tour seasons.
"He is constantly offered tickets to sit in a luxury suite, and he never takes them," says his agent, Andrew Witlieb. "Jim wants to be out there in the crowd. Troy Aikman is another of our clients, and he invites Jim to sit in the [Fox] broadcast booth. He's never interested."
After a lackluster 71 in the third round of the inaugural FedEx Cup playoff event, the 2007 Barclays, Furyk was approached by some New York newspaper guys. His answers were short, his mood a bit sour, but neither scribe thought twice about Furyk's demeanor. Furyk headed to the Westchester practice range and hit balls for two hours in the searing August heat, then walked to the media center and apologized to both writers.
"Absolutely flabbergasted," is how one described his own reaction. "Twenty years I've been doing this, and not once has an athlete come in to say he was sorry because he didn't give me his best answers."
So a clown costume? Not a problem. Never mind that it's 90 degrees, or that the photo shoot will take an hour, or that this is the first day of a two-week stretch Furyk will spend away from the tour, or that he's turning 39 tomorrow. He doesn't even need an explanation for the clown theme. Jim Furyk understands. If you need him, he's there. He has been there before, and he'll be there again, although he'd prefer that it be in a U.S. Open than in a Charlie Chaplin costume.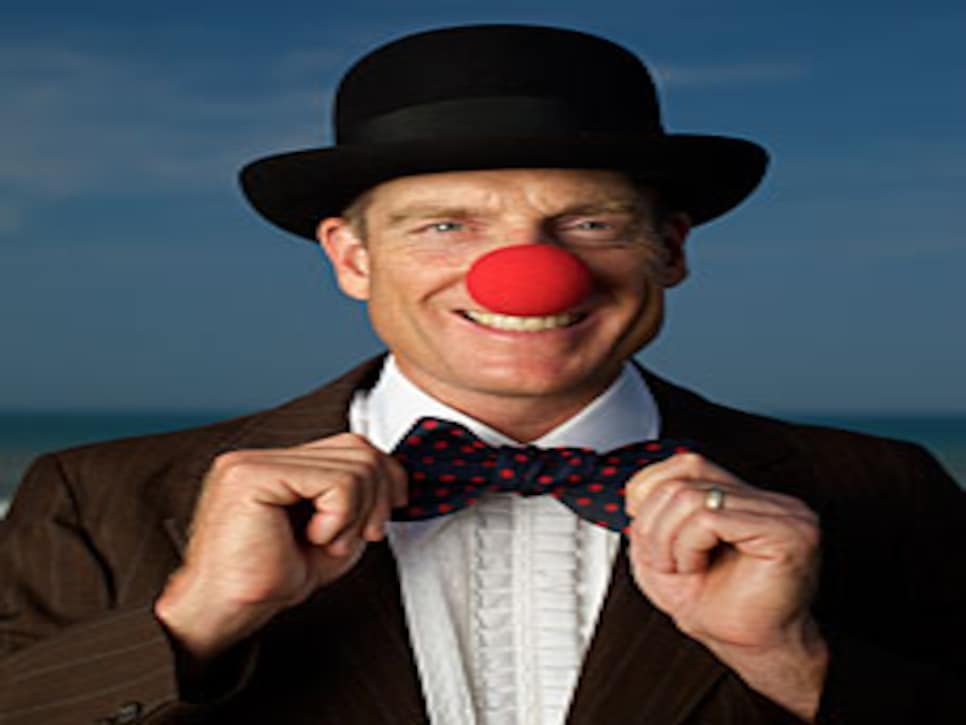 Those Sunday afternoons can get pretty hot. So can those red foam noses.
When furyk invites you to lunch and offers choices of cuisine near his home in northern Florida, the greasy burger joint in Jacksonville Beach sounds like a place where normal folks go for an honest meal. "Tabitha and I used to eat here two or three times a week before we had kids," he says.
Caleigh was born 10 days after Furyk missed the cut at the 2002 U.S. Open, the only time in 14 Open starts that he didn't play the weekend. Some of it had to do with becoming a father. Most of it had to do with Bethpage Black, perhaps the one U.S. Open venue where the middle of the fairway won't help much if you don't hit it far enough.
The last time Furyk shot 80 was seven years ago on the Black, during a second round played in steady rain and temperatures in the high 50s. "It was very tough for me," he says. "With the weather making a hard course that much longer, the tournament was basically dominated by three really good players, three really long players: Tiger, Phil and Sergio [Garcia]. Obviously, I'd like to see it play firm and fast this time."
Obviously. If you were to list the top 20 players of this generation, none drive the ball shorter or straighter than Furyk. His average rank in driving distance over the last nine full seasons is 161st, his average accuracy rank 12th. Forget the numbers on any U.S. Open scorecard. Once you get past 7,000 yards, everything is long. What makes Bethpage unique, which in this case means exceptionally difficult, is the height of its length—the pronounced elevation changes that affect so many approach shots.
Just two people approach Furyk at lunch, and both stopped by to say hello more than to ask for his autograph or a swing tip. His morning had been spent in a digital recording studio for American Express, one of his corporate sponsors, which had asked Furyk for a hole-by-hole analysis of Bethpage that will be distributed to card members.
The production guys rented the studio for four hours. He was done in half the time. Weather permitting, he will stick around twice as long at Bethpage this time.
He used to be one of those kids on the practice green, back when golf was just a game and lots of teenagers thought they would grow up and make birdies for a living. "He quit football in the ninth grade, then quit baseball the following year," Mike says. "He called his baseball coach the night before cuts and told him he wasn't going to play. The coach asked him why, and Jimmy told him he was going to play on the PGA Tour.
"So the coach says, 'You're not that good a golfer,' and Jimmy says, 'Well, I'm not now, but if I'm going to be, I've got to start practicing.' "
After the loss at Oakmont, Furyk sat next to his locker on the second floor of the clubhouse, the window behind him open, as if the sights and sounds of Angel Cabrera's victory celebration, which had just started, would eventually serve a purpose. Later that summer, on the day Furyk apologized to the writers, he spent the majority of those two hours pounding drivers, one ball after another flying into a section of the range net not more than 10 yards wide.
The driver was working that day, and it will work again because Jim Furyk will keep practicing until he gets it right. On a 97-degree afternoon in the dead of August, whether you are sitting in your car behind a row of bushes or standing next to him, you would notice this is serious business.