News
First Time For Everything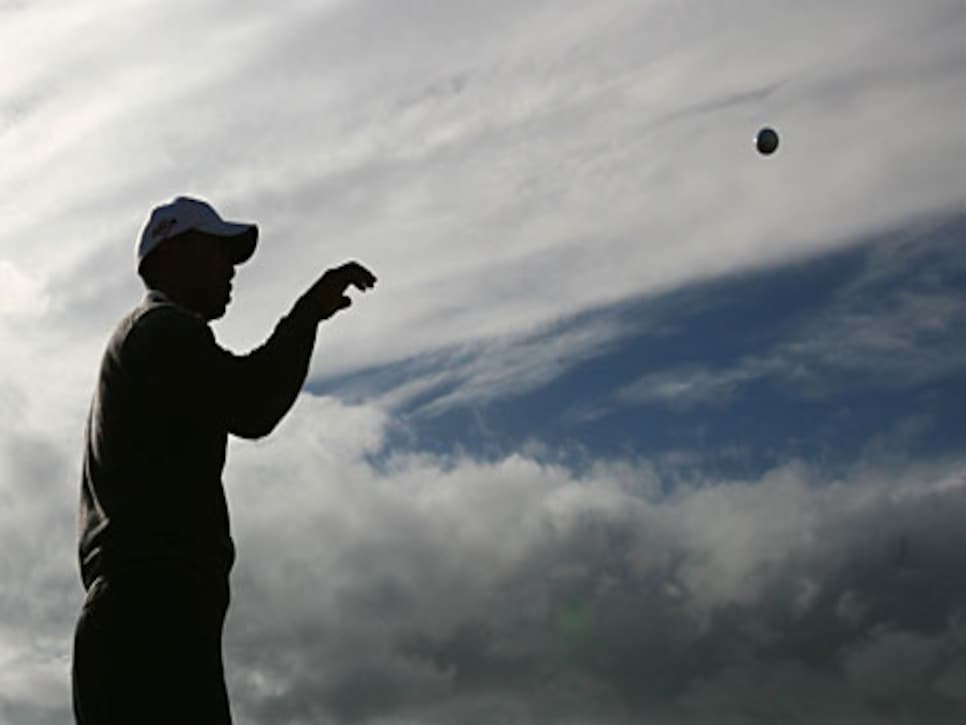 Tiger Woods hasn't played a tournament round at Turnberry, but when confronted with the same challenge three years ago at Royal Hoylake, he still claimed a third British Open title.
TURNBERRY, Scotland -- He's won seven times at Torrey Pines. He's won six times at Bay Hill. He's won five times at Firestone.
But Tiger Woods has never even played Turnberry, so when the British Open begins Thursday at the classic links course along the banks of the Firth of Clyde, is he operating at a disadvantage?
"I wouldn't say that," Woods said. "You just have to do more homework in your practice rounds. I've obviously seen it on TV, but I haven't played it yet."
He meant he hasn't played Turnberry in a tournament, but that's going to change Thursday. Woods played his third practice round Tuesday morning in a threesome with Mark O'Meara and Mark Calcavecchia. Woods said the wind came from a different direction each day, which he said helped his preparations.
"To try to get a little bit different feel for how the golf course is playing ... I can't rely on past years' experience."
There is obviously something to be said for knowing a course, but then Woods had not played at Hoylake before he won the 2006 British Open there. So it's possible that his lack of experience at Turnberry won't mean much.
The setup could mean a lot, and not just because the rough is up. Woods makes a decent living by beating up par fives, but he won 't have many chances at Turnberry. There are only two -- the 538-yard seventh and the 559-yard 17th. Woods leads the PGA Tour in making birdies or better on par fives with 57.69 percent. That's part of the reason his 69.26 scoring average also leads the PGA Tour.
As usual, Woods is the favorite here, but the two-time defending champion is Padraig Harrington, who won back-to-back at Carnoustie and Royal Birkdale. And Woods isn't even the most recent major champion in the field. That would be Lucas Glover, who won the U.S. Open last month at Bethpage.
Glover played his first practice round at Turnberry on Tuesday and saw enough to formulate a quick game plan.
"Hopefully find some fairways and keep it out of the high stuff," he said. Glover said he's playing reasonably well and expects to be in the mix this week, but he said there is much work to do before he should be compared to Woods. He remembered being paired with Woods the first two rounds at Congressional and Woods going five shots lower.
"He beat my brains in for two days," Glover said.
As for Harrington, he's wracking his brain trying to figure out when the changes he's making in his swing are finally going to kick in. So far, it's been a struggle. Harrington has missed the cut six times in 13 PGA Tour events, including four of his last five. He does not have a top 10 finish this year.
Harrington said he began by trying to alter his impact position, but then the changes started multiplying. It's been complicated, Harrington said.
"And then obviously putting it all together and making it automatic … golf is always for me, anyway, a juggling act of keeping all the balls in the air and keeping everything working together," he said.
Woods' swing is not the one he used when he arrived as a pro in 1996 and he is aware of the adjustments Harrington is making because they played together in the first two rounds of the U.S. Open at Bethpage.
"I've been through it before," Woods said. "Sometimes it can be a little difficult because you get questioned quite a bit. But you have to understand the big picture for yourself."
There are three pictures of Woods' holding up the Claret Jug on three separate occasions, after winning the British Open in 2000 and 2005 at St. Andrews and 2006 at Hoylake. To put himself in the same frame of mind again, Woods is creating a suitable comfort zone. He's staying in a rented house just down the road from the course, where his South African chef cooks his meals and Woods catches up on his sleep. The hard work begins Thursday in earnest on the golf course.
"You have to make sure you really know what you're doing out there, especially with the cross winds," he said. "It certainly presents some challenges."