News
Predictably Unpredictable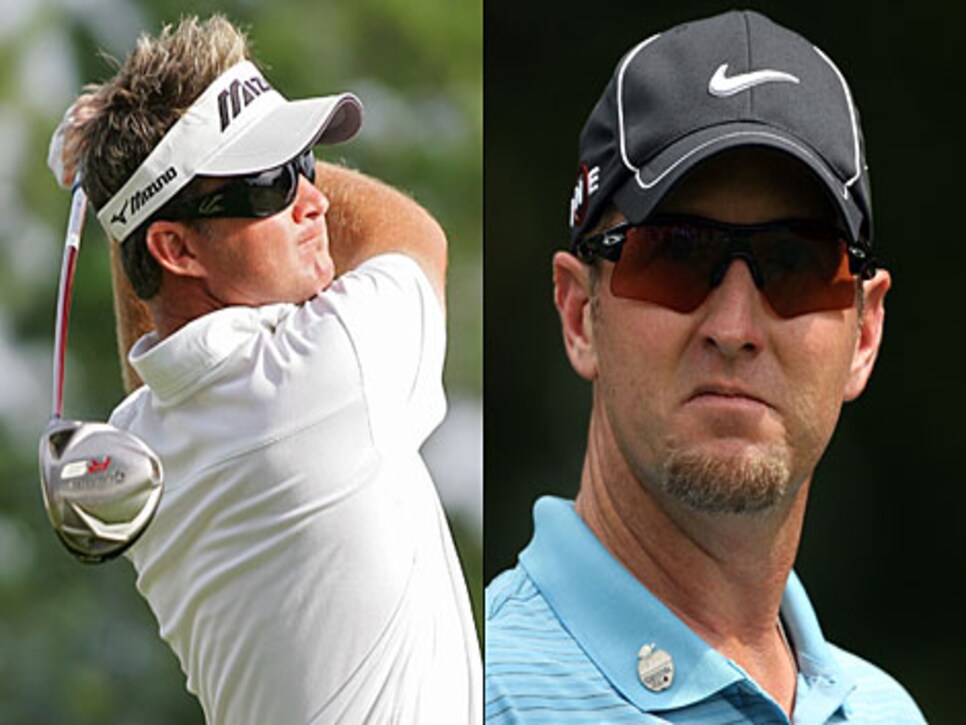 wide open?: Gay (left), who has won twice this year, and a resurgent Duval could factor in Turnberry's fourth championship.
The three British Opens at Turnberry have been won by the greatest players of their time: Tom Watson in 1977, Greg Norman in 1986 and Nick Price in 1994. But if following a trend can help determine a champion, this year's winner of the claret jug will more likely be Bubba Watson than Tiger Woods.
Woods' convincing victory in the ATT National at Congressional makes him a resounding favorite to join the hall of famers as champions at Turnberry, but results from this year's Masters and U.S. Open raise the prospect that Tiger will not win—and neither will slumping Padraig Harrington in his quest for three straight Open titles. The winner, as happened at the Masters and U.S. Open, will just as likely come from somewhere down the World Ranking.
Although Angel Cabrera won the U.S. Open at Oakmont in 2007, there were no indications he would have the surge in bravado he displayed down the stretch at the Masters. The Argentine was coming off back-to-back missed cuts and had dropped to 69th in the world, but he won the green jacket after receiving one of history's most timely major championship ricochets—playing from the trees on the first playoff hole, his ball hit a tree trunk and caromed onto the fairway.
Lucas Glover was ranked 71st coming into the U.S. Open, but a scouting report on the Clemson grad always included the words, "tries too hard.'' As Woods missed putts and finished T-6, and fan favorite Phil Mickelson suffered another heartbreaking conclusion, Glover, with just one career PGA Tour win, played with the calm and patience of a man who had closed out a major before.
Like Norman last year at Royal Birkdale—the Shark came from No. 646 in the world to within nine holes of raising the jug for the third time—players coming from the nether reaches of the World Ranking to contend in majors has become commonplace. At Bethpage, David Duval, ranked 882nd, tied for second with Ricky Barnes (ranked 519th) and Mickelson. Sharing silver-medalist honors on Long Island in June has to take Duval off the list of unlikely candidates to win the British Open—or does it?
Duval proved he is as close to resurrecting his game as he has been intimating since last year at Birkdale, where he was tied for fourth after two rounds of 73-69, before a third-round 83 in 50 mile-per-hour winds cut into his comeback. He wasn't heard from again until Bethpage, missing 12 cuts in 20 starts in the interim.
"I don't know what it is about him and Opens," swing coach Puggy Blackmon said. "The harder the golf course, the more he focuses."
Eight years have passed since Duval's win at Royal Lytham, but after Bethpage, Blackmon likes his golfer's state of mind. "The confidence is back, and he's playing golf again," Blackmon said. "The next two weeks should be good. He's excited, juiced. It'll be interesting to see where these next two weeks [take him], but I'd put him on the radar. Stranger things have happened, and you know how much he likes the British Open."
Duval will use the John Deere Classic as a warm-up, and then take the tournament's player charter to Scotland.
It shouldn't be considered outrageous that a player ranked in triple digits can win the British Open. Paul Lawrie was 159th when he won at Carnoustie in 1999. In 2003 Ben Curtis was 396th when he outlasted Woods, Vijay Singh and Davis Love III. The last time the Open was held on the Ayrshire Coast, in 2004 at Royal Troon, Todd Hamilton, ranked 56th, beat Ernie Els in a playoff.
And that's not factoring how close Ian Poulter, Chris DiMarco, Thomas Bjrn, Thomas Levet, Niclas Fasth and even Jean Van de Velde have come to winning the British in the past 10 years. The last time the championship was played at Turnberry, Jesper Parnevik almost beat Price. What does it prove? That the British Open, with its quirky bounces and usually uncooperative weather, really is the most wide-open major.
Turnberry's rough is being described as fearsome, similar to 1986 when Norman, the best driver of his era, survived brutal weather to win his first major. Last year's T-3 came while he was on his honeymoon. This year he says he is more prepared, if also more in the spotlight.
"[I'm] going in a little less under the radar this year after last, but that is a good thing," Norman wrote via e-mail prior to leaving China, where he was on a golf-course design trip. "As for my game, I have been working on it more than last year, so who knows? I love Turnberry and all that it has with the hotel [assuming it is complete] and [the] ease of being onsite as much if not more than Royal Birkdale. From that perspective, hopefully [I'm] going in better than '08."
An unsung player inside the top 100 who could factor at Turnberry is Brian Gay—that is if the Floridian can adjust to the rain and 60-degree temperatures that are in the extended forecast. A two-time winner this year, Gay is third on tour in driving accuracy, and one of the best chippers and putters in the game. He left the U.S. early to prepare and will play the Barclays Scottish Open at Loch Lomond. "There are only 15 Americans ranked ahead of him [in the world]," said his caddie, Kip Henley. "That is pretty good for little, old Brian Gay."
In a field that includes Jaco Ahlers of South Africa, Gaganjeet Bhullar of India and Kenichi Kuboya of Japan, the little old Brian Gays of the world can sometimes get lost in a patch of wet fescue or with a tee time that coincides with sideways rain. But remember, nobody heard of ­Andres Romero of Argentina before he took the lead on the back nine at Carnoustie in 2007.
As for Watson—Bubba, not Tom—he fits the profile of a 2009 major winner in many ways: First, he's ranked 70th in the world (as of July 6), between where Cabrera and Glover were when they won their majors. Second, there's nothing on his playing record to indicate that Turnberry will be his week; he withdrew from the ATT National because of allergies. Third, this will be his first British Open, but if the tour's longest driver can bomb it over bunkers as he did at Quail Hollow (T-2), the Scots could be yelling for a Watson once again.