News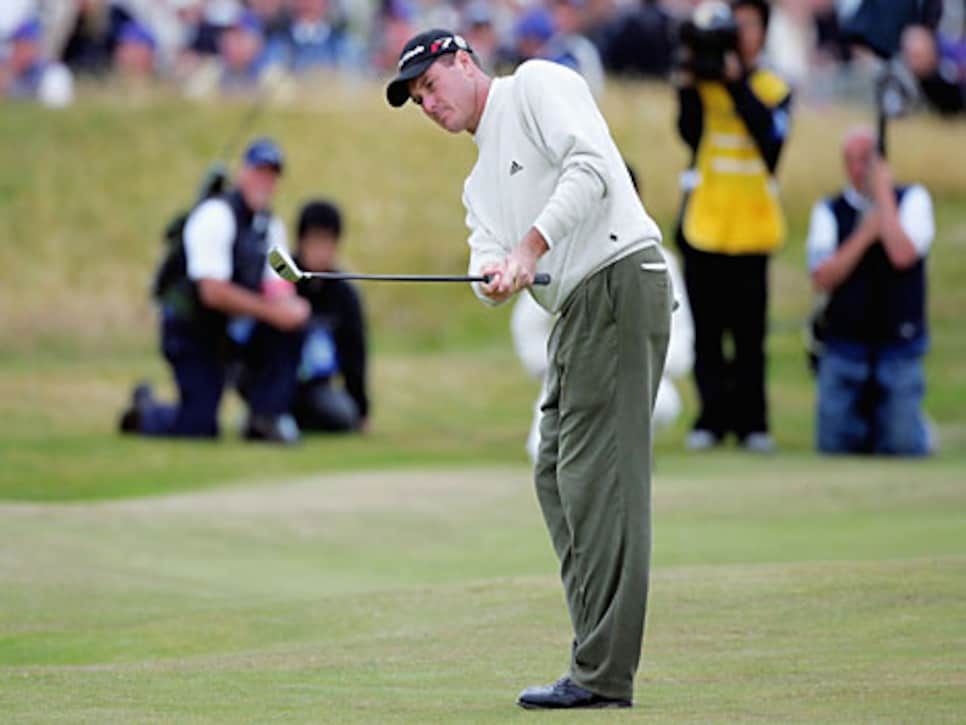 At Royal Troon, Todd Hamilton got the most out of his Sonartec hybrid, but it wasn't enough to keep Sonartec in business five years later.
It may have been only 36 yards of ground, but it changed the golf equipment landscape in a big way.
That's the distance Todd Hamilton had to cover when he hauled out his 17-degree (bent to 14 degrees) Sonartec MD Transition hybrid to roll the ball along Royal Troon's linksy ground to two feet of the cup, sewing up a playoff win over Ernie Els at the 2004 British Open.
In the tournament's aftermath, Hamilton had the claret jug to himself but hybrids joined him on center stage. Such was Hamilton's prowess with the club (he estimates using it at least six times a round at Royal Troon, including getting up-and-down an astonishing 13 of 14 times when using it to chip) that five days after the Open, Sonartec received a call from the R&A to see if the club conformed to the Rules of Golf.
Luckily it did, because soon consumers were now clamoring for such sticks, perhaps aided by the fact Hamilton used it much like a 14-handicapper would at a muny -- off the tee to stay in play and to chip around the greens. How big was the impact? At the time of Hamilton's win, hybrids accounted for approximately 7 percent of woods sales at on- and off-course golf shops according to tracking firm Golf Datatech. Six months later that figure had risen to 15.7 percent. Today it is north of 30 percent.
Tour players noticed, too, and usage on tour burgeoned as well. Only 46 players had hybrids in the bag at Royal Troon in 2004. Two years later at the British Open there were 105. Now it is not unusual to now see upwards of 150 hybrids in play on the PGA Tour.
"I'm not sure I started the hybrid club movement, but it's funny the way I used it," said Hamilton at this year's AT&T National. "I used it in place of my 3-wood. I never was a big fan of 3-woods and I just thought I could control that better than a 3-wood. I used it a lot off the tee as a kind of a driving iron and, of course, to chip with."
Although there will be plenty of hybrids in play at Turnberry next week, don't expect to see Hamilton reunite with his old helper. Today the club resides in the basement of his home in Westlake, Texas, in the same bag Hamilton used during the Open Championship, sharing space with the rest of the clubs and head covers from that week at Royal Troon. The only missing piece is his putter, which he hasn't retired yet.
Sadly, the company that made the club has gone into retirement. Despite receiving a substantial boost in exposure (the company received over 5,000 e-mail inquiries in the week following Hamilton's win) and sales from Hamilton's win, Sonartec ceased operations early last year. Not that you can't find the club Hamilton used if you want to. A quick search on eBay revealed seven Sonartec MD Transition clubs for sale, including one with a "Buy It Now" price of $29 -- far less than the $1,348,272 Hamilton pocketed for winning the Open Championship.
That check and title changed Hamilton's life. The club he used to secure both changed golf. All in all, a pretty heady week.