News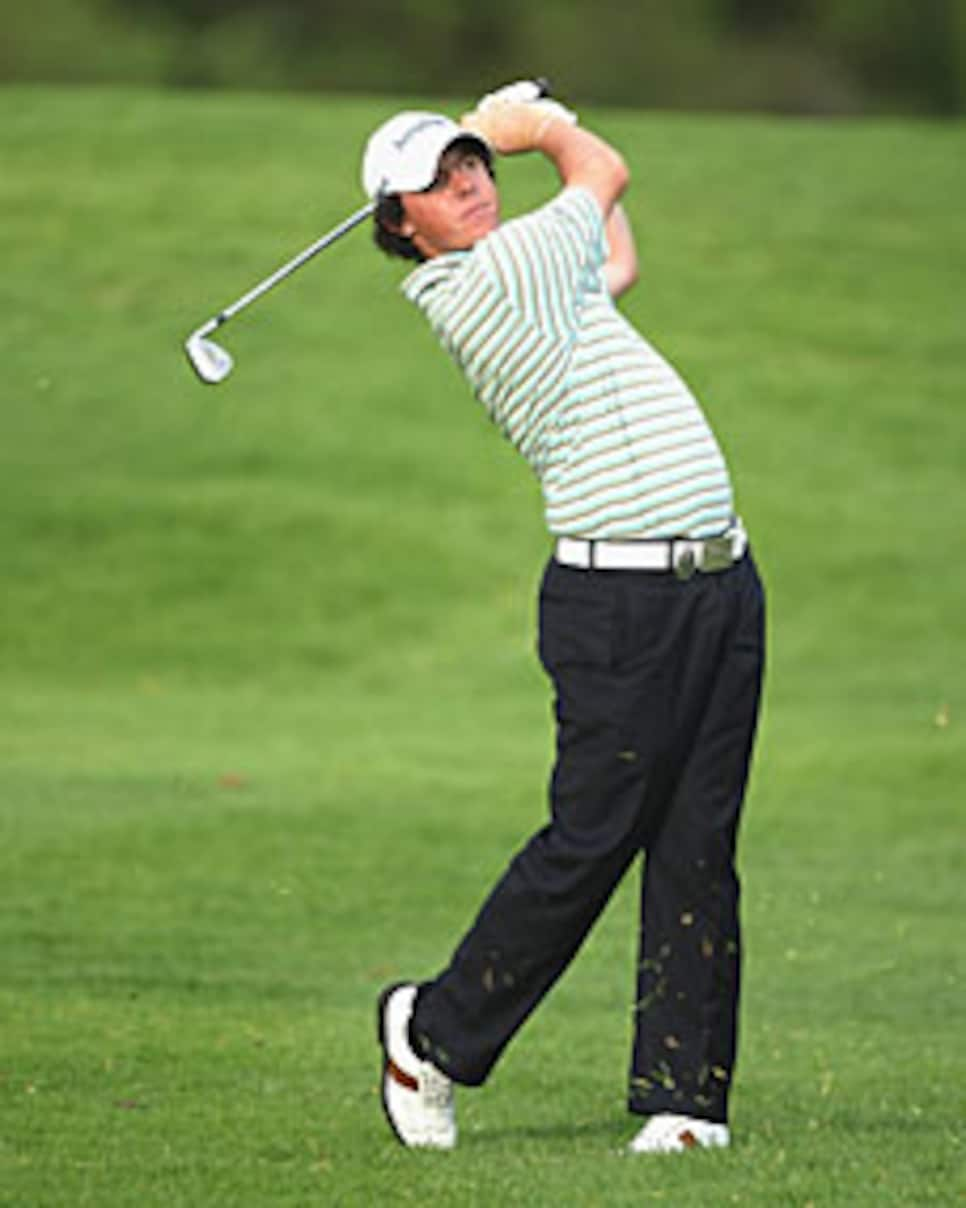 Rory McIlroy is one of those players expected to fill the void left by Tiger Woods, and to lead Europe in this fall's Ryder Cup.
Let's rewind the tape six weeks and pretend the Tiger Woods scandal never happened, at least competitively. The worst of Woods' problems going into a 2010 season was A) an erratic driver; B) some sharp criticism over inappropriate displays of club-tossing temper, and C) what appeared to be a legitimate challenge from Phil Mickelson. With Phil pushing him, and three of his favorite venuse on the major championship rota, Tiger would surely respond.
We enter the season this week at Kapalua for the SBS Championship with Tiger and Phil nowhere in site -- but we are accustomed to that. It's why Mercedes-Benz is no longer the sponsor. If there weren't a Seoul Broadcasting System, the PGA Tour might have three January events without a corporate title sponsor. Just as Doral started the season in the Greg Norman Era, Torrey Pines had become the unofficial opening for Tiger and Phil.
The pregnant pause this year is over whether we're going to see Tiger and Phil coupled together at all. Woods posted on his website Dec. 11 that he would be out "indefinitely." Mickelson, just back from a vacation with his family, has yet to start up his competitive engine. The Masters is 14 weeks away. Plenty can change between now and then, most of it dictated by the answers to these questions:
How much is Woods willing to leave on the table during his purgatory?
We are accustomed to Tiger starting a season on the bench. Just a year ago, Woods was still recovering from ACL surgery to his right knee and the game was reeling from the collapse on Wall Street. There was pressure on him to return, to save the game, just as there is today. He responded with seven worldwide wins and his 10th PGA Tour Player of the Year title.
The great unknown is how much this personal ordeal has sapped his competitive spirit. And with the future of his marriage tied so much to this, putting a target date on his return is just guesswork. February in Dubai or even the WGC-Accenture Match Play appear way too soon. There's also no longer a deal with Accenture that helped Woods target the Match Play as the site for his return in 2009. Florida looks like the place, Doral followed by Bay Hill, as a warm-up for Augusta. With 14 majors, Woods could still tie Jack Nicklaus this year, and before the cataclysmic downfall, was looking at this as he did 2000, when he won three of the four Grand Slam events, two of them on the rota this year, Pebble Beach and St. Andrews.
Can Phil Mickelson retain his late-season form?
At both the Tour Championship in Atlanta and the HSBC Champions in China, Mickelson was regularly driving it 25 yards past Woods and making everything. With a putting lesson from Dave Stockton synching up with Butch Harmon's work, Mickelson said he was playing the best golf of his career.
Historically, Phil usually takes a couple tournaments to shake off the rust and clear out the cobwebs. We know he will be at Torrey Pines for the San Diego Open, but Woods' travails have not sent him to the gym, range or the putting green this winter with a sense of needing to carry the game until Tiger's return. That's just not his way. He will be coming off a four-win season, but more importantly, with the peace of mind knowing the outlook is positive for his wife, Amy, and her battle with breast cancer. He is going to be careful about what he says in light of Woods' personal issues. We probably won't hear him chirping, as he was coming out of Shanghai, about the "very high expectations" he had about 2010. But with his 40th birthday coming up in June, that hasn't changed.
With Tiger out, who will step up?
Lee Westwood had already stepped up, winning the season ending Race to Dubai after T-3s at the Open Championship and PGA Championship. Although he's not a U.S. tour member, he'll play enough in the majors and big events to become a recognized face in this country. Padraig Harrington, who won back-to-back majors in Tiger's absence in 2008, hopes to time it right again, after a year of tinkering with his swing. Rory McIlroy, with a third-place finish at the PGA, flights the ball high enough to be more of a factor on these shores in particular. If you've noticed all three players are Europeans, congratulations. You get to the heart of the next question.
Can Corey Pavin fill Paul Azinger's shoes?
The aforementioned talent that Colin Montgomerie will have at his disposal, along with Henrik Stenson, Sergio Garcia, Ian Poulter, Paul Casey, Ross Fisher and Martin Kaymer will make it hard for Pavin to say he's got more depth than the Euros. Playing in the cold and rain of Wales will no doubt dampen the mood, as will uncertainty -- as Monty pointed out -- over a Woods appearance. Add to the obstacles facing Captain Corey is that the United States has not won a Ryder Cup on foreign soil since Tom Watson's team rallied on Sunday in 1993. But even without a pod system, the Gritty Little Bruin can pull it off. That's been the story of his career.
Is Rickie Fowler the real deal?
At the Shark Shootout, where he turned 21, Fowler was getting tweets from Ian Poulter, praise from Greg Norman and the blessing of playing partner Chris DiMarco, who liked the way Fowler would hit the smooth 6-iron vs. the hard 7-iron, and who was "cocky, not arrogant, and there's a big difference." The difference plays through to media and fans as well, who are looking for a fresh new face for American golf. DiMarco told Fowler's father that as unbelievable as he was as a golfer, he was an "equally good kid." Olin Browne agreed, and not just because Fowler was dating his daughter. Besides the talent and flair, Browne likes the dedication and preparedness that Fowler has shown and the temperament that never deviates. Whether it was Q school at Bear Lakes or practice rounds in the winter winds at Seminole, he also noted how much faith and ownership Fowler has of his golf swing. "We as players tend to analyze too much," Browne said. "He's looking to be his own player."