News
Ishikawa, Scott Tabbed For International Team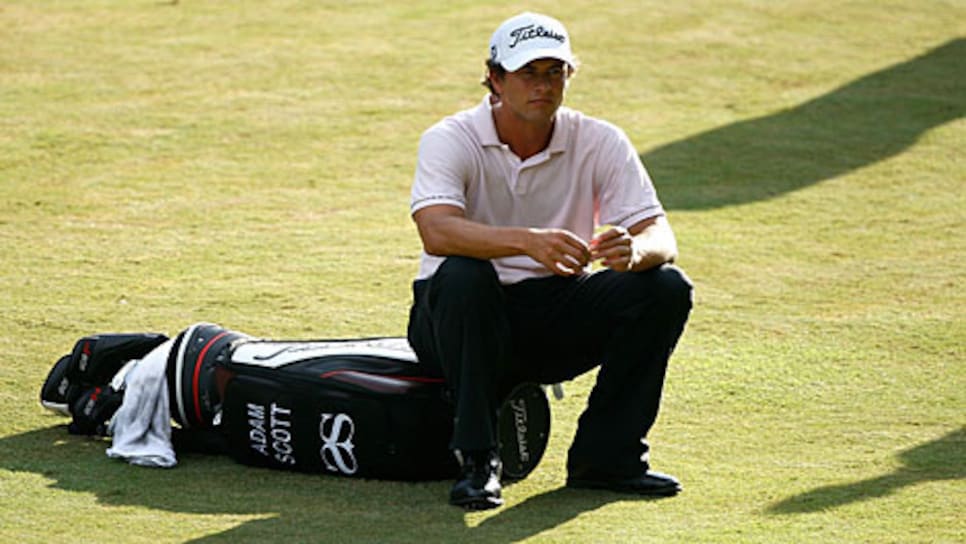 A mediocre season for Adam Scott makes his selection to the Presidents Cup International team a surprise.
LEMONT, Ill. (AP) -- Ryo Ishikawa is known in Japan as the "Shy Prince," a 17-year-old sensation who has won four times on the Japan Golf Tour in the last calendar year. He was hardly bashful during a meeting this summer of prospective Presidents Cup players.
"He was engaged, he walked around the entire room, introduced himself to everybody, made sure everybody understood that he wanted to be on the team," International captain Greg Norman said.
Norman was so impressed that he added Ishikawa to his team as a captain's pick for the Presidents Cup on Tuesday, making the Japanese teen the youngest player ever in these matches.
The Presidents Cup will be played Oct. 8-11 at Harding Park in San Francisco.
The big surprise was Norman's second pick -- Adam Scott -- who has endured the worst season of his career.
Scott, No. 3 in the world a year ago in July, has plunged to No. 53 and barely qualified for the FedEx Cup playoffs. He was eliminated in the first round, and conceded he probably would be left off the team. Scott even planned surgery for a cyst behind his knee.
"At the end of the day, he's got the playing skills ... what he can bring to the locker room, the support he gives to other players, the connection and the experience that he's had playing on the Presidents Cup team," Norman said. "He was really a logical choice."
Norman picked Scott, a fellow Australian and protege, over players that included Rory Sabbatini, who won the Byron Nelson Championship in May and fell out of the top 10 in the standings in the final week, bumped by Y.E. Yang and his PGA Championship victory.
U.S. captain Fred Couple's picks were no surprise at all -- U.S. Open champion Lucas Glover and Hunter Mahan.
Couples had told golfchannel.com during the PGA Championship that he was taking Mahan. Couples said he told Glover after the PGA Championship that he was on the team.
Glover and Mahan were captain's picks for the Presidents Cup two years ago.
"I told Hunter, 'You're my guy. If something happens, we've got issues,'" Couples said.
Couples took Mahan, a superb ball-striker whose only PGA Tour victory came two years ago, over Brian Gay and Dustin Johnson. Both players have won twice in the last calendar year.
"The hardest thing I've had ... Dustin Johnson and Brian Gay," Couples said. "Brian Gay has won twice. He's taking it pretty hard, which he should. I was overlooked one time, but I got picked a few times. For Hunter Mahan and Lucas, I think it's a no-brainer, I really do."
The Americans have won the Presidents Cup outright the last two times and hold a 5-1-1 edge in the matches that began in 1994. Their only loss came in 1998 in Australia.
The Presidents Cup completes a big year for Ishikawa, who at 15 became the youngest player to win a tournament on a sanctioned tour. He made his U.S. debut at Riviera in the Northern Trust Open, received invitations to the Masters and PGA Championship, and played the first two rounds with Tiger Woods and Lee Westwood in the British Open.
He opened with a 68 at Turnberry before much fanfare (beating Woods by three shots) before missing the cut with a 78.
"He played well that week," Norman said. "He played with Tiger. He stood up to Tiger. So that tells me he can deal with a pressure situation. He is not afraid of the big moment. The other thing which came into my mind is he travels with an entourage of about 50 media people, so he's used to that type of atmosphere, that buzz going on all the time, and it doesn't bother him."
Ishikawa said in a statement - it was 2:30 a.m. Wednesday in Japan when the announcement was made - that he was honored.
"There are so many great players on both teams, and I'm humbled by my selection to be with them," Ishikawa said. "Although I'll be a bit nervous surrounded by a such a great captain and so many great players in the world, I will do my best during the week and hopefully contribute to the victory over the American team."
Ishikawa is the first Japanese player in the Presidents Cup since Shigeki Maruyama in 2000.
The rest of the International team consists of Geoff Ogilvy, Vijay Singh, Camilo Villegas, Retief Goosen, Ernie Els, Angel Cabrera, Mike Weir, Robert Allenby, Yang and Tim Clark.
The other Americans are Tiger Woods, Phil Mickelson, Steve Stricker, Jim Furyk, Kenny Perry, Zach Johnson, Stewart Cink, Sean O'Hair, Anthony Kim and Justin Leonard.