News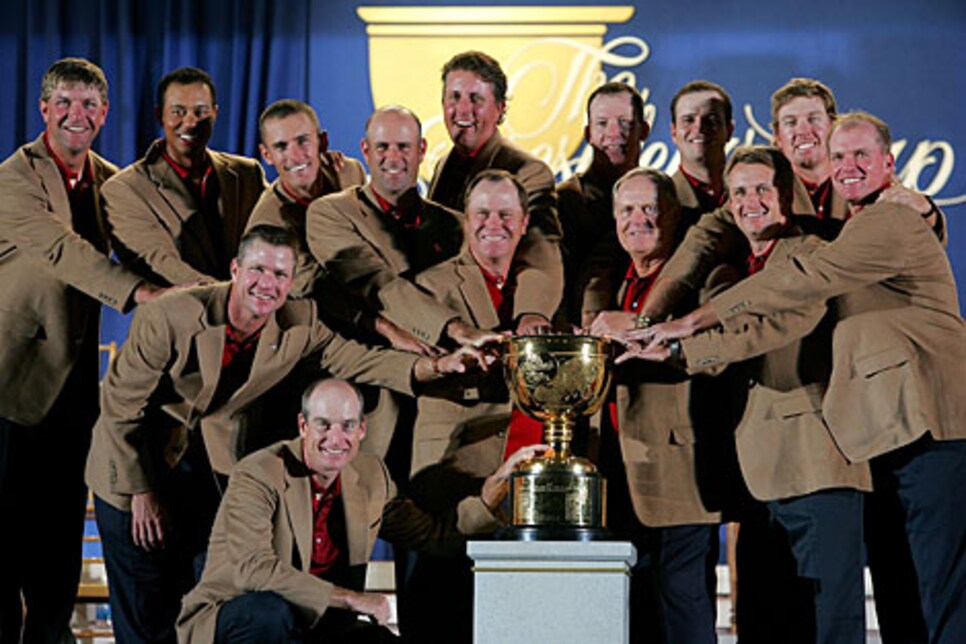 The U.S. has dominated the Presidents Cup, but a better showing by the International side would help to heighten interest.
If it is indeed the "in" thing to bash everything about golf, a game for the privileged that has no place during difficult economic times, then count me "out." Specifically, I refer to the upcoming Presidents Cup, roundly panned as a Ryder Cup knockoff created by the PGA Tour to make money.
I didn't know enhancing one's bottom line is a felony, but beyond that, the notion of a biennnial competition pitting Americans and the ever-increasing number of quality players outside Europe makes sense, beyond dollars. To borrow from Geoff Ogilvy, a talented and thinking Australian who will be there at Harding Park in San Francisco come Oct. 8, give it time. When Bud Selig, commissioner of baseball, instituted a wildcard system for playoffs whereby the best second place team in either league would qualify for the post season, purists tore him to bits. Now, he looks like a genius.
U.S. stars who have to swing for the flag each year might tire of the schedule, but the worst complaint I have heard is that Americans occasionally have to travel halfway around the world to compete against their neighbors in Orlando. To that I would say, so what? Happens all the time, and it's not a crime at Royal Melbourne any more than it is at St. Andrews. If you think the Presidents Cup lacks passion, then you weren't paying attention when Mike Weir in his native Canada beat Tiger Woods two years ago or when the 1998 Internationals thrashed the U.S. in the aforementioned Australia.
Why that was the only International victory in this young series is a mystery. In Montreal, the Internationals appeared to be loaded, only to lose convincingly. It probably would not hurt the event for the Internationals to win one sometime soon. As Ogilvy noted, the Ryder Cup did not gain momentum until the mid 1980s when the Euros won there (1985), then again here (1987) on Jack Nicklaus' home turf of Dublin, O., with the Golden Bear as captain of the losers. That same year, the America's Cup was a big deal in Fremantle, Australia, because the U.S. was trying to avenge its first defeat in 132 years in 1983. Stars & Stripes beat Kookaburra III, four to nil, but it was huge. I can attest, for I was there, and I still don't know the front end of a yacht from the back end.
But I think I can identify emotion, and I suspect it will be evident in San Francisco. We've all heard that the Internationals don't fare better because a few of them don't care enough, and because the Americans, unlike the Ryder Cup, don't care so much that they can't grip the club. Still, here's a proposition: suppose the Internationals win for Capt Greg Norman at Harding Park, then attempt to retain the Cup in 2011 in Australia, presumably with a national hero, Norman, still at the helm. Think that wouldn't be big? As Ogilvy said, give it time. Give history a chance.
More about emotion. At Royal Montreal, on the range and during practice rounds, American golfers were seen laughing more than they laughed during the entire week in Ireland where they were routed at the previous year's Ryder Cup. That was not an aberration. The Americans at a Ryder Cup always look as though they ready to pass a kidney stone. Until last fall in Louisville, where Capt. Paul Azinger obviously orchestrated a personality transplant that took hold on the course. The Americans were not only happy to be there on Tuesday, they closed out the Europeans on Sunday. Whether this vibe carries on to San Francisco, time will tell. But at the Tour Championship in Atlanta last week, you heard U.S. team members including Tiger Woods and Phil Mickelson talk about looking forward to San Francisco, playing for Capt. Fred Couples and hanging out with Michael Jordan and his cigar. Perhaps it was the company line. However, maybe it was also the bottom line: a bunch of guys anxious to tee it up as a group for a few days. The Americans will be happy to be there, and they're not going there to lose.
We always hear that the stars only pay attention to the four majors, which is fine. But what about the other 48 weeks? This is show biz, these golfers are entertainers. Do TV personalities perform only during sweeps periods for ratings? The Presidents Cup is not evil, anymore than last week's putting for dollars. You know what they say. You will spend the money soon, but the FedEx Cup is in your trophy case forever.