News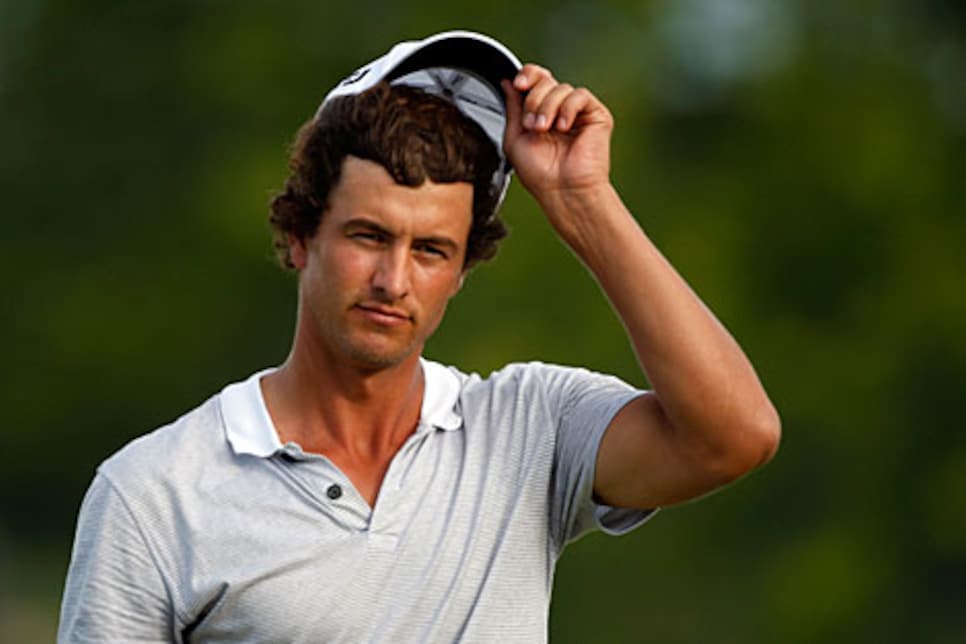 Greg Norman's mystifying selection of Adam Scott for the Presidents Cup team surely says something about the International team's lack of depth.
For all the things Sergio Garcia hasn't accomplished in 2009, his fellow former phenom, Adam Scott, has had a year to forget, which isn't to say he's done anything to remember. Scott's last top-30 finish on the PGA Tour came way back in January, a T-2 at the Sony Open, which occurred a few days after some resourceful paparazzi found the photogenic Aussie cavorting on a Maui beach with actress Kate Hudson.
It may be worth noting that Hudson has left a trail of wounded men in her wake, a list that might as well include a player who is currently entrenched in the longest and most serious slump of his career. Scott's lost 2009 still leaves him better off than most, although some might characterize his decision to leave longtime swing coach Butch Harmon as a form of professional suicide.
He has missed 10 of 14 cuts since mid-March and fallen from third to 53rd in the World Ranking since the 2008 U.S. Open, so when Scott was added to the International team Tuesday as one of Greg Norman's two captain's picks, it only underscored the lack of realistic options the Shark faced when filling out his roster and just how weak a squad he'll bring to next month's Presidents Cup.
Give Norman credit. If selecting Scott and 17-year-old Ryo Ishikawa basically amounts to a cry for help, the International skipper did a fine job disguising the plea. "There's more than one thing you look at, and obviously a lot of it has to do with past experiences," he said of Scott. "Everybody goes through slumps. Everybody goes through them for different reasons. Maybe it's not just your game, but something else in your life that is out of sync."
Since breaking up with his longtime girlfriend last year, Scott hasn't been close to the same player who had risen to the cusp of the game's highest level by the age of 26. Theories on his demise have been easy to surmise: a loss of interest, nagging injuries and questionable business decisions off the course are among the more common reasons heard over the last 15 months. Scott's management team continues to be led by his father, Phil, making him the only top-tier player who doesn't have a professional agent.
The purchase of a Gulfstream G450 jet this spring did little to dismiss the notion that Scott is poorly advised. A $40 million investment struck some as a bit over the top for a guy with six tour victories and $20 million in earnings, and as the months pass without Scott returning to form, the airplane has joined the list of distractions, misplaced priorities and other various causes for his poor play.
Still, Norman took the risk, if you want to call it that. Rory Sabbatini, who finished 11th in the International standings, was left off the team because, quite frankly, he might be the least popular player on the tour. Jeev Milka Singh (12th) and Shingo Katayama (13th) aren't nearly as talented as Scott, who somehow finished 14th. Among the pile of non-achievers who finished 15th or lower, only K.J. Choi and Trevor Immelman could have possibly been given any consideration.
Choi has been invisible since a T-3 in Los Angeles almost seven months ago. Immelman finished 158th in the FedEx Cup derby, meaning he didn't even qualify for the postseason. A couple of weeks ago, Norman said Scott wasn't even on his radar screen in regard to potential captain's picks. That was before he looked at the radar and saw a bunch of leaky rowboats and battleships in reverse.
With Vijay Singh, Ernie Els and Retief Goosen all on the downsides of their careers, with Camilo Villegas unable to match the breakthrough success he achieved at the end of last year and Geoff Ogilvy unable to sustain the stellar play that carried him to a pair of early-season victories, Norman has quite a crew on his hands. The more you think about it, the longer you look at it, the easier it is to see why he picked Scott.
He's a very likable guy. He hits it a long way. And if the charter flight to and from San Francisco gets a wee bit crowded, the not-so-great Scott can probably find room for a couple of teammates on his G450.