News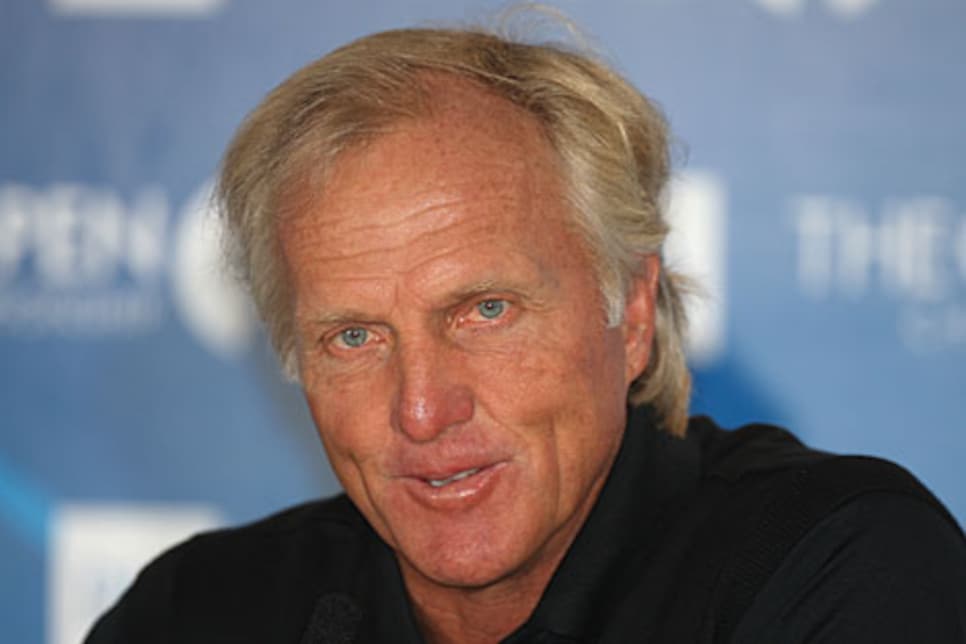 Greg Norman's selection of Adam Scott to the Presidents Cup team was the most surprising revelation at Tuesday's announcement.
WASHINGTON, D.C. -- Along with talking politics and the ramifications of a national health care plan, we played a game on Tuesday morning at 45,000 feet in the cabin of the G-550 belonging to Greg Norman as it flew up from Palm Beach International to Dulles. It was called "Guess The Presidents Cup captain's picks," and it cost me $20 in a closeout bet to Greg's wife, Chris Evert. I figured after 20 years of built-up trust that Greg might let me in on his secret, but he was not being Fred Couples on this. He would give me a ride to the news conference, but he wouldn't give up his two choices -- even if I promised not to blog, tweet or phone it in from the plane's lavatory.
"Only six people know," Greg said, listing himself, Chris, assistant captain Frank Nobilo, Ana Leaird from the PGA Tour's communications department, and the two players. "Not even the commissioner knows."
My educated guess was Ryo Ishikawa, the 17-year-old Japanese phenom, and Michael Sim, the 24-year-old Aussie who won three times on the Nationwide Tour this year to earn a battlefield promotion. Sim was a little outside the box, but his name had been bandied about in the last week and since the players from 11 down on the International team's points list hadn't done much lately, Ishikawa and Sim represented good form and youth.
"You're way off," Norman said.
Thus began the exercise of going through a process of elimination that started with me blurting out, "Well, you'll never take Adam Scott. He's playing like ..."
Greg never flinched, but I should have known looking at Chris' raised eyebrows and the way she shifted and looked out of the window that Scott was going to be one of Norman's choices. I even mentioned that Adam was dating the Serbian tennis star Ana Ivanovic and they were both slumping. Shortly after this awkward moment, a straight-faced Evert made the bet.
"You're going to be surprised," she said.
I told Greg I liked Jeev Milkha Singh, but knew he was dinged up. Picking Singh, who is from India, would have been phenomenal for the game's growth, but I could tell that Greg wasn't going there. They talked at the British Open, just after Jeev strained a rib muscle. Twelfth in the final point standings, Milkha Singh felt like his form returned three weeks ago at the Wyndham Championship, but not enough to get the captain's final nod.
Rory Sabbatini, No. 11, hadn't cracked the top-50 since winning the Byron Nelson, missing the cut at the British Open, finishing T-67 at the PGA, and going MC-MC in the two FedEx Cup playoff events.
I came back with the name, "Rod Pampling," figuring, "off the radar but great team player, kind of like Scott Verplank; hits fairways, perfect complement to some of the superstars on his team." No, it was not Rod Pampling.
"I went way down the list," Norman said, producing a print out from his briefcase. Below Thongchai Jaidee and Prayad Marksaeng of Thailand, John Senden's name popped out. He leads the tour in greens hit in regulation and was knocking down flagsticks at the Deutsche Bank, making double eagle and nearly a hole-in-one. Only problem, Senden can't putt. "In this format, you only have to make four putts per round," Norman said, throwing me off.
Norman's only hint: One of his players had Presidents Cup experience, having played on teams with Greg. I was starting to think Steve Elkington but Greg's last appearance as a player was 2000. There was no PGA Tour media guide on the plane to jog my memory, and since there was no lifelines -- or wireless Internet -- I went with Ishikawa and Senden.
The news conference at the National Press Club opened without any surprises. Couples gave away his Presidents Cup picks three weeks ago, letting the world know that Lucas Glover and Hunter Mahan just had to keep breathing, and barring a third victory by Brian Gay or a second win by Dustin Johnson, the two captain's picks of Jack Nicklaus would be Freddie's as well.
Couples opened with Glover. Norman countered with Ishikawa. Couples came back with Mahan. Norman went with Scott. I stopped typing, turned my head, and looked across the room, where Evert was smiling. I doubt it will hang in the halls of the National Press Club, but there was a photo taken of her snatching the $20 bill from my fingers.
In retrospect, the pick shouldn't come as a surprise based on the relationship between Norman and Scott, which began when Adam stayed at Greg's compound on Jupiter Island when he was a teenager. Earlier this year, Scott rented a house at Greg's golf club, The Medalist in Hobe Sound, where he attempted to find his game.
Two weeks ago, Scott called Norman and told him to take him off his list -- if he was indeed on the list, having plummeted from No. 3 in the world last year to No. 53 after rounds of 82-79 at the PGA Championship. But a week later, Scott called Norman back to say put him back. They discussed the condition of Adam's knee, which requires surgery. It was like Greg couldn't get Adam off the phone, but Norman heard something in Scott's voice to make a gut call.
"Was I surprised, yeah?" Couples said. "Did I like it? Yeah. I'm a big Adam Scott guy. It makes me feel good. I think it's good for the event. I've had enough of Retief Goosen and Adam Scott (in the 2005 Presidents Cup), so now I'll let these guys play against him. Ryo, I played with in Japan last year. What a great young kid. He wants to play over here; maybe this will help him get here quicker. Sure this is a great opportunity [for Adam]. It's his idol. He's not going to let him down if he's not ready. I'm happy he picked both those guys."
The rest of the day included a trip to the White House for a photo op with the Presidents Cup chairman, President Barack Obama. Greg and Chrissie have been in the Oval Office before. Norman was a friend of President Clinton and both share a relationship with President George H.W. Bush, or "41" as he is known.
But since he was preparing for Wednesday night's speech on health care reform, President Obama was tight on time and didn't have much room on his schedule for golf talk. They took photos and it seemed like President Obama was more interested in talking tennis with Evert (both his daughters Sasha and Malia play) than he was the captains' picks or next month's competition in San Francisco.
Vice President Joe Biden, on the other hand, was more engaged. As a CEO, Norman was interested in health care and Biden spelled it all out for him. They went to the White House putting green for more photos, where Biden even joked, "Do I have to fall down on your front steps to play golf with you?" Norman laughed at the reference to Presidents Clinton's fall during his visit to Jupiter Island in 1997.
"He was openly open on his beliefs and benefits on where President Obama's present health plan lays," Norman wrote in an e-mail late Tuesday night. "I am yet to be 100% convinced, but I truly loved the poignant and experienced response that he delivered. Outside of this, his passion for the game of golf was so obvious and it was our turn to deliver experience on the game of golf by passing on some of the finer tips on the art of putting and the charitable giving that the players do unconditionally. Both Chrissie and I very much enjoyed spending the extra time with him. He reminded me very much of President Clinton and his willingness to make you feel at ease."
As he flew back to Florida, Greg Norman was at ease with his picks, and to a certain extent, with what Biden told him about health care as it related to Great White Shark Enterprises. And I should mention Chris gave me the $20 bill back before we left Washington. Maybe because I got Ishikawa correct. Maybe because she didn't give me a chance to press.