News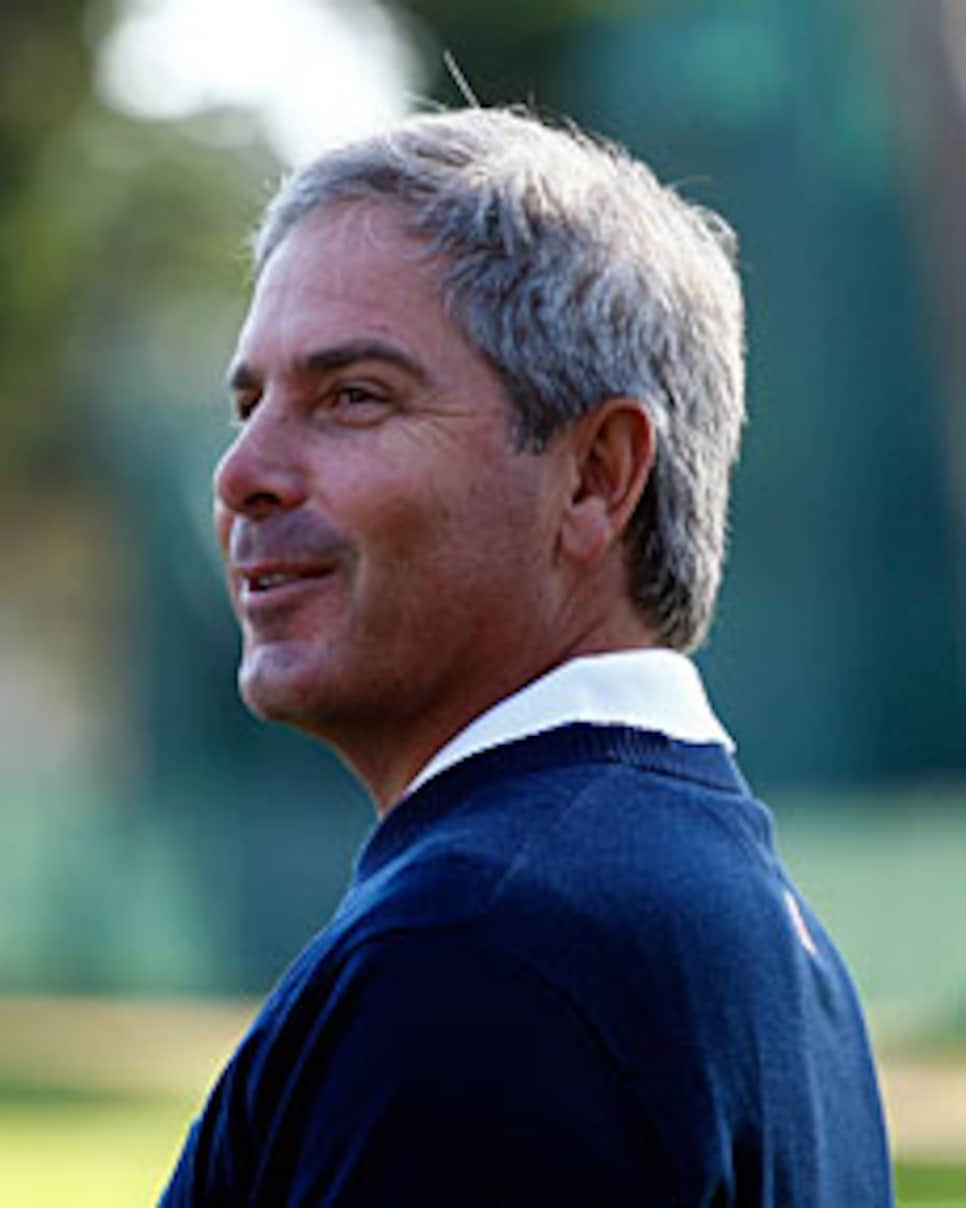 U.S. captain Fred Couples has plenty of options at his disposal.
As captain for the Golf World side of our inter-office team competition against our colleagues at Golf Digest, I'm used to decisions such as whether or not to pair John Hawkins and Ron Sirak together. What I am not used to is having the firepower of the 2009 U.S. Presidents Cup team at my disposal.
But for the purposes of this column, I have been given the assignment of playing captain of that team, coming up with the pairings needed to succeed in foursomes and four-balls against the Internationals. After several sheets of crumpled up paper, my pairings are set and Fred Couples -- the real U.S. captain -- can now opt to take the night off and simply use these. Or not. To my team, I have just three words: Play hard boys.
Decisions, decisions. Power with power or power with precision? How much emphasis on track record in the format or with another partner? As usual, it's a little of all the above.
Team 1: Steve Stricker and Hunter Mahan. A no-brainer. This tandem went 2-0 in foursomes in 2007, taking out Adam Scott and Geoff Ogilvy 3 and 2 in the Cup's opening match, thus setting the tone for the week. In all the duo made six birdies and just two bogeys over 34 holes in this format. Works for me. You're in the leadoff spot again, fellas.
Team 2: Lucas Glover and Zach Johnson. Both these players are 2-0 in Presidents Cup foursomes play, with Glover winning twice at Royal Montreal in 2007 with Scott Verplank as his partner. Verplank didn't make the team, but Johnson's steadiness makes him equally as comforting and his putting might even be better. And if Glover stakes his irons at Harding Park like he did in Canada two years, watch out.
Team 3: Stewart Cink and Jim Furyk. Dammit, where's Kirk Triplett when you need him? Cink went 3-0 with the buckethatted one as his partner in 2000 at Robert Trent Jones GC. That said, Cink is 4-1 career in Presidents Cup foursomes and having Furyk, who he paired with in one foursomes match in 2007 and carded nine -- that's right, nine -- birdies, is as comforting as an old pair of slippers. Maybe Furyk can even learn to Tweet between shots.
__Team 4:__Phil Mickelson and Anthony Kim. Finding a pairing for Phil is always difficult because you don't know if you're going to get Phil The Thrill or the other guy who is hitting it all over the planet. But Mickelson and Kim seemed to mesh at Valhalla, and pairing the vet with the kid makes sense. There will be some bogeys, but expect enough birdies to offset the errors.
__Team 5:__Justin Leonard and Kenny Perry. If you want to dig really deep into the archives you'll find that Leonard and Perry posted a 3 and 2 foursomes win over Nick Price and … wait for it … David Frost in the 1996 Cup matches at Robert Trent Jones GC. They also lost a foursomes match, too. But history is not why this pair is together again. Having Kenny High-Bomb-Draw as a partner who can drive it long and in play is perfect for Leonard, who ranks 14th on tour in proximity to the hole on his approaches and is ranked third from 125 to 150 yards at 19 feet, 8 inches. Perry is no slouch, either, on approaches and if Leonard leaves him hanging at 200-plus yards, well, Perry ranks fourth on tour in approach proximity from that distance.
Team 6: Tiger Woods and Sean O'Hair. It was tempting to pair Woods with Furyk, but fact is for all the grief Woods gets over his team-play performance, the best player in the history of oxygen is 7-2-1 in Presidents Cup foursomes. Besides, the man gave O'Hair a putting tip at the Tour Championship. Yes, it's a little scary to put a pair of guys who can spray the ball (O'hair is 122nd in accuracy) together, but Woods is used to recovering from his own bad spots and he can always haul out the 3-wood stinger to put the rookie participant in play. And both are excellent iron players. A strong team to finish the first day.
A different beast. The thought process here is that you need a minimum of one birdie machine in every group or else you're going to get waxed. The five losing teams in the opening four-ball matches in 2007 averaged five under-par holes and that wasn't good enough. The one match that was halved saw each team play nine holes under par. Pars simply aren't good enough in this format. Luckily, the Americans have nine players among the tour's top 35 in birdie average, so there's lots of firepower to choose from. And if that's not enough, U.S. Captain Fred Couples might want to don some spikes. Captain America was T-5 in birdie average himself in 2009.
Team 1: Tiger Woods and Jim Furyk. Again, you always want to see your team get off to a fast start and this team should do it. Although they lost a four-ball match 5 and 4 in 2007, fact is they made six birdies and only lost because Vijay Singh and Stuart Appleby were unconscious (seven birdies and two eagles). They also won twice in this format two years before that. Woods topped the tour in birdie average and scoring. Furyk was third in scoring, providing security if Woods strays from the fairway. If you've got a stronger pair, I want to see it.
Team 2: Stewart Cink and Hunter Mahan. Despite winning the British Open, Cink is erratic (ranked 47th in scoring) and doesn't make many birdies (ranked 159th). So the best partner for him is one who hopefully won't implode but can still make birdies in bunches. Few players are better at the latter than Mahan, who ranked T-5 in birdie average and has a penchant for stringing them together.
Team 3: Steve Stricker and Zach Johnson. OK, we admit it – this pair won't scare the socks off anyone with their length. But they won't give anything away as each ranks among the top four on tour in scoring average. Expect lots of fairways and greens, which leads to plenty of good looks at the cup. And it's a lot easier to be aggressive on the greens when your partner is a surefire par.
__Team 4:__Phil Mickelson and Anthony Kim. The only pair we're keeping together. Admittedly, this one is pretty much an all-or-nothing proposition as either one or both could go south at any moment. But they did win a Ryder Cup four-ball match at Valhalla and each is capable of putting up plenty of red numbers. Call it a crap shoot. Come on seven!!!
Team 5: Lucas Glover and Kenny Perry. Glover lost a pair of four-ball matches in 2007 when paired with less-than-steady partners (Stewart Cink and Charles Howell III). Glover fought the good fight, though, and this time we're giving him a solid wingman in Perry, who is equally capable of birdie binges and match-saving pars, thus allowing Glover to be ultra-aggressive.
Team 6: Justin Leonard and Sean O'Hair. A pairing of two very solid players, making the likelihood of losing a hole with a bogey almost non-existent. Leonard has shown, too, that he can produce the run of birdies needed to dominate a four-ball match, making five on his own ball when he paired with Mahan in a 4 and 3 drubbing of Sergio Garcia and Miguel Angel Jimenez at Royal Montreal in 2007. A veteran of three Ryder Cup and four prior Presidents Cup teams, Leonard also will provide needed stability for his rookie partner.