News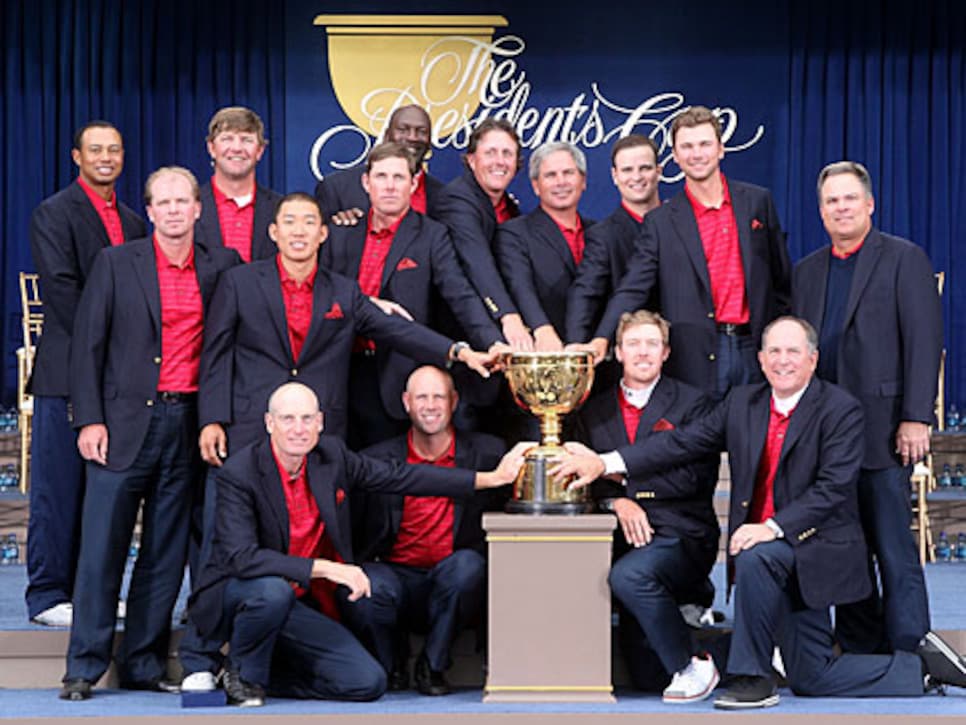 The recent American resurgence in team play has helped people forget the disappointments of the past.
The difference is obvious, and it has nothing to do with trying harder or caring more. After a weak stretch in the middle of the decade, the United States has won three consecutive team match-play gatherings by five points each time, the most recent coming last week at Harding Park, where Tiger Woods and Phil Mickelson accounted for almost half the U.S. point total.
Players from both sides weren't made available for interviews until the completion of a cumbersome Presidents Cup closing ceremony, by which point most guys couldn't get out of the media center fast enough. Mickelson was among the few who was accessible afterward, and if that doesn't happen very often, his candor and perspective play out much better in a small group than at a formal press conference.
Woods may be the greatest golfer who ever lived, but he's not the most introspective. Philly Mick is a thinker, a guy who analyzes things, then applies a considerable amount of opinion to his observations. And when it came to explaining the U.S. turnaround in team play since the Yanks were waxed at the 2006 Ryder Cup, Mickelson provided two logical, insightful reasons.
The FedEx Cup playoffs have made the Americans better. Prior to the inception of a postseason in 2007, Woods and Mickelson basically shut it down after the PGA Championship. The four- to-six-week layoff left them rusty heading into the Ryder/Presidents Cup -- or at the very least, not at peak competitive form, which probably had a lot to do with people thinking they participated in the team gatherings at half speed.
In 2004, for instance Mickelson didn't play between the WGC event in late August and the Ryder Cup a month later. He showed up at Oakland Hills with new equipment, switching from Titleist to Callaway, and was grossly ineffective, particularly in his disastrous first-day pairing with Woods. Tiger, meanwhile, has been a regular at the Deutsche Bank Championship, which is held Labor Day weekend. From 2004-06, that was his only start between the WGC and his representing Old Glory.
Nowadays, the big boys arrive a little worn down, but they're sharp. "Without question, it's been huge for me," Mickelson said. "Rather than trying to get ready for one event, you carry all the work and effort of getting your game in shape for the FedEx Cup, then you have one week off." It begs the question: why didn't Woods and Mickelson prepare for the Cups with the same zeal and attention to detail as they do a major? It's a fair inquiry, but in 2009, it's also a moot point.
The middle of the U.S. lineup has gotten much stronger. Four or five years ago, the Yanks did not have the high-end depth that separates winners from losers. Jim Furyk was America's third-best player, David Toms fourth, and after that, you could basically pluck names out of a hat. In 2006, however, Steve Stricker leapt from the scrap heap to the top tier and is now a far better player than he was in the mid-1990s.
Stricker's continued progression is a gigantic boost to the U.S. roster. He is a spectacular putter, the greatest of commodities in team match play, and at Harding Park, his partnership with Woods was perhaps the most successful in Prez Cup history. They blew out three of four opponents and rallied to win their other match. Their chemistry was obvious, their contributions fairly close to equal -- Stricker did a majority of the heavy lifting all day Saturday.
He isn't the only one. No one could have envisioned Kenny Perry getting better and better well into his late 40s, and though this team may have been his last, one might have said the same thing five years ago, when he was a member of the U.S. squad that got trampled by the Europeans. British Open champ Stewart Cink and Zach Johnson, who has won five times in the last three seasons, are two more guys who are much better players now.
Mickelson was particularly complimentary of Cink. "He hits the ball much longer than he did even a year ago," Lefty said. "He has a more penetrating ball flight, and while he has always been a decent putter, now he makes clutch putts. We saw it at Turnberry and we saw it [last] week." If Perry doesn't make another U.S. squad, the Americans still have a much stronger nucleus than in 2006, and that's before we consider younger, ultra-talented players such as Anthony Kim and Hunter Mahan.
Although neither could-be star took the strides expected of them in 2009, Kim and Mahan made important contributions to the American cause at Harding Park. Mahan is an exceptional driver of the ball but still struggles at times on and around the greens. Kim has all the tools but lacks the maturity and focus required to compete at the game's highest level. One can easily see them becoming fixtures on U.S. rosters for the next 10 years, but making a team and becoming vital components to one are two very different things.
For the time being, the job of carrying the Yanks against the Europeans and Internationals is in very capable hands. Not since 1993 has the U.S, been able to rightfully call itself the best of the three sides in the team-match format, but that clearly is the case now. Woods and Mickelson have never been better, nor has the group right behind them been so productive. Next September's Ryder Cup in Wales looms as the perfect test for this bunch.
As Mickelson said after last year's surprising victory at Valhalla, "This is great, but it's just a start. I want to win one over there." The last time that happened? Try 1993.