News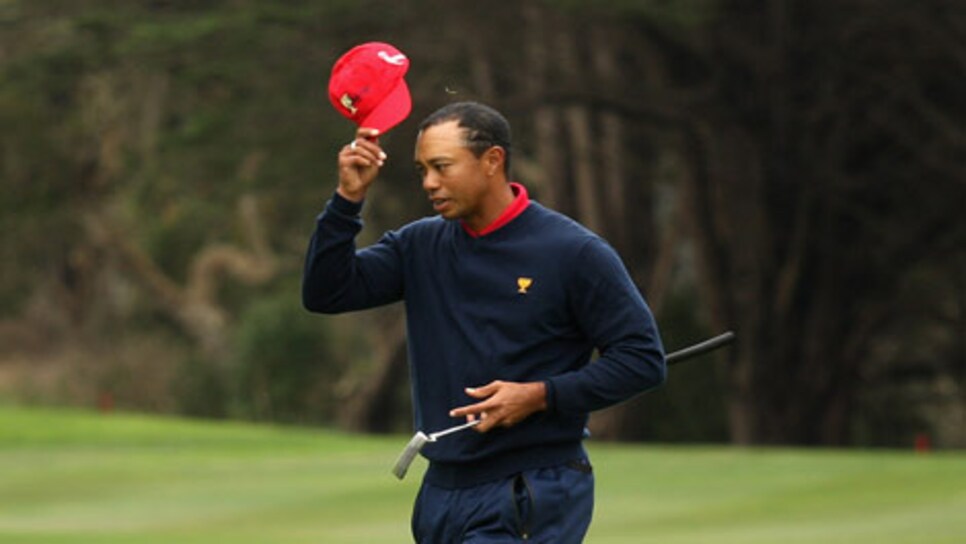 Tiger Woods' 5-0 record along with the play of Mickelson and Stricker made the win all but a done deal long before the matches were over.
SAN FRANCISCO -- The handwriting was on the fog at Harding Park for the Presidents Cup ... the U.S. team wasn't going to lose, not this time. And now, the big trophy is safely in U.S. hands for at least two more years, until the 2011 event at Royal Melbourne in Australia, where there's a chance that Fred Couples and Greg Norman will reprise their roles as team captains.
In the foggy aftermath of the U.S. team's overpowering 19 ½ - 14 ½ victory (the same score as in 2007), it's safe to wonder how it ever could have turned out any differently. The U.S. went in as the favorite, it fielded a team that featured five of the top eight-ranked players in the world, it was playing at home, and it had lost just once in the last 11 years.
"The week was phenomenal," said Couples.
This is what happens when Tiger Woods, Phil Mickelson and Steve Stricker -- the top three players in the world -- combine for a 13-1-1 record. With that sort of firepower, all the U.S. needed was 4 ½ points from somewhere else the rest of the week, which turned out to be simple.
It's safe to assume that things are working out almost perfectly when Woods makes the putt that clinches the Cup and Mickelson makes the putt that ends the competition.
Norman said it's simple to measure the impact of Woods' 5-0 record.
"That's huge," Norman said. "If he only wins three out of those five, then the whole match is a lot closer than what it [was]."
Of course, that's not the way it played out. But there were a lot of huge moments, to be sure, so let's recap.
*Best player: * Woods was undefeated, so you have to go with that, and his 6-and-5 wipeout of PGA Championship tormentor Y.E. Yang was a good indication of what happens when you start measuring Woods' resolve to get even.
Worst player: Camilo Villegas didn't have his best week and was winless at 0-4. (For what it's worth, he also eschewed the International team's choice of headgear for his own familiar painter's cap).
__Best shot (tie): __Woods made a 23-foot birdie putt on the 17th hole in Saturday morning's foursomes, and then followed up at the next hole with a 3-iron from 229 feet to about kick-in range for eagle to beat Mike Weir and Tim Clark.
Best Band-Aid: Calling Dr. Mickelson. He pulled Anthony Kim, Justin Leonard and Sean O'Hair out of their doldrums in three consecutive matches. Unexpected hero: Clark, who looks like a South African version of Ian Woosnam, made a 14-foot eagle putt in his four-ball match with partner Vijay Singh on Friday, and then sank to his knees in relief. He dropped birdies all over the place Sunday in his singles victory over hard-luck Zack Johnson.
Expected goat: Norman caught some grief for using a captain's pick on Adam Scott, and Scott didn't really show up after the first day. He was 1-4, winless after Thursday, and dominated by Stewart Cink in the singles, 4-and-3.
Best captain's best quote: Asked why he selected to sit Anthony Kim and Lucas Glover in Saturday morning's foursomes, he said: "No rhyme or reason."
Best Tweet: From Cink, a twitpic of Leonard drinking from the trophy in celebration, spilling whatever he's drinking down the front of his shirt.
Second best Tweet: Once again from Cink, a twitpic of Couples, holding the Presidents Cup trophy aloft on the awards stand Sunday in the afternoon fog at Harding Park. Cink's caption: The big man Freddy with new addition to the trophy case.
Best comeback: That would be Ernie Els, who turns 40 on Saturday, and showed he still may be a force to be reckoned with on the worldwide stage. Els was 3-2-0 in his sixth Presidents Cup, although he was handed a defeat by Sean O'Hair in the the Sunday singles.
Best sunglasses: Hunter Mahan's bold, white-framed shades that usually rested on the top of his head instead of covering his eyes.
Best rookie: Ryo Ishikawa, all of 18 years old, was 3-2 and defeated 49-year-old Kenny Perry in singles. Joked Perry: "I'm retired, I don't talk anymore. He sent me right into retirement, that kid."
Best match: Woods-Stricker won the last two holes to defeat Clark-Mike Weir, a Saturday morning foursomes match that changed the momentum of the entire tournament, got the crowd into it and kept Woods and Stricker unbeaten.
Best overlooked player: Kim, who wound up 3-1, after a slow start.
Best reasons to like the Presidents Cup: It's still match play, it's still the best U.S. players and it's different than the Ryder Cup.