News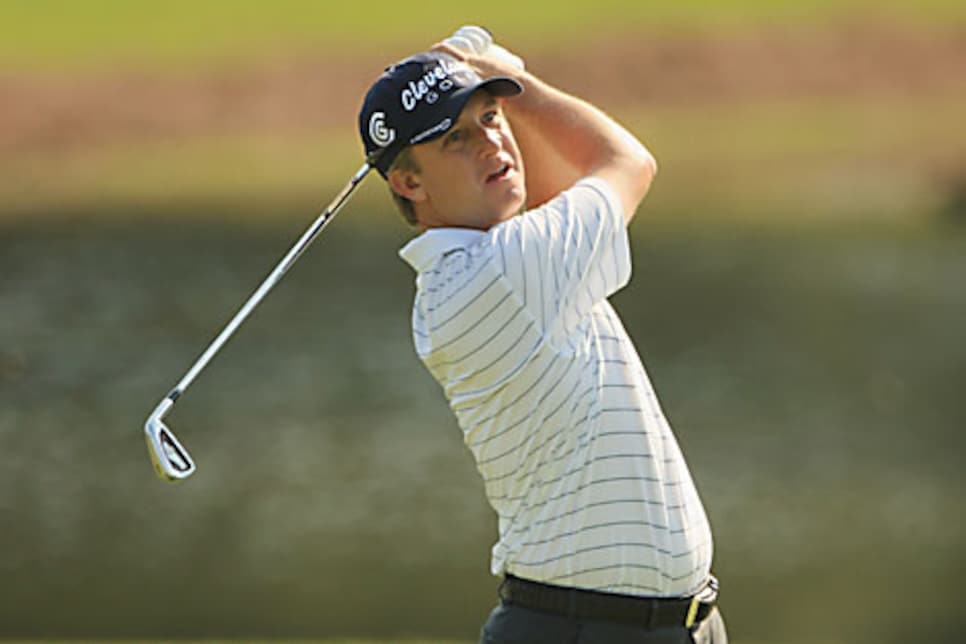 After squeaking into the field at the Players, David Toms is on his way to making the most of the opportunity,
PONTE VEDRA BEACH, Fla. -- David Toms isn't exactly competing without a net, but he's in new territory this year on the PGA Tour. The 12-time winner is exempt until 2011 for winning multiple times in multiple years, but is winless since the 2006 Sony Open. And he wouldn't have qualified for this week's Players Championship had he not tied for fifth at last month's Zurich Classic of New Orleans.
For the first time in 10 years, the 2001 PGA champion failed to earn a spot in the Masters. And he still has to qualify for the U.S. Open and British Open this year, which he intends to do.
The 42-year-old Toms isn't free-falling; he's just rededicated himself to golf. Which helps explain why he's only two off the lead in the 36th Players Championship after an opening-round 67 on Thursday at the Stadium Course at TPC Sawgrass, a place that seldom treats him well.
"I had some incentive to get into this tournament, although it's not a tournament where I've played very well, but still one you don't want to miss," he said. "I played my way into it, which is a good thing, and maybe that's why I went out there with extra determination today and played a better round of golf than I normally play here."
In 16 tournaments, Toms has missed the cut nine times, with his best finish a tie for 12th in 2001. But he was rolling Thursday, getting to eight under through 14 holes before faltering down the stretch.
Starting on the back nine, Toms matched the sweltering heat with birdies at 13, 15, 16 and 17 to make the turn in four-under 32. He continued his torrid pace with birdies at 1, 2 and 4, before backing up with bogeys at 6, 8 and 9.
Afterward, and you could blame the high temperatures, he wasn't sure what to think.
"I'm not exactly sure what I feel right now," said Toms. "I'm just glad to get off the golf course. I was going downhill the last few holes."
Explaining his finish Thursday, Toms cited lack of commitment, which pretty much sums up 2008, when he finished 131st on the money list, his worst ranking since 1994. He fought disk problems in his back; parted ways with long-time caddie Scott Gneiser in 2007; and wanted to spend more time with his family, not to mention hunt, fish and root for his beloved LSU Tigers.
In 2001, his alma mater made him an honorary captain for a football game against Tulane. When he took the field for the pre-game coin toss, he received a standing ovation from the crowd of 90,000 at Tiger Stadium.
Gneiser is back on the bag and Toms has shown signs of regaining form. In 10 starts this year, Toms has made eight cuts and posted four Top 10s, highlighted by a tie for second at the Sony Open. He's also averaging 69.58, his lowest figure in more than 10 years.
"A lot of things," Toms said, when asked about his resurgence. "I got my old caddie back, which is nice, just having success together. I think you kind of expect that when you go to the golf course.
"Equipment-wise, I didn't change until the beginning of this year. I did start to get healthy toward the fall last year, and I really haven't had any back problems since then, so I've been able to work on my game, practice short game, long game, everything else, and there for a while at the end of last year I wasn't really able to work on anything. Just all those things put together have made the difference."
Toms isn't getting ahead of himself. But despite Thursday's finish, he's having fun again and playing pain-free. Never a long hitter, he's driving the ball beautifully and his putting has come around since switching to a new Scotty Cameron milled model in New Orleans.
"I wouldn't say that I'm back to the level of play that I was early 2000 when I felt like every week I was just going to have a great week," said Toms. "But I am getting closer for sure."
Mark Soltau is a contributing editor to Golf Digest and the editor of TigerWoods.com.