News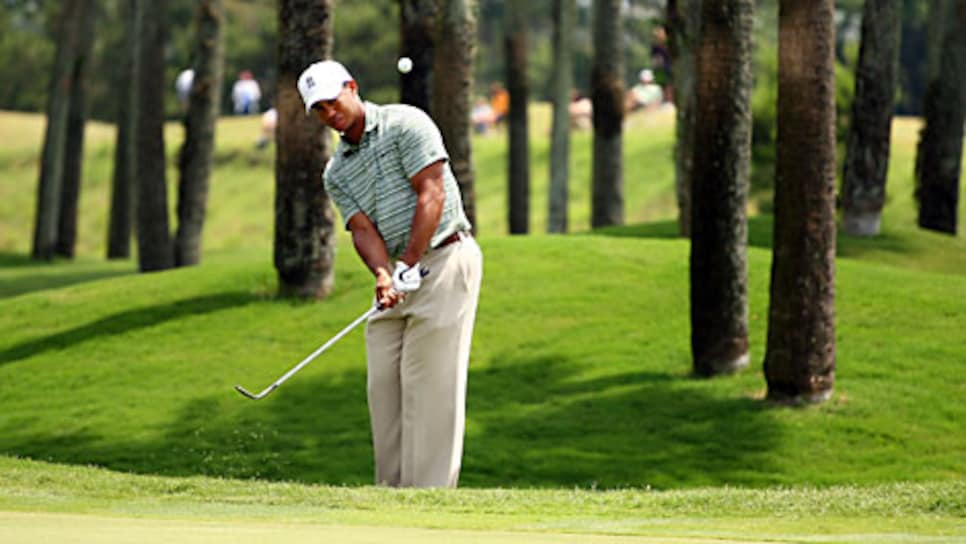 Why hasn't Tiger Woods played better in the Players Championship. Maybe it's the golf course. Maybe it's the event.
PONTE VEDRA BEACH, Fla. -- It can't be a fifth major if Tiger Woods hasn't taken ownership of it, and with one victory in 11 starts at the Players Championship, the world's best golfer hasn't even bought into the concept of a long-term lease. Only Riviera CC has proven tougher on Tiger over the years -- Woods remains winless after 11 tries at his hometown event in Los Angeles. No wonder he hasn't been back since withdrawing with the flu after 36 holes in 2006.
The Players is a bigger tournament, the TPC Sawgrass a less forgiving test, and Woods, for a variety of reasons, has done very little since holding off Vijay Singh to claim the title in 2001. His best finish in that stretch is a tie for 11th (2003). Just two of Tiger's last 13 rounds at Sawgrass have produced a score in the 60s, and if the 71 he posted in Thursday's ultra-friendly conditions is any indication, the funk isn't coming to an end anytime soon.
This latest round looked a lot like the ones we've seen since Woods won at Bay Hill in late March. "I hit it [close] on the first four holes right out of the gate, inside 15 feet on all four, and didn't make any of them," he lamented. "This is probably the highest score I could have shot today. I didn't get a whole lot out of it."
The question is why, and the answers, as is so often the case when they involve Woods, require a bit of educated guesswork. To say he doesn't like the course would be an overstatement, but if you were assigned to design a layout that could double as a shrine to Tigerproofing, Sawgrass would make an excellent template. Not just because of its exceedingly high demand on hitting fairways, but its receptive to recovery shots from positions considerably off-line.
Woods' ability to consistently manufacture pars from maximum-security prisons is one of his greatest assets. That skill is greatly neutralized here amid the medley of water hazards, bunkers and trees that come into play once you've driven the ball 15 yards left or 20 yards right. Quail Hollow and Firestone are tight venues, too, but the escape routes from trouble to green don't include as many obstacles, and that can make all the difference to a player with great creative ability and trajectory-control skills.
Then again, Tiger hit 10 of 14 fairways Thursday and still shot one under. He had 10 putts inside 20 feet for birdie or better and made two: a four-footer for eagle at the par-5 16th and a three-and-a-half-footer to complete his round at the par-5 ninth. No doubt, the greens on which Woods excelled at the beginning of the decade have changed dramatically in recent years -- they're faster and grainier, and again, one of Tiger's greatest strengths is nullified by the changes.
Mark O'Meara, a longtime friend of Tiger's and one of the best putters on earth in his day, once told me about Woods' seemingly supernatural ability to "feel" and "see" putts into the hole, to instantly process all the factors that go into a perfect read, then execute the necessary stroke. In short, Tiger is the ultimate feel putter, and his incredible visual memory has proven invaluable over and over on greens he is familiar with.
All the data he compiled in the early 2000s is fairly worthless now. It explains why he opened with a 71, why he sat five (or more) strokes off the 18-hole lead for the sixth straight time here.
Lastly, but certainly not of minimal significance, is Woods' mindset when he comes to Sawgrass. The guy is a hardcore traditionalist, a card-carrying creature of habit, and I'm beginning to think Woods finds the whole "fifth-major" tag somewhat wearisome. His focus level at the Big Four is legendary, and though he's hardly traipsing through the Players at half speed, I don't see the same intensity at Sawgrass as I've witnessed at a Masters or U.S. Open.
Tiger says he wants to win every time he tees it up, and I've never had any reason not to believe him, but every player, even the best who ever lived, is affected somewhat by his competitive subconscious. Call this the fifth major if it floats your boat, but I wouldn't hold my breath waiting on Woods' fifth gear. You wouldn't be allowed to exhale until next month at Bethpage.