News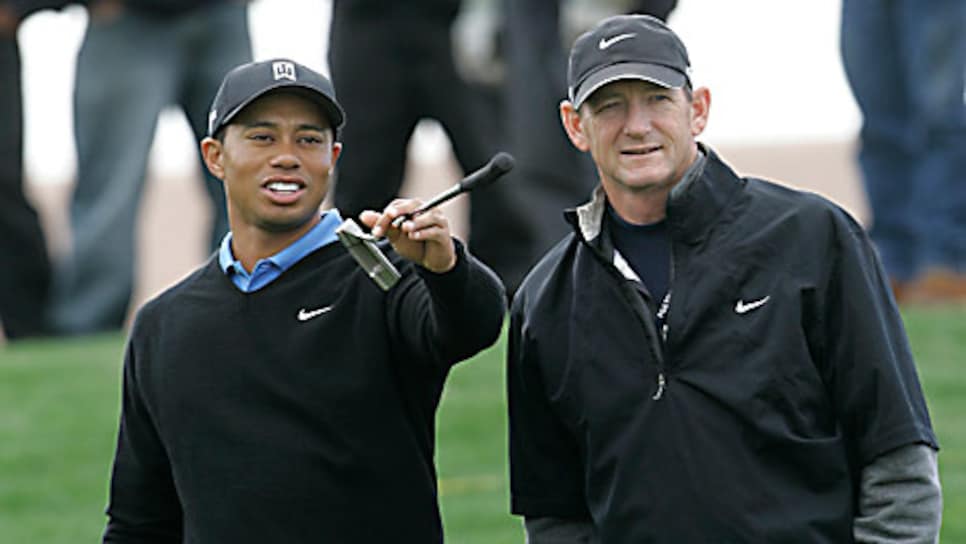 If Hank Haney wasn't deemed a genius during the good times, why is he considered a dunce now?
Rarely has Tiger Woods looked more flawed than at last week's Players Championship, where his ball-striking woes rekindled speculation that Hank Haney's days as Woods' swing coach are numbered. Of course, any stretch when Tiger goes three starts without a victory is enough to trigger the Haney-is-gone alarm. A solo eighth at the Players makes this only the third such drought in the last four years, which might be why the latest sirens seem so loud.

Lee Trevino, who has offered Tiger a free lesson that would enable him to hit a power fade on command, is among the more prominent voices to weigh in on Woods' swing issues. NBC analyst Johnny Miller, who rarely passes on a chance to diagnose anyone's mechanical breakdowns, instead issued a coy assessment near the end of last Sunday's telecast, saying, "It will be interesting to see if Tiger keeps doing what he's trying to do, or if he takes another course of action."
Loosely translated, that doesn't amount to an endorsement for Haney. Never mind that Woods began the Players hitting it well enough to position himself for birdie putts inside 12 feet on each of the first four holes. He made none, a frustrating start to a day when he hit 10 of 14 fairways but holed nothing outside four feet and basically turned a 67 into a 71.
That must be Hank's fault. I was late for a doctor's appointment a couple of weeks ago, and that's Hank's fault, too. My daughter got a couple of answers wrong on her math test -- blame it all on Hank. Haney's perceived ineffectiveness as a swing coach has become the default excuse every time Woods looks like something less than the greatest golfer ever. It's the knee-jerk reaction without any traction, a thoughtless conclusion worth several pages in the Idiot's Guide to Pro Golf.
If anything, Tiger has become too technical. His body language is reflective of a guy more concerned with form than results, a player whose remarkable natural instincts are the reason he can hit a flop shot to three feet from a downhill, hook lie in sticky bermuda rough. His second shot on the 18th hole at TPC Sawgrass last Friday was a perfect indication that his mental process has become too complex.
Having knocked his 3-wood into semi-punitive rough right of the fairway, Woods used a 7-iron to thread a bullet under some obstructive branches hanging maybe 20 yards ahead. The shot was struck so purely and on such an ideal trajectory that it traveled more than 200 yards and tumbled onto the green, where it fed off a severe right-to-left slope and stopped 10 feet from the pin. Tiger barely rehearsed the shot from a physical standpoint. He simply arrived at his ball, visualized his escape route, then executed.
When I asked him about it afterward, Woods quickly dismissed the notion that it was a spectacular shot. "It wasn't that hard," he said. After I wondered aloud if he was being serious, he repeated himself, only with more emphasis. Neither of us was wrong. I walked out to the 18th and spent several minutes examining the task he'd faced -- it was an extremely difficult spot from which to reach the green because several things had to go right just to get the first bounce on the fairway.
Any other tour pro would have been happy with a third shot from 30 or 40 yards short of the green, but for Tiger, as he made perfectly clear, it wasn't that hard. He struck it clean enough, low enough and on a line that ultimately earned him a birdie putt, which he missed. Do you even have to ask if that was Hank's fault?
Two holes earlier, Woods had played an ugly low hook from the middle of the 16th fairway, as bad a shot as I've seen from him in recent years. Given that he'd parked a 7-iron three feet from the flag and kicked in his eagle putt on the 16th Thursday, the miss seemed more perplexing, completely out of nowhere. Tiger would struggle from tee to green for most of the weekend, Haney's absence not so much notable as it is worth mentioning, but a couple of years have passed since Hank accompanied Tiger to every tournament, so it's not a point worth overstating.
Flaws and all, Woods clawed his way into Sunday's final group, where it quickly became apparent the man was suffering from competitive duress. He was visibly disgusted with his wedge into the first green, which was pretty bad but still left him with an easy two-putt. On the second tee, snapped a 3-wood into the left trees, an unfathomable miss with that club, then failed to hook his recovery from the pine straw and plunked it into a pond short-right of the green.
He spent the rest of the day watching his ball sail to the right, spinning out of shots because Tiger Woods, like everyone else, dreads the left miss. He would talk afterward about his lack of concern, saying his poor shots had all gone in one direction, but it was easy to see how the hook at the second had mangled his confidence, forcing him into a survival mode that took the left side out of play but prevented him from attacking.
It was fun to watch him last week, fending off his struggles to the end, miraculously remaining in contention until Henrik Stenson burned rubber on the leader board. Tiger wasn't about to step in front of the media and admit that his swing is a mess, that his mind is cluttered or that he had become too preoccupied with mechanics. The best players don't light themselves on fire in public. They dispense a few harmless crumbs and move on.
Woods has been working with Haney for a little more than five years now. The two men were friends before the professional relationship began and have gotten much closer since -- it isn't unusual for them to attend an Orlando Magic game or spend a few days together mixing business and pleasure. To end it all would be tough, and though Tiger would never prolong the partnership if he thought Haney's input had no value, it's not like Hank is trying to teach some 16 handicap how to hit a golf ball.
Their communication amounts mostly to an exchange of ideas, the application of principle and theory through one man's feel and the other man's vision. For all the success Woods has enjoyed with Haney, the fact of the matter is that Tiger's poorest golf in recent years, for whatever reasons, has been played in the spring -- the period between the Masters and the U.S. Open.
Blame the flowers, blame the courses, blame any number of sources, but don't blame Hank. Woods played in five straight tournaments without a win in both 2005 and 2006, each time at this point of the season, before returning to levels of dominance as pronounced as any in his career. Nobody declared Haney a genius during the good times. It would be silly to proclaim him a dunce now.