News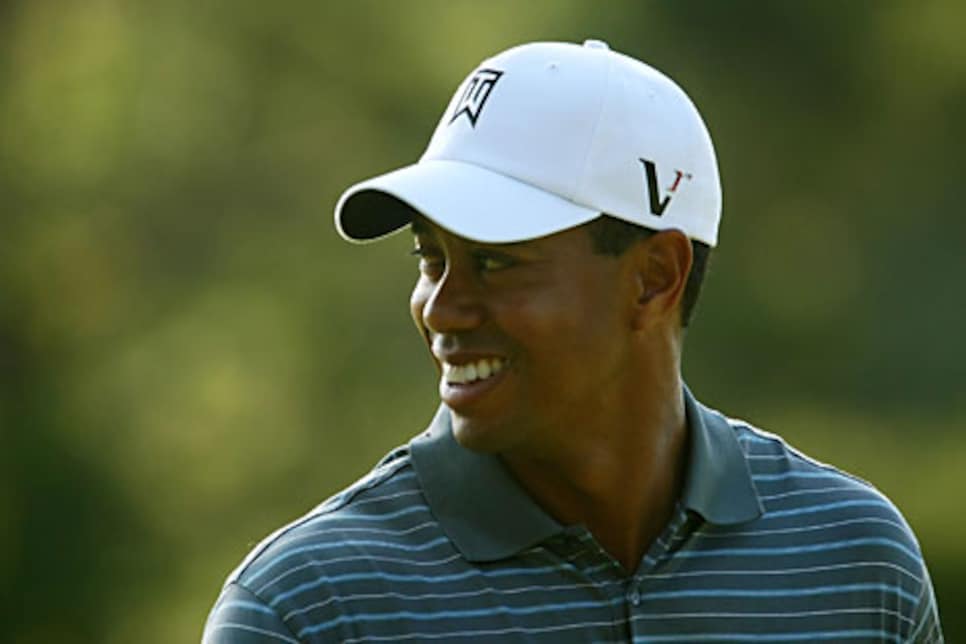 Tiger Woods is smiling here, but his driver has been mostly a source of frustration since his return.
PONTE VEDRA BEACH, Fla. -- Signs in front of each space in the players' parking lot reserve the spot for former Players Championship winners.
RESERVED FOR SERGIO GARCIA DEFENDING CHAMPION is next to PHIL MICKELSON; and STEPHEN AMES is next to FRED FUNK. But there is one sign in the parking lot that does not carry a name. It simply reads RESERVED FOR 2001 CHAMPION.
Apparently they don't want anyone milling around Tiger Woods' car.
This week, Woods has parked himself at the TPC Sawgrass for the Players Championship, which just happens to arrive at what may be a telling time for the 2001 champion. Almost 11 months after he had surgery to reconstruct his left knee, Woods is playing consecutive weeks for the first time in more than a year. The last time Woods played back-to-back tournaments was Torrey Pines followed by Dubai in February, 2008.
Maybe it won't make any difference. Then again, Woods said he doesn't have a clue.
"That's the unknown," he said. "That's one of the challenges we were looking at in the beginning of the year, how are you going to do back-to-back, because obviously we didn't know.
"I haven't had any setbacks so far this year. That's a big thing going into my second week playing in a row. You would think that's no big deal, but to me it is."
There are more than enough big deals in the Woods camp to go around this week, some of them involving Woods' driver ... as in, how far is the ball going and where is it heading after he hits it? Woods switched the shafts of his driver twice last week at Quail Hollow before reverting to his old one for the weekend. In his nine-hole practice round Tuesday at Sawgrass, Woods experimented with drivers with different shaft lengths.
Clearly, he's not comfortable with his driving (Say, that's not the reason his name is left off the parking place, is it?). Woods is averaging 293.5 yards off the tee, which would rank 29th on the PGA Tour if he had enough rounds to be included in the summary.
Woods was out-driven by Phil Mickelson when they played together in the fourth round of the Masters. Mickelson said he isn't sure what's going on with Woods.
"But it seemed like he was playing like he normally did," Mickelson said. "He had a lot of speed . . . as much speed as he wants to have."
Woods, whose driving distance, driving accuracy and greens in regulation numbers are all down from last year, said the result of his being sidelined with knee surgery has shown up in many areas.
"It's going to take a little bit of time before my body gets back to where I can hit the ball the same distances. I don't hit the ball the same distance with my irons or my driver. But it's coming. Each and every week I'm getting a little better. And the body is starting to get a little more comfortable with everything. When you're away for that long, and I have a whole new leg, it's going to take a little time."
Woods said he's done all right this year, all things considered, and he has not finished out of the top 10 in four stroke-play events. Since he tied for ninth at Doral, Woods won at Bay Hill, tied for sixth at the Masters and was fourth at Quail Hollow.
That could be worth remembering, since Woods hasn't finished in the top 10 in at TPC Sawgrass since he won here. It may not be his favorite place. Woods has never opened with a round in the 60s, has had only nine rounds in the 60s out of 44, and has never held the 18-hole, 36-hole, or 54-hole lead.
Woods' explanation was simple: "I haven't hit the ball well here."
He can begin trying to change all that Thursday, when he is paired with Justin Leonard and Ernie Els in the first round. So Woods waits for the pop to come back, understanding why it went away and grateful his knee is sound.
"After going what I went through and coming back, it takes time."
"I don't know. Hopefully soon."