News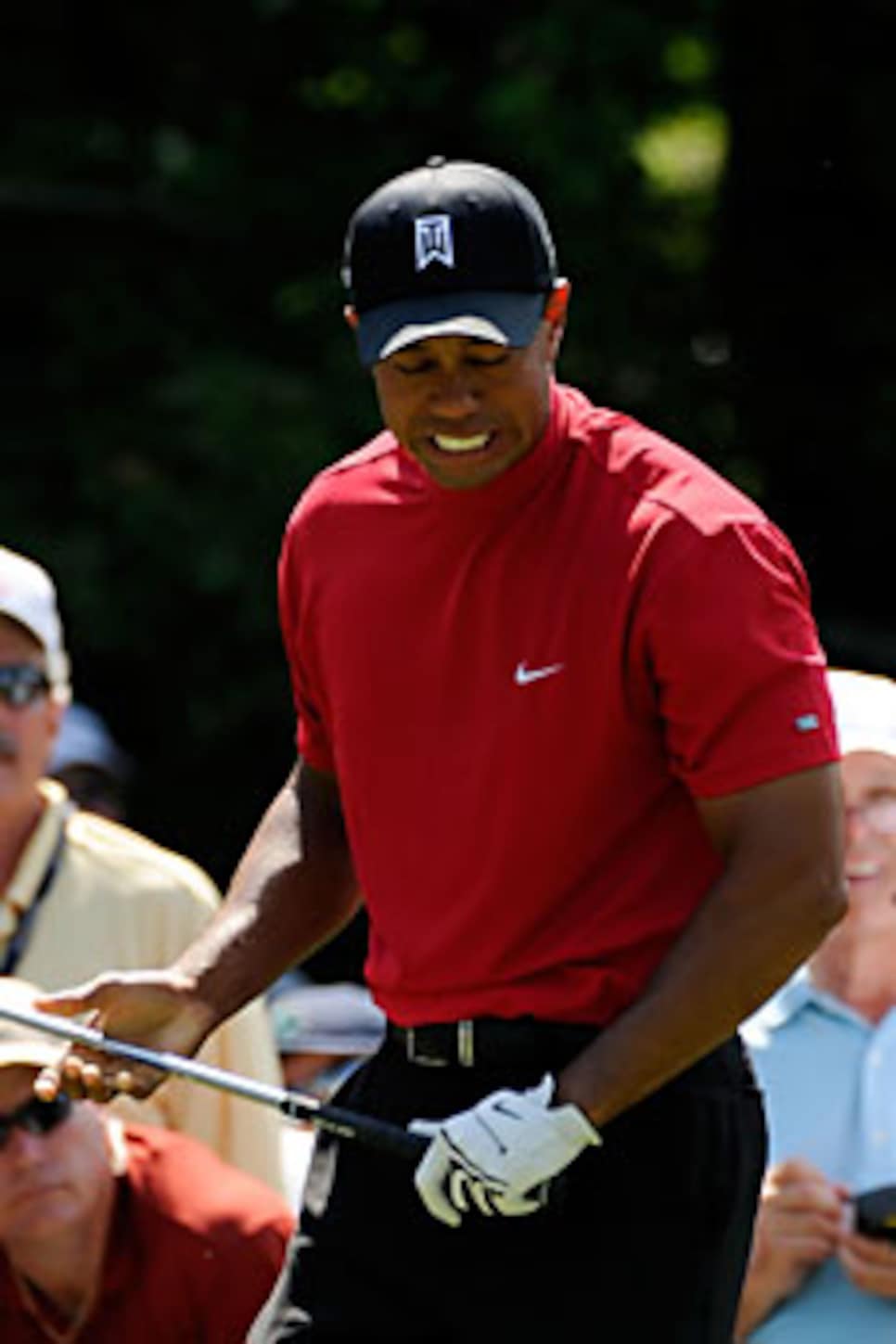 A Tiger Woods grimace was a familiar sight on Sunday at the Players
PONTE VEDRA BEACH, Fla. -- His spikes clicking on the cart patch as he walked briskly to the clubhouse Sunday evening, Tiger Woods removed his cap, wiped his forehead with one sleeve and then the other. He never looked back.
That's probably because Woods has a keen sense of direction. And why look back at a disappointment when you can look forward? Next weekend in Las Vegas, his schedule features Tiger Jam XII, his benefit concert for his foundation and some Las Vegas charities. The band No Doubt is playing, which is telling, because there might be plenty of doubts about Woods right now.
Woods started out Sunday in a tie for second, shot a one-over 73, finished in eighth and wasn't a factor in the final round of the Players Championship at TPC Sawgrass.
The verdict on his closing round? Worst in two years, since his 76 at the 2007 Arnold Palmer Invitational.
"It isn't that bad," he said. "If I had a two-way miss, I'd be a lot more concerned than I am now."
Woods said he had problems making sure his release point was early enough, because he found himself hitting "spinners" to the right.
"It was very frustrating."
He said he and swing coach Hank Haney are on track to fix the problem.
"We know what it is," Woods said. "[But] as we all know, it's hard to [fix] on the golf course."
It's possible that no top player -- not Ben Hogan or Jack Nicklaus or Arnold Palmer, or anyone before them -- has enjoyed the status of celebrity and still chafed under the same level of scrutiny as Woods. So, naturally, it's going to get amped up a bit right away, probably reaching a crescendo soon, assuming Woods shows up at the Memorial in three weeks to play what would likely his last tournament before the U.S. Open.
In the meantime, there is certain to be some questions about the status of Haney, who was not with Woods at Quail Hollow or TPC Sawgrass. Woods had a chance to diffuse any hint of a problem last week at Quail Hollow when he was asked if Haney was in trouble.
"That's entirely speculation," Woods said.
That's also not denying it.
As usual, truth isn't as provocative as speculation, but the fact is that Haney worked with Woods in Orlando the week before Quail Hollow and that Woods has also said he was responsible for any bad swings -- not Haney.
Since Woods returned from reconstructive knee surgery in March after an eight-month absence, Haney has insisted that Woods wouldn't be completely right with his game for awhile. He has preached patience.
The problem is there may not a lot of that to go around right now.
Woods clearly wasn't in sync, from shortly after the moment he drilled his opening shot down the middle of the fairway. Here's a short summary of his drives from there on: left at No. 2, right at No. 4, right bunker at No. 7, right bunker at No. 8, left at No. 9, right at No. 10.
By then, it was all but over. Woods was four shots behind eventual champion Henrik Stenson at the turn, and Stenson was the one having the Tiger Round that many expected.
"I think you guys have got to cut him a little bit of slack," Stenson said of Woods. "He can't win every week, even though he obviously wants it. That's just the nature of the game. He's the world's best player, but I don't expect him to win every time. He's lethal when he gets within striking distance, we all know that. I guess that's the key, for the rest of us to try and play well, keep him more than a couple shots behind when you go into the last couple of holes."
Woods said he knew after he bogeyed the 10th that he then had to birdie the 11th and 12th if he had any chance. He did neither and said he realized then he was out of luck.
The whole scenario stunned many. Even the NBC announcers couldn't help but step on Tiger's tail. Said Gary Koch: "I've never seen him play so poorly with a chance to win a tournament."
Maybe that's true, but Koch must have missed Woods at Quail Hollow, when he wasn't much different than Sunday.
If nothing else, the positive for Woods is that he said his knee felt fine after playing back-to-back tournaments for the first time in more than a year. Besides that, with Memorial coming up in three weeks, he said he can pull himself together.