News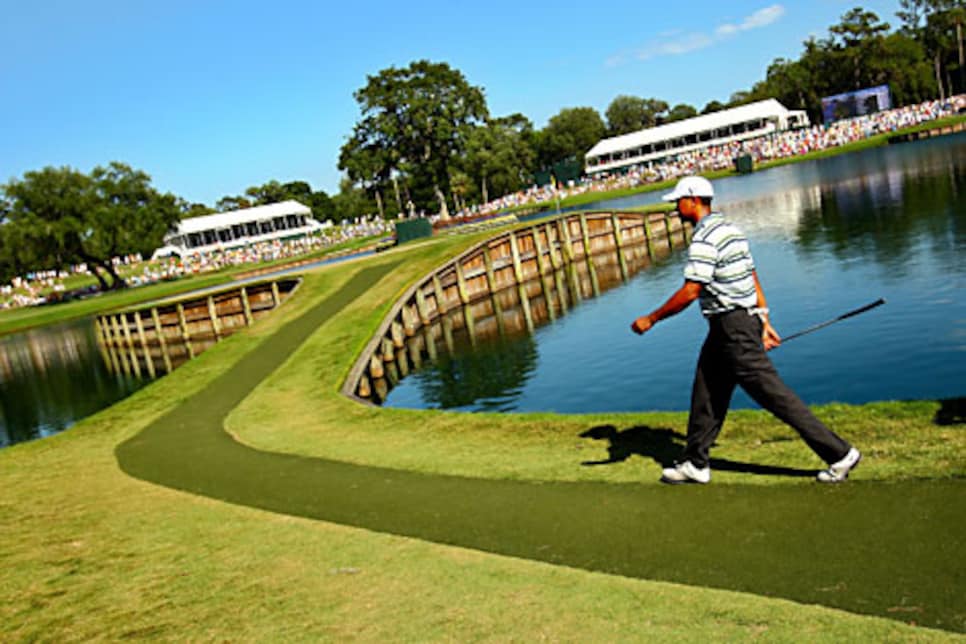 Very little about Tiger Woods' play this week suggests he should be near the top of the leaderboard. But somehow he is.
PONTE VEDRA BEACH, Fla. -- You're Tiger Woods, you just moved from 22nd to second in one round, you're not hitting it so great, you're not putting so great, you're not playing so great, but the numbers are somehow still adding up for you.
What are you going to work on now?
"My appetite," Woods said.
Apparently, Woods just can't get his fill of being in the hunt on the last day of a big event. He shot a two-under 70 Saturday in the third round of the Players Championship -- the first time he's had three rounds under par at TPC Sawgrass since he won here in 2001 -- and he's tied for second, in the last group, five shots behind Alex Cejka.
But if that wasn't enough Saturday, Woods even caught a break. Woods spent portions of his previous post-round interviews lamenting too many bad bounces and unlucky lies. He can no longer say that.
Woods had just birdied the compliant 16th and the tricky 17th when he stood on the tee at the 462-yard 18th, with trees on the right and water on the left. For the second straight day, Woods knocked his tee shot left. He said it was about a yard from the spot he was in Friday when he hit a low 7-iron and managed to put the ball on the green.
This time, Woods skidded a 6-iron down the fairway and watched the ball roll across the green to within inches of dropping into the water before it caught up in the spongy grass. Woods saved par, sure, but he also saved his round and maybe even his tournament.
The crowd roared, and while the usual cheer for Woods means he's close to the hole, this one was different. It meant Woods had not dunked his golf ball. Woods said he wasn't sure at first.
"We didn't see any splash, so that was good," he said.
But there's no doubt that Woods made a big splash Saturday. Even when he wasn't exactly cruising, he found a way to get the most out of it. Take, for example, the par-5 11th, strictly birdie territory. But Woods drove alongside a tree trunk. He was forced to flip his pitching wedge upside down and hit a left-handed shot out of trouble. He wound up with a bogey, but it could have been much worse.
And now on Sunday, Woods has a chance to make it much better, probably a lot better than he could have expected earlier in the week. Woods said he's not doing anything special.
"I just kept saying if I keep plodding along, keep coming back, that's the whole idea, just making par after par after par.
"Just grinding it out. This is basically our fifth major, and that's how it's playing. It's fast, it's hard, it's dry."
Left unanswered is exactly how Woods can be so close to a 67th PGA Tour victory when even he admits he is not at the top of his game. More important is he said he's starting to get a grip on the shortcomings in his game. He says he may be one hole, or one shot away from solving his consistency problems.
"If I have an understanding of my misses, yeah, I can figure it out. Sometimes you don't. It's a little frustrating. But this week, I have an idea of what I need to do. It's just a matter of doing it when I do it properly."
Woods finished his round about two hours before the lead groups and didn't expect to move up the way he did.
"You figured some of the guys would shoot three under or four under, but it's just like it's not happening."
It wasn't happening for many of those who began the day in front of Woods. Henrik Stenson was one under on the front side and two over on the back side. Ian Poulter was one over on the back. Kevin Na was four over on the back. David Toms double bogeyed the 18th and shot 42 on the back. Masters champion Angel Cabrera had his problems earlier -- a 40 on the front.
So what to take from this and remember on Sunday? Woods posted a number -- but not as low as he thought it would take – moved into contention, sent the usual message to everyone in his path and has a chance to win when his game isn't at full strength. But for what it's worth, Woods was five shots behind Sean O'Hair at Bay Hill and came back to win. Woods admitted to being stubborn.
"That's how you're supposed to play, isn't it?"