News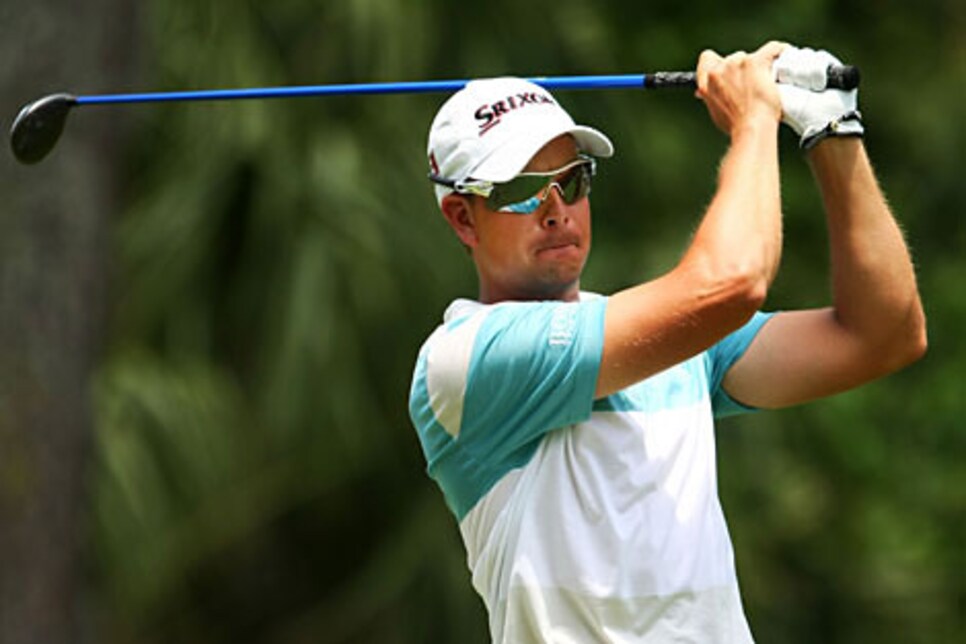 With his win on Sunday at the Players, Henrik Stenson can now set his sights on the majors.
PONTE VEDRA BEACH, Fla. -- Until Sunday when he won the Players Championship, Henrik Stenson might have been known best for his underwear.
Ian Poulter, who finished second, is probably best known for his trousers.
And so in the closing round at TPC Sawgrass, it seemed all that was missing to complete the ensemble cast was John Daly playing shirtless.
Stenson, who stripped down to his shorts to play a shot out of the water at Doral in March, covered himself in cool on Sunday despite wilting conditions and closed with a bogey-free 66 that was worth a four-shot victory over Poulter.
The 33-year-old from Gothenburg, Sweden, got his introduction to golf from his father, but 15-year-old sister, Ulrika, had already tried it first. Ulrika chose riding horses for good and at 18, Henrik became a scratch player and chose shooting birdies for good.
The rest of the story is that Stenson has just expanded his scope.
Not only an important player on the European Tour and in the Ryder Cup, he announced his arrival as a big-time player who should be a contender in majors.
"It's just going to give me a lot of confidence to go out there and control myself and play as well as I did today on the last day at TPC Sawgrass," Stenson said. "Obviously if I can play as well as I did today, I surely can do it on a Sunday at the majors."
Stenson's father, Ingemar, and Ulrika were on hand Sunday to cheer him on. It was the first time Ingemar had seen him win.
Stenson climbed out of a six-way tie for second at the start of the day, found himself in a four-way tie for the lead with Poulter, Ben Crane and Retief Goosen after six holes, and then watched the last group of leader Alex Cejka and Tiger Woods fall to the wayside. Stenson steered himself adroitly around the slippery, sun-baked greens of the 7,215-yard layout and won for the second time on the PGA Tour.
He might also have earned a reputation. Stenson has now won three tournaments with Woods in the field: the 2007 Dubai Desert Classic, the 2007 Accenture Match Play and now the Players.
"Yeah, I think if you look at my resume, it's been a case on quite a few occasions that I've won tournaments with very strong fields, and that's obviously very pleasing as well," Stenson said. "It just seems to bring the best out of me when I have to, playing the best players. And obviously now I feel like I'm up there when I'm playing good."
Woods was among the impressed when Stenson was done.
"Pretty incredible," Woods said. "We all know he's got all the talent in the world to do this."
Poulter said Stenson's bogey-free round on such glass-like greens was something to behold.
"I haven't seen them that color outside of an Open, to be honest with you."
At one point Sunday, there were 12 players within two shots of Stenson -- one of them Cejka. It wasn't a good day for Cejka, who had a five-shot lead to begin with, but dropped four shots the first five holes on his way to a 42 on the front and a closing seven-over 79. He still wound up in a tie for ninth.
"I was grinding, I was grinding until the end, but nothing was going my way," Cejka said. "After nine holes I was a couple back, but on the back nine anything can happen, and I hit a couple good shots, a couple good putts. But you know, until then I didn't really make bad shots. That's the way it goes sometimes."
Poulter said he had a simple goal.
"I thought Alex would actually be under a lot of pressure. I'm surprised that he found it as tough as that. I felt I just had to finish in front of Tiger to win today. But I wasn't expecting someone to go out there and shoot 66."