News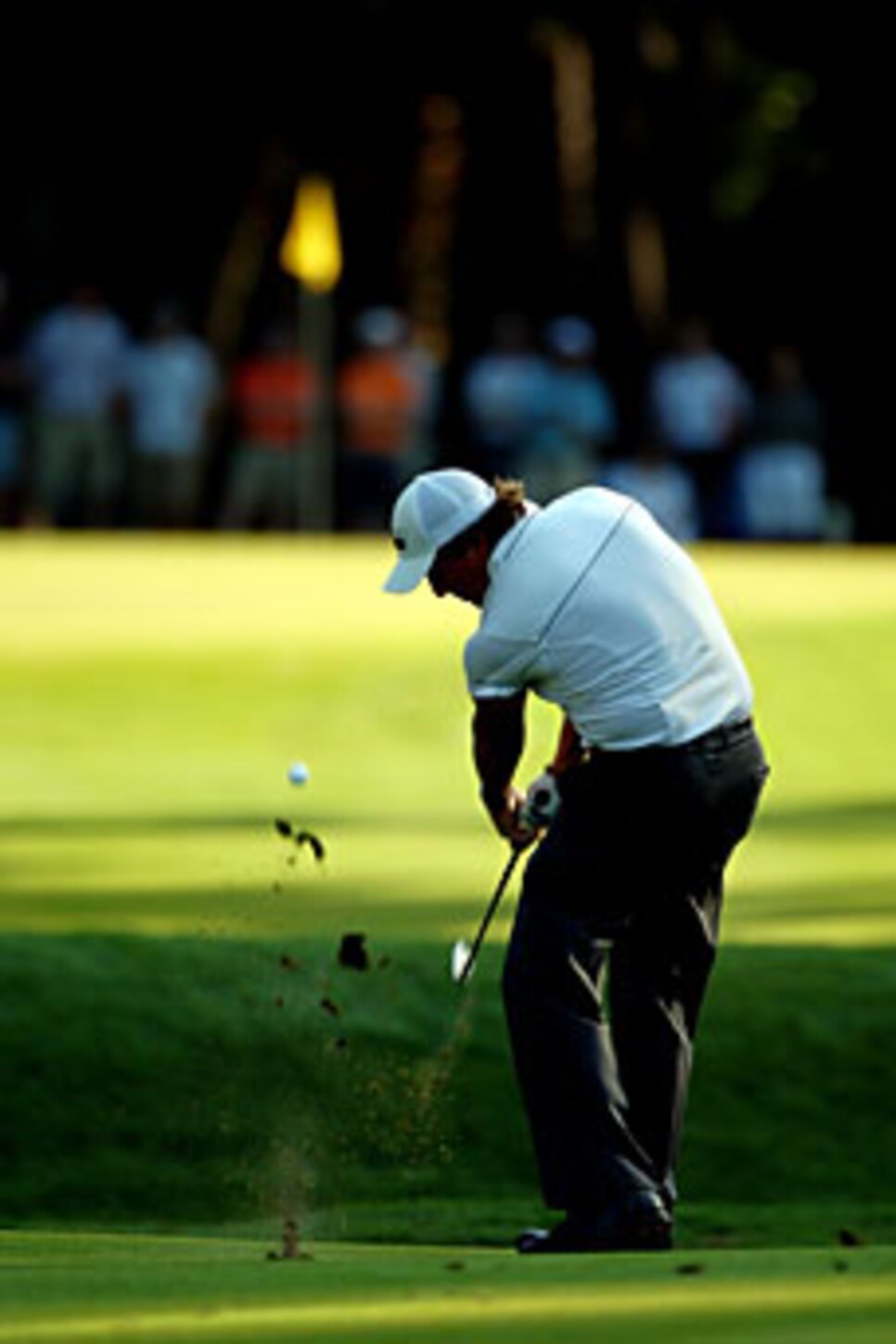 As with his rival Tiger Woods, Phil Mickelson's primary focus is preparing for Bethpage Black.
PONTE VEDRA BEACH, Fla. -- In Friday's second round of the Players Championship, Tiger Woods hit a rake in a bunker, a spectator in the arm and just two drivers from the tee. He signed autographs for a group of fans as they leaned over a rail at the rear of the clubhouse after his three-under 69 and said he's back in the ballgame.
Phil Mickelson birdied the last hole, made the cut on the number and still won't know if he's even going to be around for the whole weekend until Saturday.
There's a $9.5 million tournament going on at TPC Sawgrass, where Alex Cejka leads Ian Poulter by two shots after two rounds, but the million-dollar question might be about the top two players in golf.
If Woods doesn't win, or Mickelson misses the cut, is that such a big deal with the U.S. Open just six weeks away? The answer: Not one bit.
Neither of the game's top superstars is looking to solve their respective problem -- consistency for Woods, putting for Mickelson – here this week. Woods doesn't particularly care for the TPC Sawgrass, preferring the courses with fewer railroad ties and mounds and more history. As for Mickelson, he's all right around here, since he won in 2007, but in his estimation, nothing takes the place of a major.
Actually, Mickelson's most pressing concern is whether he's going to be playing Sunday. There will be another cut made after Saturday's round because there are 84 players who made the cut -- 23 of them at even-par 144. PGA Tour rules say that if more than 78 make the cut, there will be another cut after the third round to the closest to 70 players.
So if you're planning on following Phil this weekend, better make sure you tune in Saturday. There are 22 players in the same boat, including Luke Donald, Sergio Garcia, Padraig Harrington, Hunter Mahan, Kenny Perry, Robert Karlsson and Mike Weir, among others.
Team Mickelson huddled in the shade Friday afternoon and waited for Phil to sign his scorecard. Agent Steve Loy wore a gray sports jacket and black slacks. Coach Butch Harmon wore a blue striped golf shirt and blue slacks. Wife Amy wore a blue sleeveless dress and flip-flops.
It's fashionable to sometimes question Mickelson's progress, or lack of it, as it relates to the next big thing, which would be the U.S. Open. If that's the direction of the questioning after what he's done here at the Players, both Mickelson and Harmon have a suggestion: Forget it.
"I don't really think it really affects any of the other events," Mickelson said.
Harmon was more direct. "This doesn't have anything to do with anything. Phil is swinging the club good, he just hasn't gotten anything out of it.
"And of course he's looking forward to Bethpage Black."
At the 2002 U.S. Open at Bethpage Black, Mickelson began the fourth round five shots behind Woods and was within two shots after a birdie at the 13th. But he bogeyed the next two holes and Woods wound up beating Mickelson by three shots.
Mickelson's preparation for the Open next month is a three-tournament jaunt that includes the Byron Nelson, the Colonials and finally Memphis, the week before Bethpage Black.
Woods' schedule isn't something he Tweets about, but he's probably only going to play once more before the Open -- at the Memorial the first week of June. He said he's ready to make something happen sooner than that, maybe even this weekend.
"I kind of plodded my way along," Woods said. "You have a couple of lies that are awkward and the next thing you know, you can make some bogeys quickly."
Mickelson doesn't want too many bogeys in the near future. He's already won twice this year, at Riviera and at Doral, and was fifth at the Masters and tied for fifth at Quail Hollow in his last two tournaments. He didn't seem to be at all concerned with the way he's playing.
"I'm hitting the ball as well as I have this year," Mickelson said. "I'm driving the ball well and my irons are getting better and better."
But eventually you have to do something on the greens, he said.
Harmon said there's enough time before the Open to change that. And it's safe to say that Woods is determined to iron out the wrinkles in his game by then as well. He used his driver just twice -- at the 9th and 11th -- and hit the fairway both times. However, he wound up hitting just seven of 14 fairways overall, and missed the 18th fairway with a 3-wood, although he punched out from the rough and nearly birdied the hole.
Woods made one last birdie after he was through. On his way to the clubhouse, he stopped and signed a cap for Kyler Aubrey, 16, of Statesboro, Ga. Kyler is wheelchair-bound and unable to speak. Josh Aubrey said Woods also gave Kyler a ball on the course.
"He's loved Tiger since he was a little kid," Josh Aubrey said.
Mickelson signed a cap for Kyler on Tuesday, during a practice round. Even if there's a tournament within a tournament, both Woods and Mickelson have more to their games than golf.