News
In Body, But Not In Spirit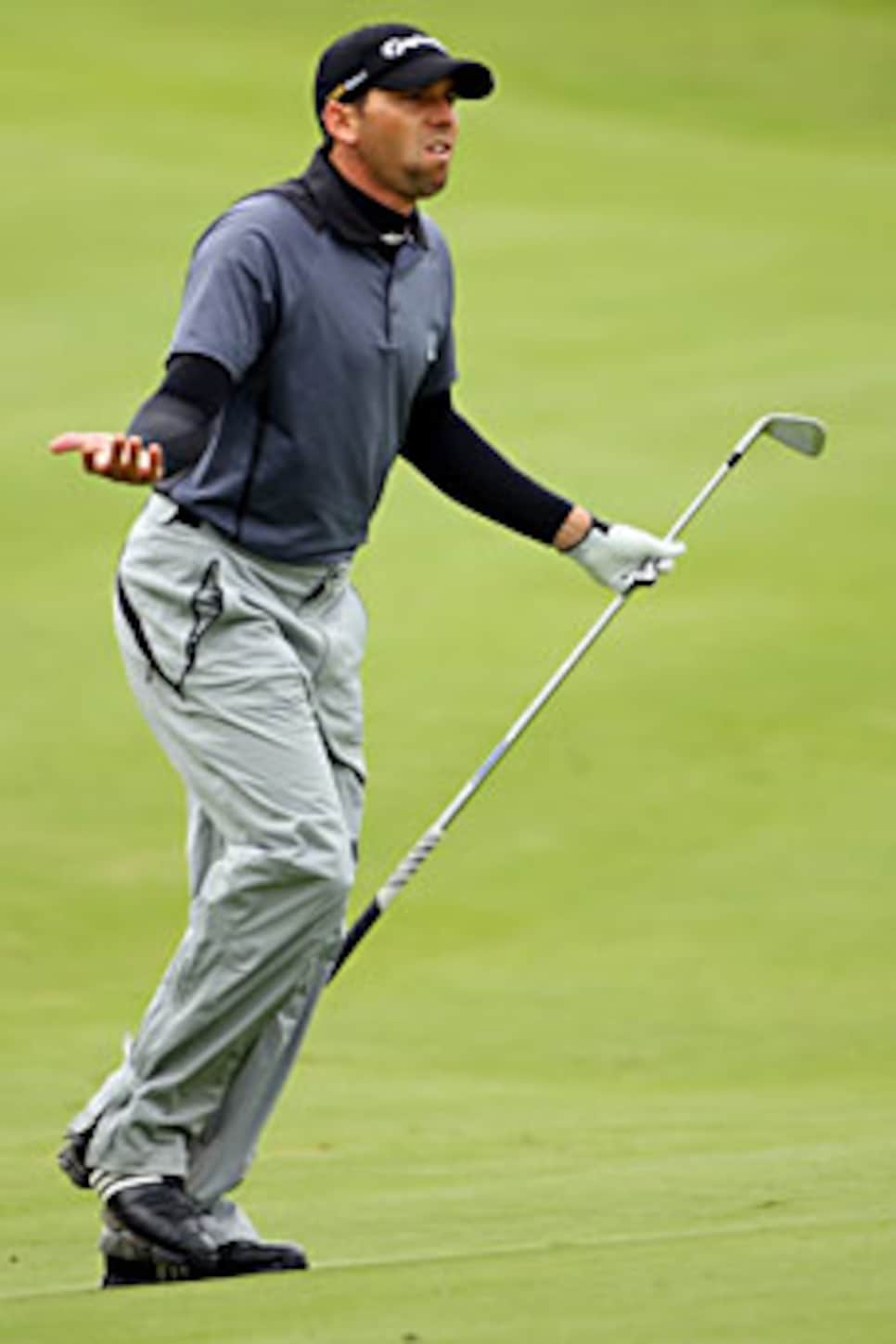 Scheduling practice around futbol on TV seems to be indicative of Garcia's focus on golf.
PONTE VEDRA BEACH, Fla. -- He doesn't look happy. He doesn't seem happy. He doesn't talk happy.
In fact, to catch Sergio Garcia smiling at the Players Championship, you can try one of two things. He is the defending champion, so there are various pictures of him on signage throughout the Stadium course--hoisting the trophy last May, kissing his putter, giggling after thanking Tiger Woods for being absent.
Or, if you wish to elicit some cheer from Garcia, you can leave the subject of golf -- the sooner the better -- and go directly to soccer. "You mean, futbol," he says. By about 2 p.m. Tuesday, Garcia evacuated the premises, as if sick to the stomach, to watch Arsenal and Manchester United in the European Champions league semi-final. (Manchester United won 3-1, as you probably know.) On Wednesday, Garcia planned a similar drill to view Barcelona vs. Chelsea.
"I plan my practice here around those games," he said. "No problem." The problem is, come Thursday, Garcia has to play golf. He still loves golf, but golf has not been loving him in return. "Yeah," he went on, "I love golf, but it has been resisting me more than usual lately. I'm not having much fun, but everybody goes through that. It's a stage. I'm going through a stage."
Garcia's exemplary performance toward the end of last year lifted him to No. 2 in the world rankings, behind You Know Who. But Garcia has not done much on the PGA or European Tour in 2009, and his mood is not a lot better than his scores. In March, his relationship ended with Morgan Norman, daughter of Greg. Sergio's friends say he was shaken, and still is. "I don't like to talk about my personal life in the media," he says. "That's part of what's going on. My parents are concerned, my close people around me. I haven't been myself, but things will change. I am, by nature, happy."
Garcia isn't kissing his putter anymore. That's already changed. He's using a putter that is about 4-6 inches longer in the handle, yet still gripping it normally. The portion extending above his hands, toward the belly he does not have, helps him load the club for a truer strike. "Maybe I can find something and get some confidence," says Garcia, who missed the cut at the Quail Hollow Championship, his first event since another unsuccessful attempt to make friends with Augusta National.
After his T-38 at the Masters, Garcia aired some of this frustrations, then took grief, then apologized. He is not the lone ranger in this trap. If an athlete dispenses only banalities, he's dusted for being dull. But if he offers candid opinions, he's also scolded, even if dozens of other players are thinking likewise, just not talking.
"What can I say?" Garcia goes on. "I am who I am, and there are times when I make comments I should keep to myself. I'm still learning." Garcia has been through the good, bad and ugly before. Nobody tiptoed into Garcia's bedroom and stole his talent while he slept. More importantly, nobody stole his television. "It's almost that time," Garcia says, glancing at his wristwatch. More soccer. "Futbol, futbol," he says. And he can't wait. "My team, Real Madrid, got knocked out. But Barcelona. Unbelievable how they play. If I wasn't playing golf, that's what I'd like to be playing."