News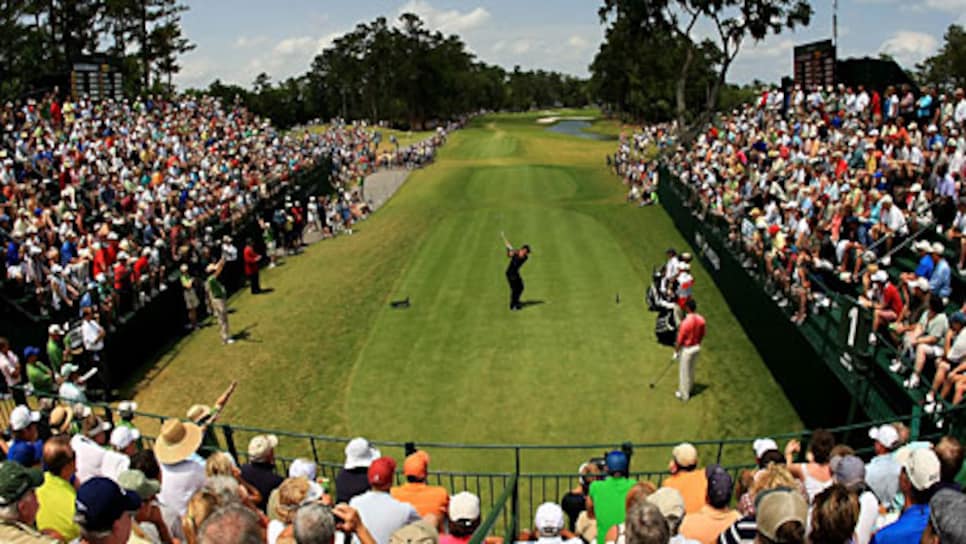 Sergio Garcia's win last year in the Players was an impressive step, but it still didn't qualify as a major championship.
If I'm honest, I've always viewed the Players Championship as, overall, a little unlucky when it comes to this seemingly inevitable and annual bout of "fifth major" nonsense. While a decent prima facie case can be made for an elevation in its current wannabe status -- biggest event on biggest tour and all that -- two unanswerable points work against such an unlikely reality. Most importantly, the last thing golf needs right now is another Grand Slam tournament in America. And, more trivially, true majors do not have the inherent daftness and lowbrow appeal of an island green, a circus-like golfing gimmick where any pretense at sophistication is notably absent.
Still, were professional golf to start over tomorrow and suddenly be searching for four major championships to highlight the season, it is surely true that one of that "modern quadrilateral" would be the highest profile week on the PGA Tour calendar. For the record, I'd add in the Open Championship, the US Open and a "live-up-to-its-name" World Matchplay Championship. Two of the four in the United States, one in the United Kingdom and one moving feast is a more accurate representation of global golf in the 21st century than would be four out of five in Uncle Sam's backyard.
Anyway, turning to more immediate matters, the 36th playing of what will forever be golf's fifth most important event takes place this coming week, when the so-called "strongest field in golf" gathers at Sawgrass for the PGA Tour's so-called "flagship event." And it will be a big deal. It always is. But, sadly, no more than that, especially since the event moved from its formerly traditional pre-Masters spot into the ho-hum hole in the calendar that is the month of May.
"It's still a huge tournament," says one prominent member of the European Tour. "But that's all it is now -- a huge tournament in a stream of huge tournaments. It certainly doesn't have the feel of a fifth major."
Which is not to say that the Players is not a terrific event -- it is -- played on a terrific golf course -- it is -- or that the title is not one any player would want to add to his curriculum vitae -- it is.
But think about it: does anyone really think it is something around which schedules are built? Take last year. Tiger Woods did the prestige of the event no favors by scheduling surgery on his knee immediately after the Masters at a time that allowed him to recuperate for the US Open -- a real major. Clearly, the world's number one player wasn't that bothered by missing the world's number five tournament.
The last two years have also seen a fairly dramatic drop in the number of journalists attending the Players, especially those from the United Kingdom. Deprived of the opportunity to work on their Masters-preview pieces, the British journos have largely stayed away. Now, while this may seem little more than trivial, it does have implications for the overall prestige of any event with major aspirations. Such status only comes with international recognition, a fact long recognized by the green jackets at Augusta National.
In reality, of course, the Masters has no business being a major. But in its early days, long before it was so anointed, Bobby Jones and Clifford Roberts made a point of inviting the leading and most influential British pressmen to Georgia. Men like Henry Longhurst, Pat Ward-Thomas and Leonard Crawley, wined and dined within an inch of their pampered lives, cheerfully extolled the virtues of the "toonamint," enthusiasm that went a long way towards allowing the Masters to transcend its rivals.
These days, television tends to have more influence and reach than does the print media. And here again, the PGA Tour has missed an important international point. Where the Masters has always been shown to British viewers on the BBC, on a channel open and free to all, the Players has been snapped up by Setanta Sports, a still fledgling fee-paying satellite channel with an, as yet, relatively tiny audience.
Hardly anyone in the UK will be watching and so, by extension, caring. Then there is that awful 17th hole. Oh dear, oh dear, oh dear. Sadly, the Players is demeaned rather than enhanced by a hazard that crosses the line from severe into silly. This island green is but a mere marketing tool that has no place in any serious golf competition, a fact that was made obvious by the traumatic experience endured by the gallant and talented Sean O'Hair in the final round of the 2007 Players.
While I am no fan of the edict of "fairness" espoused by those who will never understand that golf has never been a game where the punishment necessarily fits the crime, the harshness of the penalty inflicted on the young American was too wildly removed from what he would have suffered on a proper golf hole. It was, instead, merely embarrassing.
This isn't how Scotland's national sport is meant to be, folks. The island green is tabloid golf, a mere novelty item appealing only to the lowest common denominator, to our basest instincts, to those for whom the WWE represents real sport.
Call me an elitist, but when it comes to golf's biggest events, champs, not chumps, are whom I want to see. I don't want what sells necessarily; I want what produces challenging golf, interesting shots, and, only to an extent, "fairness." I want the very best players to compete in an environment where they can separate themselves from the rest by dint of shot-making skill rather than luck (without, of course, eliminating the occasional shock result that must never disappear from the game, even in these technologically-enhanced and equalizing times).
So, please, leave the gimmicks to "regular" tour events, those that history does not care about and whose winners and losers are instantly forgettable. The Players, even if it never lives up to its mildly delusional expectations, deserves better than that. Much, much better.