News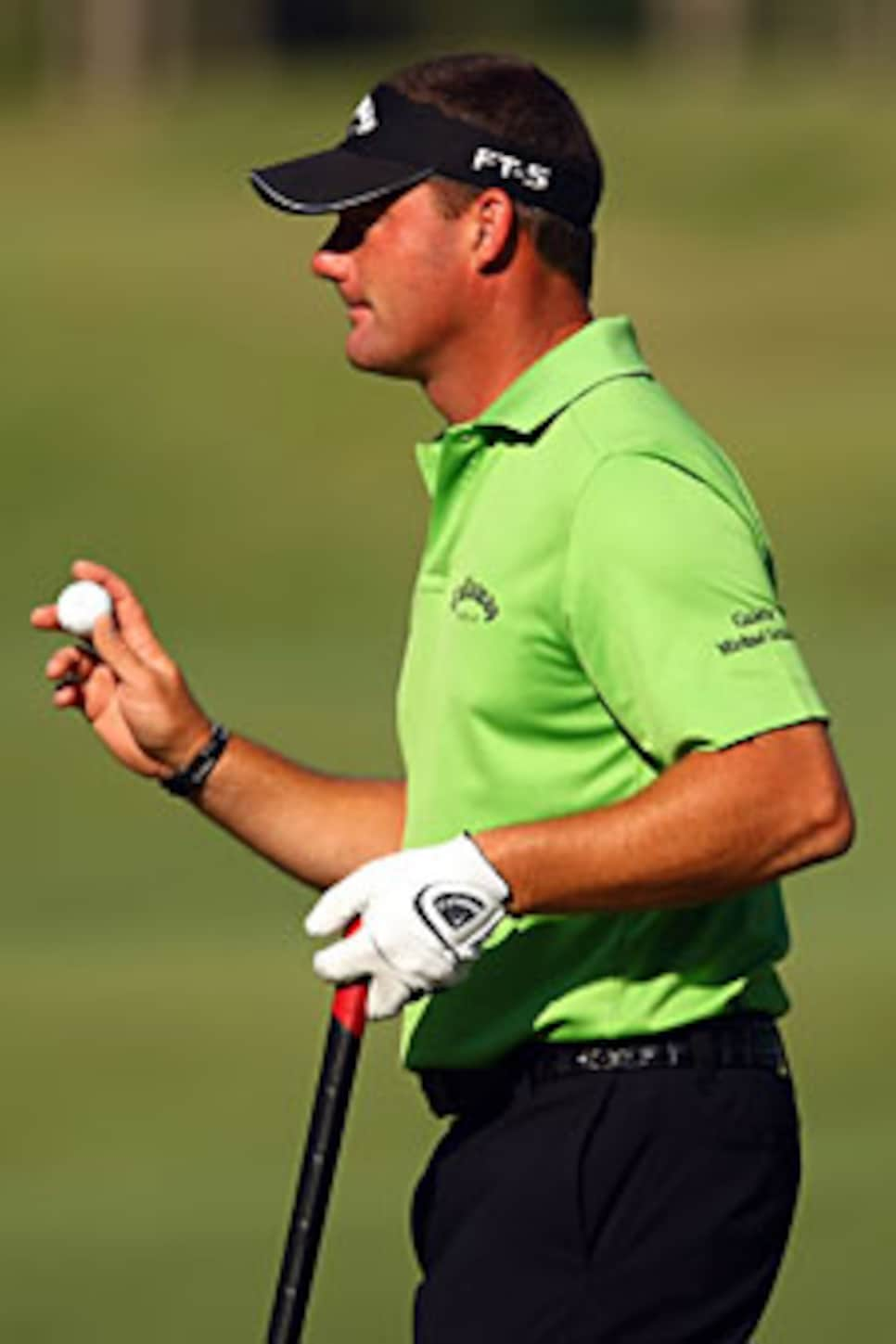 The Players represents only the second time that Alex Cejka has had an outright lead in a PGA Tour event.
PONTE VEDRA BEACH, Fla. -- What are the odds two guys from Las Vegas get paired together Friday in the second round of the Players Championship and both run the table? It happened at the sauna known as the Stadium Course at TPC Sawgrass. Kevin Na shot 66 and Alex Cejka 67 to storm to the top of the leader board, the latter climbing to 11-under 133. If you wanted to see putts drop, this was the group.
Na birdied 1, 2, 4, 8, 12 and 16; Cejka poured in birdie putts with his belly putter at 2, 3, 4, 7, 10 and 11. Combined, they were 10-under par and humbled a tough track.
"Yeah, we were calling each other neighbors; 'Nice putt there, neighbor,'" said Na. "He made a lot of putts and so did I. We were making fun of each other. It's like, man, the hole is too big. We had a great time out there. And that was I think the reason we both played so well."
The 38-year-old Cejka has been slowed by a neck injury. He had major surgery at the end of last year, then missed three months when his neck was fused. Last week, he had epidural injection for a pinched nerve after he felt numbness in his right side. Cejka had missed the cut at the Quail Hollow Championship with rounds of 76-76 and knew something wasn't right.
So he wasn't exactly exuding confidence when he arrived this week. In three previous appearances in the Players, he tied for 33rd in 2005, tied for 12th in 2005, and missed the cut last year.
But as the old saying goes: Never trust an injured golfer.
Cejka opened with a 66 Thursday, carding seven birdies and only one bogey. He blitzed the back nine for a four-under 32, even making birdie on the famed par-3 17th hole, which is surrounded by water and energetic fans.
Friday, Cejka carved up the front nine for a bogey-free 32. His lone bogey came at the par-4 15th hole, but he steadied with pars at 16, 17 and 18.
"Yesterday was kind of flawless," Cejka said in the media building. "I still made a couple good up-and-downs, and when I had a birdie chance I took it. I'm pretty excited to sit here two days in a row."
Cejka said he was never concerned his neck injury could be career-threatening.
"Apparently it's a minor procedure, but you never know," he said. "We are professional athletes. Anything can sometimes go wrong. But I never had any doubts. I wasn't really scared."
Given where he has come from, it's understandable. When he was 9-years-old, Cejka escaped Communist Czechoslovakia with his father to Yugoslavia, then went to Italy and Sweden before settling in Munich, Germany.
"I was too young to understand what was going on," said Cejka. "My dad told nobody what he was doing. For me it was a vacation, so for me it was a smooth ride. Of course probably my dad was nervous as hell, taking the son and a little backpack and just leave through three or four countries into the west. It wasn't that easy to flee was a Communist country."
"By foot, by train, by bike, everything," he said. "Swimming, too. I think we swam across the Rhine."
Cejka hit a few golf balls while he lived in the Czech Republic, but didn't take his first lesson until he moved to Frankfurt, Germany. By the time he was a teenager, he loved the game thanks to German great Bernhard Langer.
"I think I was 14 or 15; it was the Langer boom," said Cejka. "He just won the Masters. Of course, in Europe he won three, four, five tournaments every year. He came to play in the German Open in Frankfurt every year back then. I skipped school and I watched him in pro-ams, and he was my inspiration."
Cejka will never forget the first time they met.
"He was playing in a pro-am in Frankfurt," he said. "There was nobody there, just a couple German pros. It was raining so hard, and I followed him for 18 holes.
"I remember the first time I approached him on No. 9. It's a long par 4, the two amateurs are like yards ahead hiding in the trees with their umbrellas, and he goes on the tee, everything is wet, and he takes off his rain jacket off, and I'm like in school, 'Mr. Langer, can I hold your jacket?' And he just looked at me and threw it in the water on the tee.
"For a young kid, this is your hero, you want to touch something, whatever. So I followed him 18 holes and he shot like one-under par. After the round I told him, 'Great round.' I expected that I'd get a ball or something. Nothing, he just walked past me. That's not typical Bernhard Langer; everybody knows he's a nice guy."
Cejka reminded Langer of the story later in life and the two have become good friends. They've played practice rounds and tournaments together. Oh, and Cejka has become a pretty good player himself, accumulating 11 international wins, including the 2002Trophee Lancombe in Paris.
Cejka always dreamed of playing the PGA Tour and is doing well in the U.S. as well. He's been through Q School three times and retained his card last year by recording four top-10 finishes, his best a tie for fourth at the Stanford St. Jude.
This year, he's made seven of 13 cuts and has posted three top 25 showings. Despite the nagging neck injury, he has tied for 13th three times. Cejka has owned the outright lead only once in his career, when he shot 64 in the first round of the 2009 Verizon Heritage. He went on to tie for 13th.
"Here it's tough to win," said Cejka. "I mean, everybody is just a great player. I had a couple chances. I'm maybe a little disappointed that in the past six years I haven't won. I knew the putting was holding me back, so the last couple of years I'm working hard on it, and hopefully I can turn it around."
Mark Soltau is a contributing editor to Golf Digest and the editor of TigerWoods.com.