News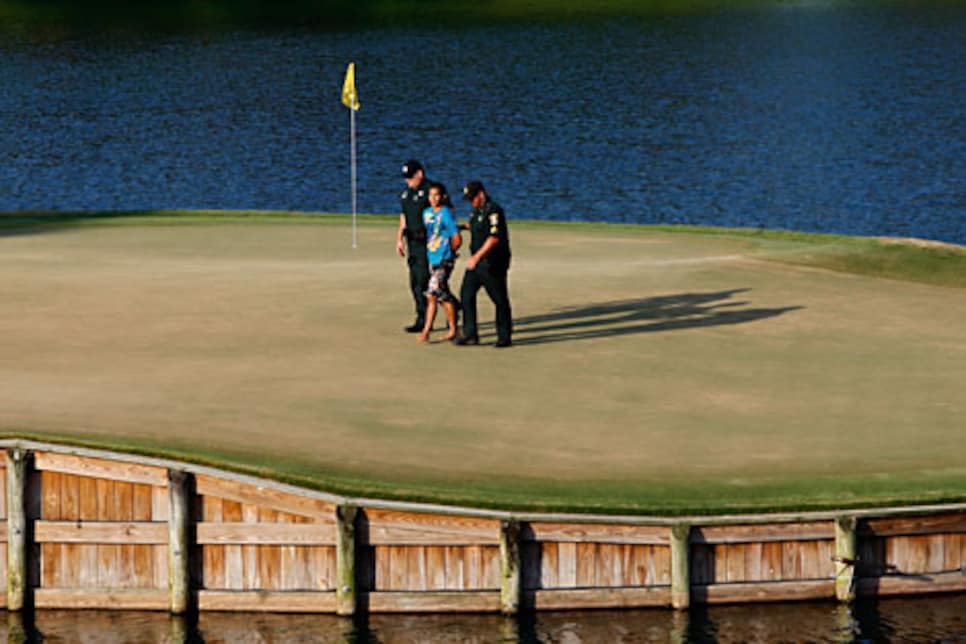 After a fan jumped in the water on the 17th hole, players can take heart that they didn't make the worst play of the week there.
PONTE VEDRA BEACH, Fla. -- The 2009 Players Championship is in the books. Who flourished? Who faltered? Let's take a closer look with another breakdown of birdies and bogeys.
Birdie: Henrik Stenson -- He wins the biggest tournament of his career, looks unflappable on a day when everyone else was hopelessly flailing about, and now has more to talk about than just stripping down to his underwear.
Bogey: Tiger Woods -- The world No. 1 player was spraying the ball all over the lot on Sunday, looking not unlike Woods circa 1998 or 2004. No time for rest now: we're coming up on a month until Bethpage.
Birdie: Tiger Woods -- Any other player who is this out of sync in a tournament doesn't make it past Friday. Woods still worked his way into the final pairing and managed to secure his 16th consecutive top 10 in stroke play.
Bogey:: Hank Haney -- Sure, Woods has a new leg. And sure, Woods as recently as last week absolved his teacher of any blame for his recent struggles. But until the superstar exhibits signs of returning to form, Haney can get used to his spot on the hot seat.
Birdie: Memorial Tournament -- Even if he hasn't yet formally committed, there's no question that Woods will be there now. More than anything, the guy confirmed this week that he needs reps.
Bogey:: Boneheaded fans -- After Woods holed out on 17, a fan jumped onto the tee to hit a shot, then jumped in the water to chase after his ball. Needless to say, the cops were waiting for him when he was done. Must have been the heat...
Birdie: Johnny Miller -- With Woods struggling all day and Henrik Stenson and caddie Fanny Sunneson engaged in a prolonged discussion in Swedish on 18, the NBC analyst offered this golden line: "It's probably the only part of the telecast that Elin Woods is enjoying."
Bogey:: Alex Cejka -- His best move of the day was abandoning a plan to wear a red shirt when playing alongside Woods in the final round. Instead he wore black and wilted in the final round with a 79.
Birdie: Jim Furyk and Vijay Singh -- Local boys makes good. Both out of the picture when the day began, the Ponte Vedra Beach residents worked their way up the leader board on Sunday. Furyk tied for fifth after a 69 while Singh's T-9 after a 67 was good for his first top 10 since winning the Deutsche Bank Championship last September.
Bogey:: Bethpage Black -- After all the Tiger-Phil hysteria following the Masters, both players looked rather ordinary this week, dulling at least a little of the pre-Open buzz.