News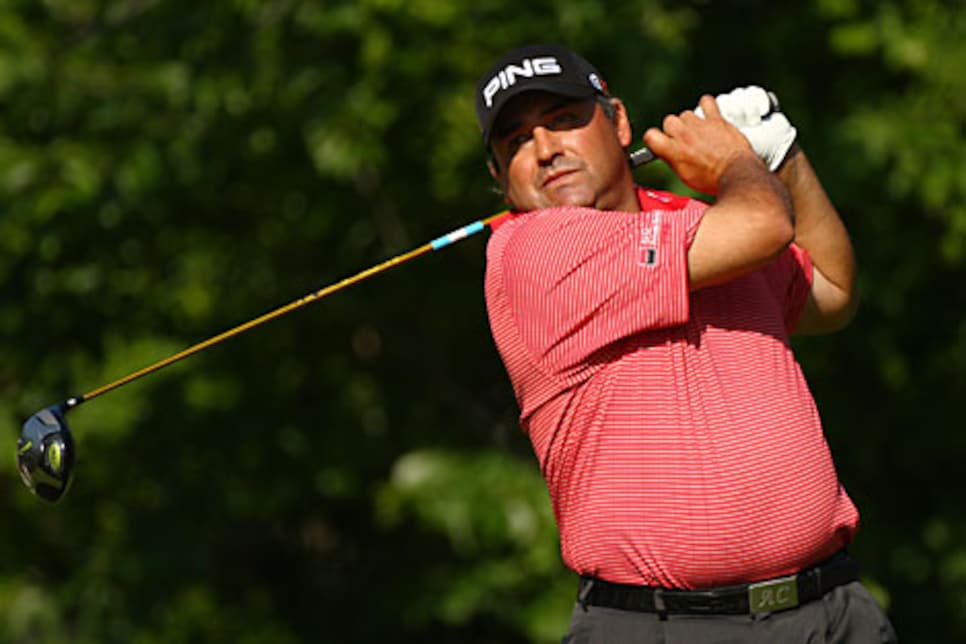 With a 65 on Friday, Angel Cabrera can entertain the prospect of becoming the first player since Tiger Woods in 2001 to win the Players and the Masters in the same year.
PONTE VEDRA BEACH, Fla. -- The second round of the Players Championship is in the books. Who flourished? Who faltered? Let's take a closer look with another breakdown of birdies and bogeys.
Birdie: Grand Slam talk. OK, so that's a little bit premature, but isn't it always? And with Masters champion Angel Cabrera four shots off the lead after Thursday's 65, he's proven he's at least not submerged in a post-Augusta hangover.
"When you are playing on a course like this, the way it's set up with pretty good weather, it definitely helps your game," said Cabrera, who had never broken 70 in his previous 17 rounds on the Stadium Course, including a 72 Thursday.
The Argentine had failed to make the cut in his previous four Players appearances, and in last year's second round, he blew up to an 81.
Bogey: Tim Finchem. Phil Mickelson and Sergio Garcia as recent champions had given the whole "fifth major" argument some steam. But the current leaderboard certainly isn't helping. Paging Craig Perks....
Birdie: Alex Cejka and Kevin Na. The Las Vegas residents combined to shoot 11 under par on Friday, with Na edging his Czech playing partner by one with a 66.
"I bet no one beats that today," Na said after his bogey-free round. "Of course, everyone else is playing threesomes, but I still bet no other group shoots 11 under."
Bogey: Jeff Klauk. Took a promising Cinderella story and nearly torched it to the ground. Klauk, whose father, Fred, was the longtime superintendent at the Stadium Course, shot out to a 4-under 32 on the outward nine Friday morning and then gave it all back with a 40 for a roller-coaster 72. He made the cut by a stroke at 1-under 143.
"Yeah, I'm not real thrilled," Klauk said. "But I've got to look at the big picture, too. It's the first time here, we're on my home course. Dad being the superintendent. I'll learn from it and just get better."
Birdie: Padraig Harrington. Two rounds at even par isn't much to celebrate for a three-time major champion. But perhaps it is when you consider that Harrington is in the midst of some minor swing changes, and that as recently as Thursday, he was immersed in what he described as a "near intervention" with caddie Ronan Flood and sports psychologist Dr. Bob Rotella.
"I'm not committed to it fully as of yet," Harrington said. "It will take a few more weeks for it to turn around but in four weeks time (just ready for his Bethpage preparation), I fully intend to be finished with the game of swing."
Bogey: Daniel Chopra. How does a round of nine birdies merit a bogey? Easy when you have a chance at the TPC Sawgrass record and you instead bogey the last two holes. Chopra's 65 was commendable, but it easily could have been 62.
Birdie: The enthusiastic teenaged brown-noser who was trying to secure Phil Mickelson's autograph Friday afternoon deserves a nod after shouting, "We love you Phil. You're better than Tiger, no matter what anyone else says." Mickelson just laughed.
Bogey: Anthony Kim. The American whiz kid was out of dodge on a rail Friday after plastering a fat 82 on the board, including an inward 44. Kim posted scores of bogey or higher on 14 of 36 holes against just six birdies. He finished among the bottom five among players completing two rounds.
Birdie: To Mickelson, who signed so many autographs that he was shaking and flexing his right hand afterwards because of writer's cramp.
Compiled by Dave Shedloski and Sam Weinman